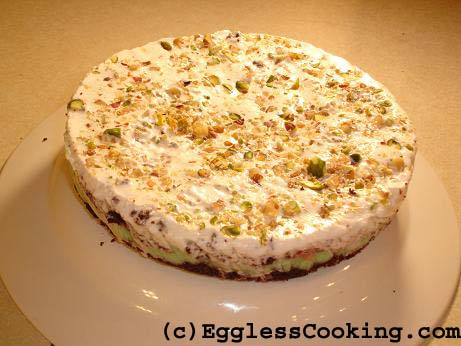 I can say that this ice cream cake recipe is a classic example for serendipity. I think you can guess where I'm going if you've read my choconut muffins story. To cut the long story short, my first batch of muffins did not come out well. The bottoms were moist but the tops were dry. I wanted to bake another batch of those delicious chocolate muffins, but didn't know what to do with the first batch, then an idea flashed in my head. Why not turn it into an ice cream layered cake? See, watching Food TV does help, especially Sandra Lee's Semi-Homemade Cooking. I'm a big fan of her innovative ideas.
Now back to the ice cream cake recipe, I won't say this recipe is my discovery, but come on guys, I need some credit here for thinking quickly and not wasting food. Right? I've seen Oreos Cookie Pie crust in stores, so that was also an inspiration. I've always wanted to buy it and make something. My idea was similar to that. I wanted to crush the muffins, both tops and bottoms in a food processor, put it in a pie tin and layer with ice cream and freeze it. I had vanilla ice cream at home. I wanted a Neapolitan Ice Cream look so thought of going with strawberry and chocolate flavors. Then realized that my mother in law is not a big fan of strawberry and she likes pistachios. Unlike India we don't get pistachio flavored ice cream here. I thought why not go with instant pudding mix. I've seen it being used by Food TV chefs all the time. So thought of giving it a try.
The beauty of this cake is there is no set of baking procedure or must have ingredients. You can play with your imagination. Anyway I'll list what I used and what other variations can be made.
I used:
1. Muffin crumbs.
2. 1 packet JELLO Instant Pudding Mix, pistachio flavor.
3. Turkey Hill Vanilla Bean Ice Cream.
4. Walnuts and Pistachios, unsalted and chopped.
Other Variations:
1. Crush Oreos cookies or brownies, or line the pan with frozen pound cake, or use ready made pie crust.
2. You can either go with all pudding mixes with different flavors or cool whip or all ice cream layers or mix and match.
3. Toppings are also limitless, from fudge sundae, caramel topping etc.
Procedure:
Stage 1:
Crush the muffins in a food processor.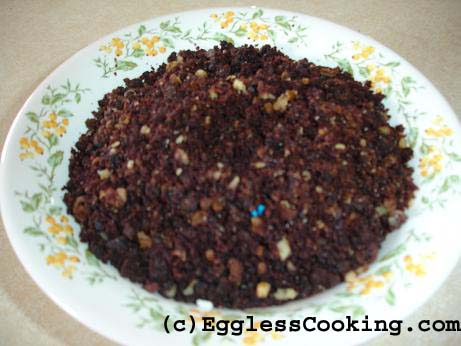 Stage 2:
I used a 9 inch round cake pan. First I thought of using a pie tin, then I changed my mind. I lined the pan with plastic wrap because I vaguely remembered something similar to this in one episode of Food TV. I wrapped it completely covering the entire pan and also left some extra outside so that I can lift the cake with the wrap once it freezes.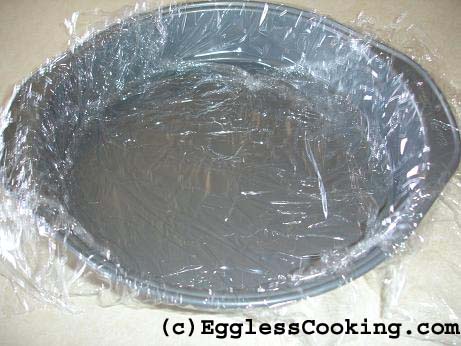 Stage 3:
I pressed half the quantity of muffin crumbs on the bottom of the pan, nice and firm. Actually I had stored the muffins in the refrigerator to dry them up so it will powder easily in a food processor. If I had left the moist bottoms out,it would have become one big lump I guess. Reserved the other half for another layer.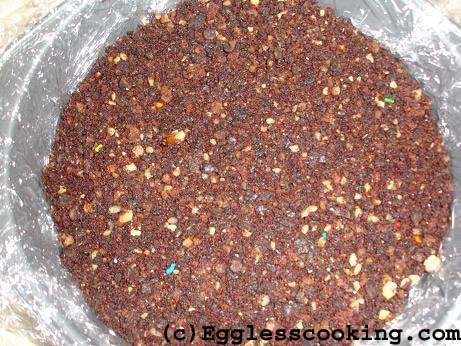 Stage 4:
Prepared the pudding as per the directions of the package. It was very easy. Just pour the mix in milk and stir. Initially it's in a liquid form and within 5 minutes it firms up. I also mixed some chopped pistachios to the pudding.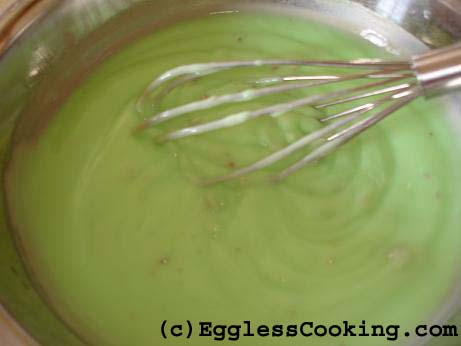 Stage 5:
Now top the crumbs with the pudding and form a nice thick layer and top it with pistachios again.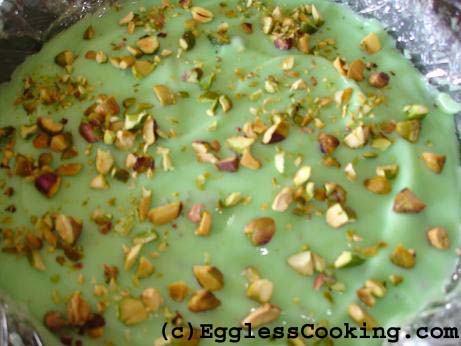 Stage 6:
Top the pudding layer with the remaining muffin crumbs.
Stage 7:
Now a layer of vanilla ice cream over the muffin crumbs. I microwaved the ice cream with the paper container for 15-25 seconds, so I could spread it. Give the final touch of adding some more walnuts and pistachios.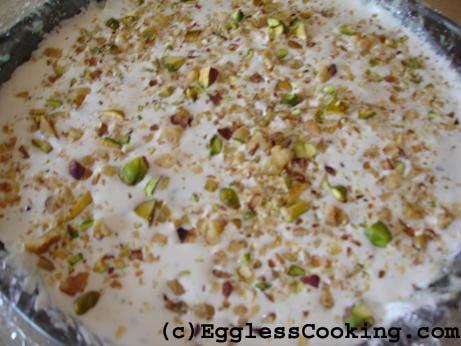 Stage 8:
Freezing for 4 hours should be fine. Carefully remove the cake with the help of the plastic wrap. When I took it out after 4 hours it was good, but another 1 or 2 hours should be perfect. Slice and serve it!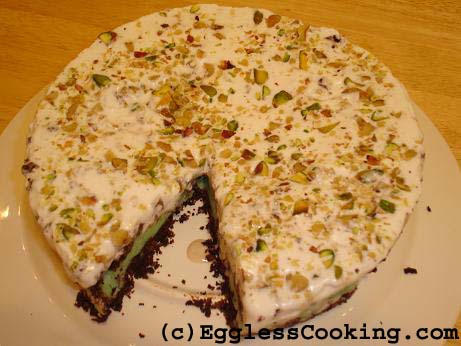 My Notes:
1. You can also try this with a loaf pan.
2. I noticed that when pudding freezes it's very hard than the ice cream. If you don't like that to happen you can make all ice cream layers or dig in after thawing it for a couple of minutes.
3. The taste was out of the world. I miss Indian Cassata ice cream very much. The taste of this ice cream cake was very much similar to that, I think it was because of the pistachios and walnuts.