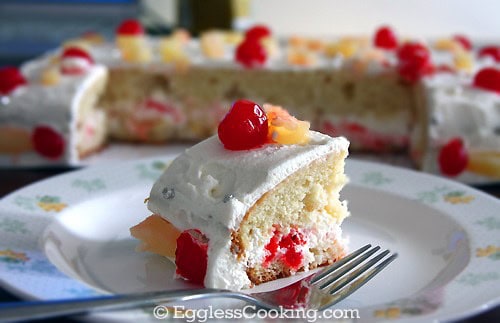 Today I'm celebrating my blog's 5th birthday with this decadent eggless pineapple pastry. It has been a wonderful 5 years mostly because of the support, appreciation and motivation from my husband and YOU: my beloved readers. Thank you for all your support and I wish I can count on it in the years to come too. Special thanks to the trolls too who make my otherwise mundane day interesting with their silly comments.
I got this idea for an eggless pineapple pastry when I made this eggless strawberry cream cake. Even though I'm not a big fan of pineapples, I love the flavor and fragrance of it in cakes, especially the cake I tasted in Hot Breads. I finally got a chance to try it and it was a super duper hit. You have got to bake this cake just to experience the wonderful aroma that fills the entire house while the cake is baking and is out of the oven. So do try it and let me know how you like it and don't forget to read the recipe and my notes thoroughly before setting out to make this dessert.

| | | |
| --- | --- | --- |
| Eggless Pineapple Pastry Cake Recipe | | |
| Prep Time | Cook Time | Makes |
| --- | --- | --- |
| 2 Hr | 21 Mins | 12-15 Servings |
| Author | Category | Method |
| Madhuram | Cakes | Baking |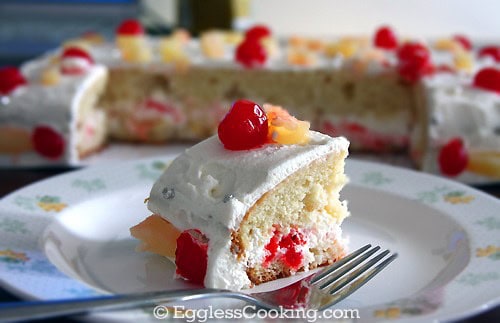 Special occasions demand special dessert and nothing can beat this delicious and decadent eggless pineapple pastry.

Ingredients Part 1:
1/2 cup

yogurt

1/2 cup

pureed soft/silken tofu

1/4 cup

milk

1 teaspoon

pineapple extract
Ingredients Part 2:
2 and 1/2 cups

cake flour

2 teaspoons

baking powder

1 teaspoon

baking soda

1/4 teaspoon

salt

1/2 cup

diced (canned) pineapple
Ingredients Part 3:
1/2 cup

softened unsalted butter

1 and 1/4 cups

white sugar
Ingredients for Filling:
2 cups

pineapple chunks (preferably canned in pineapple juice)

1/2 cup

bottled red cherries, optional
Ingredients for Frosting:
2 cups

whipping cream (at least 35% fat)

1/4 cup

white sugar

1 teaspoon

pineapple extract

as needed

icing sugar (optional, see frosting recipe)
Procedure for the filling:
If using fresh pineapple, in a large bowl mash the pineapple pieces and about 2-4 tablespoons of sugar lightly with a potato masher. The amount of sugar will depend upon how sweet the pineapple is. Set it aside for 30-60 minutes. Omit this step if using canned pineapple in its own juice. Just drain the pineapple chunks and reserve the juice.
Procedure for the cake:
Preheat the oven at 350F/180C for 15 minutes. Line a 9×13 inch pan with parchment paper.
Mix together the ingredients listed in Part 1 in a medium bowl and set aside.
Sift together the Part 2 ingredients except the pineapple in another bowl.
In a large bowl cream together the butter and sugar until light and creamy. If the butter is not soft enough the creamed mixture will resemble coarse crumbs. By adding some of the wet ingredients and then creaming it, should solve the problem.
Add the wet ingredients in 3 portions beating after each addition. The mixture will look curdled, but that should not be a problem. It will be fine once we add the flour mixture.
Add the dry mix and combine well. Fold in the 1/2 cup pineapple chunks.
Spread the batter in the prepared pan.
Bake for about 21-23 minutes or until a toothpick inserted in the middle of the cake comes out clean. Mine was done in 21 minutes.
Transfer the pan to cooling racks. Since we have lined the pan with parchment paper, the cake should come off the pan within 15 minutes. Let it cool completely before frosting.
Procedure for whipped cream frosting:
Keep the bowl (which you are going to use to prepare the frosting) and the electric beaters in the freezer for at least 15-30 minutes.
Place the cream, sugar and pineapple extract in the bowl and whip until stiff peak forms. I first started with 2 cups of cream and 1/4 cup of granulated white sugar. Add additional confectioner's sugar one tablespoon at a time if you prefer more sweetness.
Assembling the cake:
I sliced the cake in half and proceeded with filling the middle with cream and frosting it. But only while I was halfway through slicing I realized the cake was quite thin and I shouldn't have sliced it but instead baked another cake to make it a layer cake. It was quite a tough job to get neat layers especially with the pineapple chunks in the cake. So I definitely suggest doubling the recipe and baking 2 layers instead of slicing the cake. In that case level the top of the cakes and proceed to assemble as always.
Use the reserved pineapple juice to brush the cake/s, so that the cake will absorb it and be moist for days. Do not fear of too much syrup on the cakes. The cake will keep absorbing it. Before brushing it with syrup, try to dust off the crumbs from the leveled side of the cake using a dry pastry brush. Now pour the syrup directly over the cakes or use a pastry brush to dip the syrup and brush it on the cake. Leave the cakes to soak the syrup for at least 15 minutes. Soaking it for more time is fine too.
Place one slice/cake on a serving platter or cake stand. The neat and flat side should be on the bottom and the syrup brushed side should be on the top. Spread the pineapple and cherry chunks on the cake and cover it with half of the frosting.
Place the other cake on top of the filling. The syrup side should be facing down and the smooth side should be on top for this one. Cover it with the rest of the whipped cream and garnish it with pineapple pieces and whole cherries or as you please.
My Notes:
If you don't want to double the recipe but still prefer a layered cake then bake it in two 8/9 inch round/square pans instead.
I have tried this recipe with canned pineapple for convenience sake but you could try it with fresh pineapple too. Use store bought whipped topping if you don't have the time to make it at home.
I have not tried this cake recipe with all-purpose flour, so I do not know if the texture will be as good as this one with cake flour.
Add another half to a cup of whipping cream if you want to frost the sides of the cake too.
The nutritional information is based on 15 servings and 2.5 cups of whipping cream.
Nutritional Information for 1 Slice
Calories:

268.9


Total Fat:

9.0 g


Saturated fat:

5.4 g


Unsaturated fat:

3.0 g


Cholesterol:

25.0 mg


Total Carbohydrate:

44.7 g

Sugars:

26.6 g


Dietary Fiber:

1.0 g


Protein:

3.5 g


Sodium:

210.5 mg


Potassium:

123.3 mg

Try this recipe, click a pic and hashtag it #egglesscooking - Proudly showcase your creations on Instagram, Facebook & Twitter!