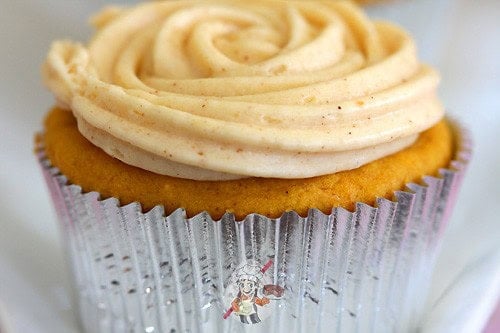 My eldest son who had his 8th birthday last month has a new favorite flavor these days. Caramel it is! Gone are the "everything-dipped-in-chocolate" days. Even though he asked for a cheesecake for his birthday, I wanted to bake a regular cake too if the cheesecake flopped because I have not baked it before.
So I was looking for some cake recipes using caramel and all I could find which was doable within a short period of time was a pumpkin torte, filled with cream cheese, drizzled with caramel syrup and topped with chopped pecans. I was drooling over the picture. But because of some last minute plan changes I had to drop that idea and even wanted a quicker recipe which didn't involve too much cooling time, frosting etc.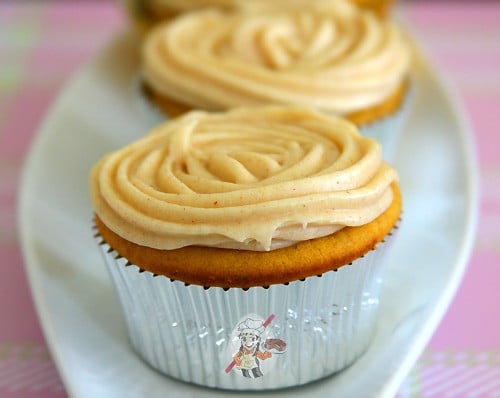 That's when I decided to go with cupcakes itself. I had already got 2 cans of pumpkin puree, which I wanted to use up. So pumpkin cupcakes was it! I too this recipe as a base and made some changes to make it egg free. I used my fail-proof egg substitute method which I came up while baking this eggless blueberry pound cake and then in the eggless strawberry cream cake. The trick is using half yogurt and half silken tofu instead of the eggs in the recipe. This trick never fails and it didn't fail me in the eggless pumpkin cupcake recipe too. The cupcakes turned out awesome. The cream cheese frosting was getting a bit watery because of the hot weather. So I had to put it in the fridge for a couple of hours before frosting. The kids enjoyed the cupcakes by adding sprinkles of their choice and made it extra special.

| | | |
| --- | --- | --- |
| Eggless Pumpkin Cupcakes Recipe | | |
| Prep Time | Cook Time | Makes |
| --- | --- | --- |
| 20 Mins | 23 Mins | 21 Cupcakes |
| Author | Category | Method |
| Madhuram | Cupcakes | Baking |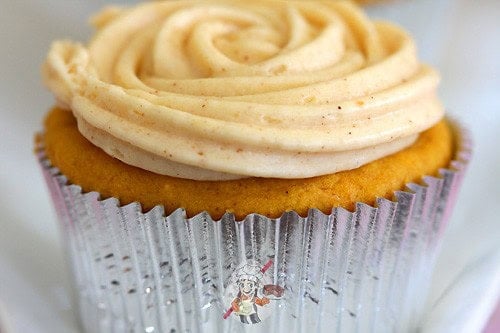 Move over pumpkin pie! It's time for these eggless pumpkin cupcakes to take over the Thanksgiving table or any other special occasion.

For Cupcakes:
3/4 cup

butter, softened

2 and 1/4 cups

granulated sugar

1/2 cup

pureed silken tofu

1/2 cup

plain yogurt

2 and 1/3 cup

all-purpose flour

1 and 1/2 cups

pumpkin puree

1 teaspoon

ground cinnamon

1 teaspoon

baking powder

3/4 teaspoon

salt

1/2 teaspoon

baking soda

1/2 teaspoon

ground ginger

3/4 cup

buttermilk
For Frosting:
8 ounces

cream cheese, softened

1/2 cup

butter softened

4 cups

confectioner's sugar

1 teaspoon

vanilla extract

1 teaspoon

ground cinnamon
Procedure:
Preheat oven to 350F/180C for 15 minutes. Line two 12 cups muffin pan with paper liners.
In a large bowl cream together the butter and granulated sugar until light and fluffy.
Add plain yogurt, pureed silken tofu and vanilla extract to the mixture and beat well. The mixture will look curdled but that's fine.
Add the pumpkin puree and beat well again.
In another bowl stir together the flour, cinnamon, baking powder, salt, baking soda and ground ginger.
Add the dry flour mix to the creamed mixture alternately with buttermilk, beating after each addition.
Fill muffin cups three-fourths full. Bake for 20-25 minutes or until a toothpick inserted in the center comes out clean. I baked mine for 23 minutes. Cool for 10 minutes in the pan and then transfer it to a wire cooling rack to cool completely before frosting.
For Frosting:
In a large bowl, cream together the cream cheese and butter until light and fluffy. Add confectioner's sugar, vanilla and cinnamon and beat well. Frost the cupcakes. Leftovers can be stored in the refrigerator up to a month, if stored carefully in an air tight container.
My Notes:
Add up to a tablespoon of pumpkin pie spice with the dry ingredients for the cake if you like the flavor.
The batter is not sticky but quite wet; more like pancake batter. Don't worry the cupcakes will turn out great. The easy to way to fill the muffin tins will be pouring the batter in a big and heavy zip lock bag, wrap the opening and secure it tightly with an elastic and snip the bottom corner and pipe the batter 3/4ths full like you would do for frosting. Otherwise use a 1/3rd cup measure to scoop the dough for each cupcake.
I was able to get only 21 cupcakes not 24 as mentioned in the original recipe with eggs.

Try this recipe, click a pic and hashtag it #egglesscooking - Proudly showcase your creations on Instagram, Facebook & Twitter!