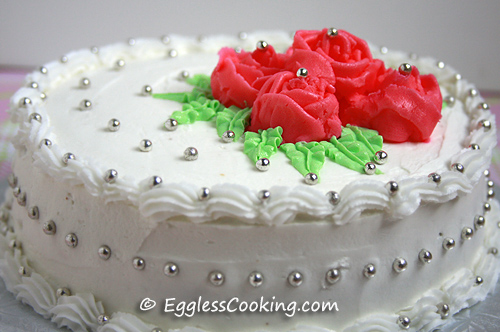 Are you like me, crazy about a cookbook? If you are interested in baking, want to include whole grains while doing so and also want the baked goods to be very tasty, then you will have to check King Arthur Flour's Whole Grain Baking book and I'm sure you will become a fan like me. It is not just a book with recipes but talks in detail about the different types of whole grain flours, their characteristics and how to use them effectively so the result is very delicious baked goods. It's a 600 pages cookbook, so you can understand the in-depth coverage of the subject matter. You have abundant choice with recipes for breakfast, quick breads, yeast breads, cookies, cakes, desserts etc. It's like any other baking book when it comes to the huge collection of baking recipes but what makes it the best is that all these recipes are made with a variety of whole grain flours.
I had to bake a layer cake for for the final class of Course 1 of Wilton's Cake Decorating series. I decided to go with one of the cake recipes in the King Arthur's Whole Grain Baking book. Since I'm on the look out for a good egg free white cake recipe, I decided to try the butter cake recipe using whole wheat pastry flour. I made a couple of changes to that recipe to make it egg free and healthy.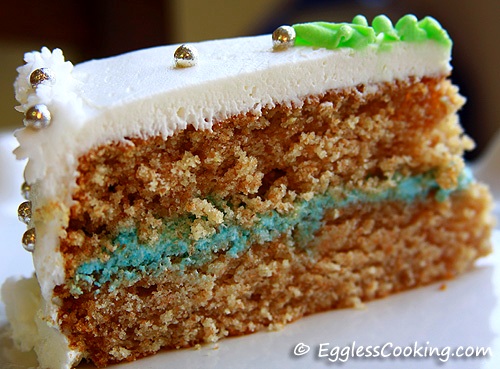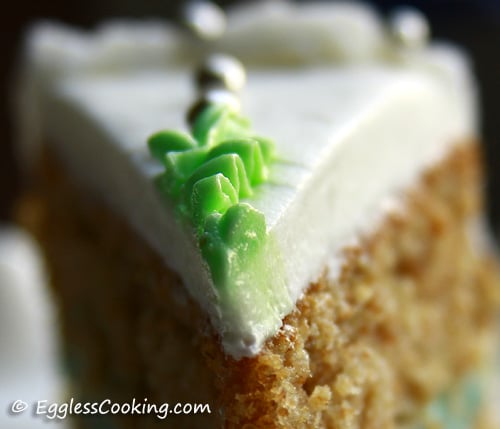 Is this cake really healthy? The answer is both yes and no. Yes, because I have used trans fat free non hydrogenated margarine instead of butter in the original recipe, thereby reducing the fat and eliminating cholesterol. No, because I have frosted the cake and it is made with shortening. So if you really want a healthy cake either avoid frosting or make a simple vegan frosting or a low fat frosting.
We practiced the following in the final class: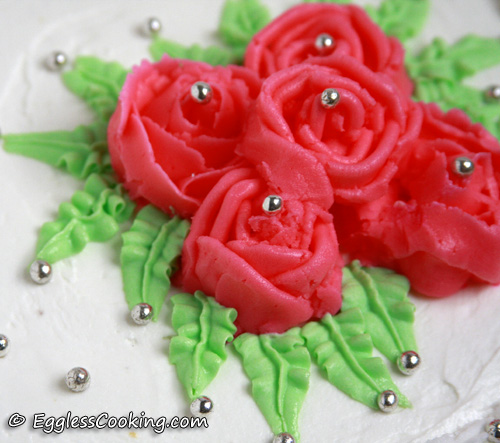 | | | |
| --- | --- | --- |
| Eggless Whole Wheat Layer Cake Recipe | | |
| Prep Time | Cook Time | Makes |
| --- | --- | --- |
| 15 Mins | 35 Mins | Two 8-inch round layer cakes OR One 9×13 inch pan. |
| Author | Category | Method |
| Madhuram | Cakes | Baking |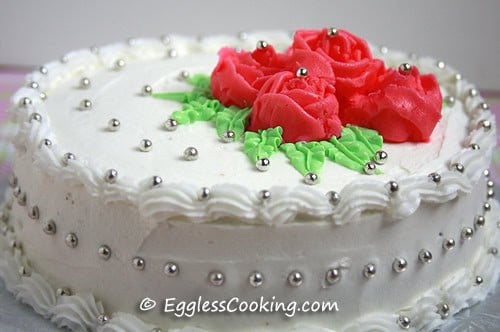 Egg free whole wheat layer cake using unsweetened applesauce tastes so good that it's hard to believe it is a healthy cake.

Ingredients:
2 and 1/4 cups

Whole Wheat Pastry Flour

1 cup

All Purpose Flour

2 teaspoons

Baking Powder

1/2 teaspoon

Baking Soda

1 cup

Soft Tub Margarine

3/4 cup

Granulated Sugar

1 teaspoon

Salt

1 cup

Unsweetened Applesauce

1/2 tablespoon

Apple Cider Vinegar

2 teaspoons

Vanilla Extract

1 cup

Plain Yogurt, low fat
Procedure:
Preheat the oven to 350F for 15 minutes. Grease and flour two 8-inch round pans or line with parchment paper. Nowadays I prefer lining the pan with parchment paper in the bottom as well as on the sides. The cake comes out of the pan perfectly each and every time.
Whisk together the flours, baking powder and baking soda in a medium bowl.
Cream together the margarine, sugar and salt in a large mixing bowl with an electric mixer until light and fluffy.
Add 1/4 cup of applesauce at a time, beating well after each addition and scrape the sides and bottom of the mixing bowl once or twice. It curdles but don't worry.
Add 1/3rd of the flour mixture, mixing until incorporated.
Measure 1 cup of yogurt in a liquid measuring mug. To that add the vanilla and vinegar and whisk together well.
Add half of this mixture to the large bowl, again beating until the mixture is very fluffy. Meanwhile scrape the sides and bottom of the bowl also.
Then add another 1/3rd of the flour and beat well. Next add the remaining yogurt mixture, then the remaining 1/3rd cup of flour, mixing well after each addition. Stop once or twice to scrape the sides and bottom of the bowl.
Pour the batter into the prepared pans. (It was not watery but more in a semi solid state). Bake the cake for about 30-35 minutes or until a toothpick inserted in the center comes out clean. Mine was done in about 32 minutes. The cake was in golden brown color and started to pull from the sides of the pan. If you are baking a 9×13 inch cake the baking time will vary, so do the toothpick test to find if the cake is done.
Remove from the oven and cool for 15 minutes before removing from the pan. Then pull out the parchment paper from the side of the pan and invert the pan and the cake falls without sticking to the pan. Remove the parchment paper sticking to the bottom of the cake and transfer it to a cooling rack. The cake has to cool completely before frosting.
Taste:
In our house we have got used to whole wheat pastry flour in baked goods so much that we hardly notice any difference in taste or texture. It takes quite sometime to get accustomed to that taste, especially if you are using traditional whole wheat flour instead of whole wheat pastry flour. Together with the frosting the cake was awesome and we did not miss the white flour at all. It was not only us but I gave the cake to a couple of people and all of them loved it.
My Notes:
I used Fleischman's no salt added soft tub margarine instead of butter.
If you don't find whole wheat pastry flour then use equal portion of all purpose flour and whole wheat flour. If you are using traditional whole wheat flour add 1/4 cup of freshly squeezed orange juice to reduce the bitterness and raw smell/taste. This is the tip given in the book, which I have not tried so far.

Try this recipe, click a pic and hashtag it #egglesscooking - Proudly showcase your creations on Instagram, Facebook & Twitter!