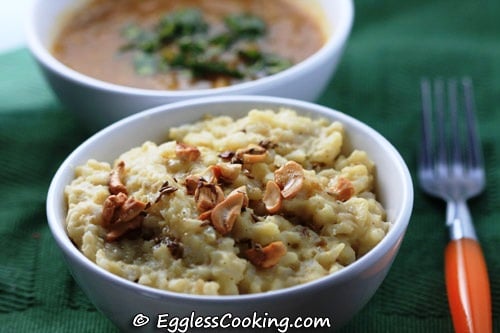 We have started using brown rice quite often these days. The first dish I ever tried with brown rice was pongal and I have to agree that I did not get it right.
Only after 2 failed attempts I figured out the ratio of water and brown rice. Cooking brown rice in a pressure cooker is a breeze. The brown rice, water ratio is 2 and 1/2 cups of water for 1 cup of rice, if you are preparing dishes like pongal, bisi bele bath etc.
For these dishes the rice has to be cooked well, so leave the cooker on for 5-6 whistles. If you are going to make fried rice or any other dish which doesn't require sticky rice, the ratio of water is 2 and 1/4 cups of water and leave it just for 1 or 2 whistles and remove the cooker from the stove.
These days I prefer brown rice pongal to the traditional white rice pongal. This is healthy and definitely very filling. The only one negative thing I observed with brown rice is, it may give stomach cramps initially. Let me stress here again on "may". My husband did not have any problems at all. On the other hand I developed severe stomach cramps on the second day after eating brown rice consecutively for two days.
I spoke with my nurse to find out the reason and she explained that since brown rice is whole grain, drinking more water would help with easy digestion of the fiber. Now don't make this an excuse to avoid using brown rice because it's not the case with everybody. Since our(my) body is used to white flour and rice, it may take some time to tolerate the extra effort it has to put to digest whole grains. So increase your consumption of brown rice gradually and also drink a lot of water.

| | | |
| --- | --- | --- |
| Healthy Brown Rice Pongal Recipe | | |
| Prep Time | Cook Time | Makes |
| --- | --- | --- |
| 30 Mins | 30 Mins | 2-3 Servings |
| Author | Category | Method |
| Madhuram | Tiffins/Main-Course | Cooking |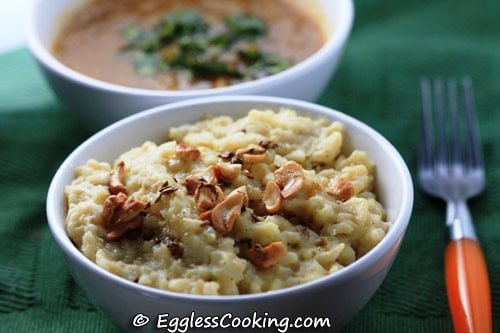 Give a healthy spin to the traditional Pongal recipe by using brown rice instead of white rice.

Ingredients:
3/4 cup

Brown Rice

1/2 cup

Moong Daal

3 and 1/4 cups

Water

1 teaspoon

Black Pepper Powder

2 teaspoons

Cumin

1 tablespoon

Grated Ginger

as per taste

Salt

1 tablespoon

Ghee

5 to 6

Curry Leaves

As Needed

Cashews Broken Into Small Pieces (Optional)
Procedure:
Wash the rice and daal together a couple of times. Add the rice, daal, water, pepper powder, cumin and grated ginger in a pressure cooker directly and let it stand for at least 30 minutes. Soaking brown rice in water before cooking is suggested for added health benefits. You need not do this if using white rice.
Cook it in low-medium heat and leave it for 6 whistles. Switch of the stove and remove the cooker from the stove.
Meanwhile in a small frying pan heat the ghee, add the curry leaves and fry the cashew pieces (if using) until golden brown.
Once you are able to open the cooker add required amount of salt and pour the heated ghee and mix well.
Eat it hot with chutney, sambar or the traditional accompaniment Eggplant Gojju or Gothsu.
My Notes:
Pongal is made with white rice (preferably ponni raw rice or even sona masuri). To adopt a healthy lifestyle I have used brown rice instead.
Traditionally rice and daal are cooked first. Then ghee is heated, to fry cumin, pepper, ginger and cashews, which is added to the cooked rice. You could do it either way.
Also whole peppercorns are used for pongal. In our house we don't like biting full peppers, so I use black pepper powder.

Try this recipe, click a pic and hashtag it #egglesscooking - Proudly showcase your creations on Instagram, Facebook & Twitter!