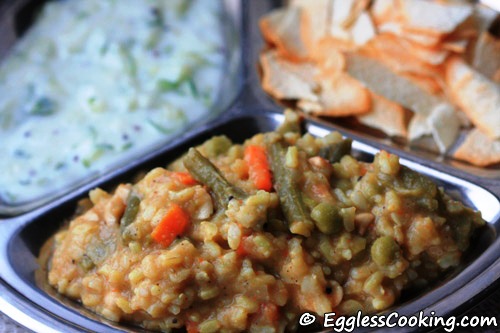 Last week I tried Pongal with brown rice and it came out very well, which made me think why not bisi bele bath with brown rice? Earlier I was very hesitant about using brown rice, wondering if we would like the taste or not. To my surprise my husband and myself liked it very much. I think this is one of the few things we both agree upon!
What is bisi bele bath?
It's a traditional main course, rice dish from the Karnataka state of India, meaning hot lentil rice. Originally the preparation of this rice involves an elaborate procedure of preparing the bisi bele bath masala with fresh ingredients and spices. But like any other recipe which has quick short cuts to make life easier, this recipe can also be done in no time by buying store bought bisi bele bath powder.
But in this blog post I have given the recipe to make the bisi bele bath masala powder at home itself. This powder can be made ahead of time and stored in the refrigerator for future use as well. If you are faced with time constraint you can buy the masala at your regular Indian grocery stores and use it in place of the powder I have used in this bisi bele bath recipe.
I have used pressure cooker to make this bisibele bath recipe because cooking brown rice is made easier with the use of a pressure cooker to get the right consistency. You may try it in an electric cooker too but I haven't tried it and hence can't suggest any tips or tricks for the same.
Brown rice when cooked has a rubbery (is it even a word?) texture. Or simply it is not as soft as its white counterpart. You feel very full after eating a cup of rice, as against wanting more after eating white rice. I made zucchini raitha to go with the bisi bele bath. That's easy to prepare too. You can find other facts about brown rice here.
Check here for more brown rice recipe ideas.

| Prep Time | Cook Time | Makes |
| --- | --- | --- |
| 10 Mins (not including soaking of rice) | 45 Mins | 4 Servings |
| Author | Category | Method |
| Madhuram | Frozen Desserts | Freezing |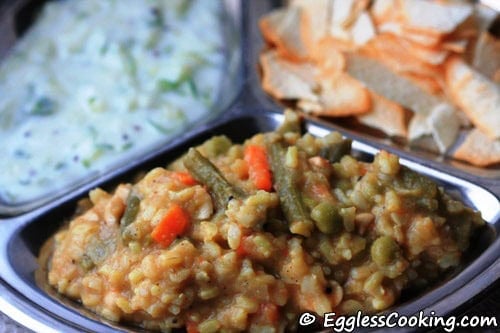 Wondering how to make bisi bele bath? Originally prepared using white rice, I have got here a healthy spin on the traditional bisi bele bath recipe using brown rice. Don't worry, you will still like it. No compromise on the taste whatsoever!

Ingredients For Masala Powder:
1 Tablespoon

Channa Daal

1/2 Tablespoon

Urad Daal

1 Tablespoon

Coriander Seeds (Dhaniya)

1/2 Teaspoon

Fenugreek Seeds

1/2 Teaspoon

Black Peppercorn

2 To 3

Cloves

1 Inch Piece

Cinnamon Stick

As Required

Red Chillies (I Used 2 Small)

1 Tablespoon

Grated Coconut

1 Teaspoon

Ghee/Sesame Oil
Ingredients For Rice:
3/4 Cup

Brown Rice

1/2 Cup

Toor Daal

1/4 Teaspoon

Turmeric Powder

3 To 4 Cups

Vegetables (I Used Carrots, Beans, Potatoes And Green Peas, 1 Cup Each)

1 Medium

Sliced Onion (Or Pearl Onions Preferably)

1 Tablespoon

Tamarind Paste

1 Teaspoon

Mustard Seeds

A Pinch

Hing

As Required

Salt

1/2 Tablespoon

Sesamme Oil

1/2 To 1 Tablespoon

Ghee (Optional)
Ingredients For Zucchini Thayir Pachadi:
1

Grated With Skin Small Zucchini

1 Teaspoon

Salt

1 To 2 Cups

Yogurt

1 Teaspoon

Canola Oil

1/2 Teaspoon

Mustard Seeds

As Required

Green Chillies, Sliced Into Half (I Used 1)

A Pinch

Hing
Procedure for Bisi Bela Bath:
Wash the brown rice and toor daal and soak it together (also add turmeric powder) in warm water for at least 30 minutes (the longer the better). Soaking the brown rice in warm water activates more enzymes, which makes it possible to obtain a more complete amino acid profile. For 1 cup of rice and daal use 2 and 1/2 cups of water, so I used 3 and 1/4 cups of water. I did the soaking straightaway in a pressure cooker. After soaking, leave it for 5 whistles and transfer the cooker from the stove if cooking on an electric range, because the heat from the coil will continue the cooking process and you will end up scraping burnt rice from the bottom of the pressure cooker.
Meanwhile prepare the masala powder, while the rice is cooking. In a small frying pan add ghee, once it heats, fry (until golden brown) one by one the ingredients mentioned in the list. Once it cools, powder it in a blender/spice grinder.
In a medium size pan add the 1/2 tablespoon of oil, once it heats add the mustard seeds, curry leaves (if using) and hing. Then fry the sliced onions. Add a pinch of salt, so that the onion cooks faster. Then add the vegetables and required amount of salt and let it cook for 5 minutes. Once it is half cooked add the tamarind paste and 1 and 1/2 cups of water and close the pan with the lid. Let it cook until the raw smell of tamarind leaves. Then add the masala powder and let it simmer for another 2 minutes.
Alternatively you can do the entire step in a pressure cooker easily. That's how I do it. I have a small pressure cooker. So as usual I do the tempering, fry the onions. Then I simply add the vegetables, salt, tamarind and water and close the cooker's lid and leave it for only 1 whistle. If you are using an electric range be sure to transfer the cooker from the stove after turning off the stove, because the heat from the coil continues the cooking process and you would end up having mushy vegetables. After opening the lid, add the masala powder and let it simmer for 2 minutes.
Then add the cooked rice and daal mixture to the vegetables gravy and mix it well. If you like you can add the 1/2 tablespoon of ghee or sesame oil now. If the rice looks a bit watery, don't worry, it will thicken up. You can keep it on low heat for sometime and it will thicken up. On the other hand if it's very thick add some warm water to loosen it. It's very forgiving, so don't worry.
Procedure For Zucchini Thayir Pachadi:
Wash the zucchini and grate it with the skin and place it in a bowl. Add the required amount of salt.
In a small frying pan heat the oil, add the mustard seeds. Once it splutters add the sliced green chillies, hing and fry it.
Add this to the zucchini and mix it well.
Mix the yogurt to the zucchini when ready to serve.
My Notes:
If you don't have the time to prepare the bisi bele bath masala powder you can buy it. I've tried MTR brand and it's good too.
You could also buy the frozen Avial vegetables available in Indian grocery stores and save time chopping vegetables.
I have pressure cookers in all size so I used one for cooking the vegetables and one for cooking rice/daal. You can also cook both in any vessel on stove top, but as far as I've read brown rice takes more time to cook like that.
We don't eat spicy food, so I used only 2 red chillies for the masala powder. The heat was very mild. If you prefer it more spicy use about 4-5 chillies.

Try this recipe, click a pic and hashtag it #egglesscooking - Proudly showcase your creations on Instagram, Facebook & Twitter!