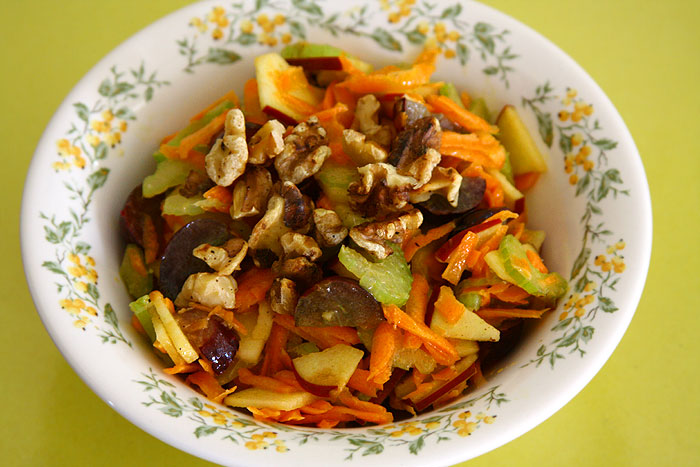 Vegetarian Times is my new favorite and go-to website for interesting vegetarian and vegan recipes. I'm going through a phase where I'm tired of cooking the same old Sambar, Kootu (both have stew-like consistency made with vegetables and lentils) and curry, day in and day out.
So these days it's a lot of salads and soups in our house. I usually alternate between soups and salads. We also prefer salads made from lightly steamed veggies than raw because we are not able to digest it quite well as we used to in summer. I think it's because of the weather and lack of enough physical activity.
I found this recipe for a lunch box salad in the website and decided to give it a try. I was actually walking out of my comfort zone with this recipe because I usually don't like mixing salt and sweet stuff together.
So I wasn't sure if I would like this unusual combination of fruits and vegetables. To my surprise it was not bad at all. After I made a couple of changes to the original recipe to suit my taste this recipe is definitely a keeper now. You can also play around the recipe by adding and omitting some ingredients.

| | | |
| --- | --- | --- |
| Luscious Lunch Box Salad Recipe | | |
| Prep Time | Cook Time | Makes |
| --- | --- | --- |
| 15 Mins | 05 Mins | 4 Servings |
| Author | Category | Method |
| Madhuram | Salads | Mixing |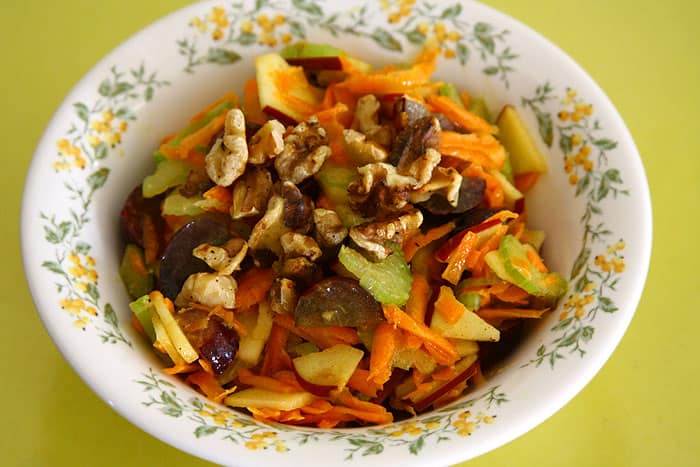 This lunch box salad looks like spring in a bowl with a variety of colorful fruits and vegetables.

Ingredients:
1 And 1/2 Cups

Grated Carrot (About 2 Medium Size Carrots)

1 And 1/2 Cups

Chopped Apple ( About 1 Mediums Size Apple)

1/2 Cup

Sliced Celery (About 1-2 Stalks)

1/2 Cup

Halved Seedless Grapes ( I Quartered It Because It Was Very Big)

1/2 Cup

Cottage Cheese Or Paneer

1/2 Cup

Chopped Walnuts, Toasted

1/2 Cup

Raisins Or Dried Cranberries (Optional)

2 Tablespoons

Plain Yogurt

1 Tablespoon

Olive Oil

1 Teaspoon

Apple Cider Vinegar

1/2 To 1 Tablespoon

Lemon Juice

1/8 To 1/4 Teaspoon

Curry Powder

Salt And Pepper

To Taste
Procedure:
To toast the walnuts, heat a frying pan and simply add the walnuts to it and keep stirring until it turns crunchy, for about 4-5 minutes. Take care to see that it does not burn. You will see that the skin starts coming out of the nuts and you can blow it away if you don't want it.
In a large bowl, whisk together the yogurt, olive oil, vinegar, lemon juice, curry powder, salt and pepper.
Add all the ingredients except the walnuts and mix together. Store it in the refrigerator until it's time to serve.
Top the toasted walnuts just before serving to retain its crunch.
Taste:
As I have mentioned before, I was not very excited about this lunch box salad when I prepared it just like it was mentioned in the original recipe. I was picking out the raisins from the salad because I really don't like to mix something that sweet with the other salty ingredients. I also felt that it was bland and lacked something. So I was thinking what could I do and came up with some ideas. You can see that cottage cheese, walnuts and curry powder is not mentioned in the recipe but I did some experimenting and finally came up with this combination which suited my taste very well.
I bought cottage cheese for the very first time after reading that it is a good source of protein available for vegetarians. I was expecting it to taste exactly like Paneer but was quite disappointed because it had a salty/sour taste which I didn't like. When I was wondering what to do with it, I got this idea to mix it in the salad and to my surprise, it went very well in this salad recipe.
My Notes:
The above ingredients and measurements is just sort of an idea to put together this salad and the way I liked it. You can create your own signature salad by adding or omitting some of the ingredients. Next time around I would like to add pear instead of apples, balsamic vinegar instead of apple cider vinegar and Dijon mustard instead of lemon juice. I will still have the cottage cheese or Paneer and toasted walnuts (definitely) because it gives the salad a complete balance both taste-wise and texture-wise. If you don't like vinegar, you could also whisk in some lemon juice or orange juice with the yogurt for a citrussy flavor.
The 1 cup of grapes mentioned in the original recipe, was too sweet for us so I reduced it by half. That's the reason I omitted the raisins too. The next time I make this salad I think I will use some strawberries too, to balance the sweetness of the grapes.
The above picture was taken before adding the cottage cheese. My husband is not much of a cheese fan, so I mixed cottage cheese only to my portion of the salad.

Try this recipe, click a pic and hashtag it #egglesscooking - Proudly showcase your creations on Instagram, Facebook & Twitter!