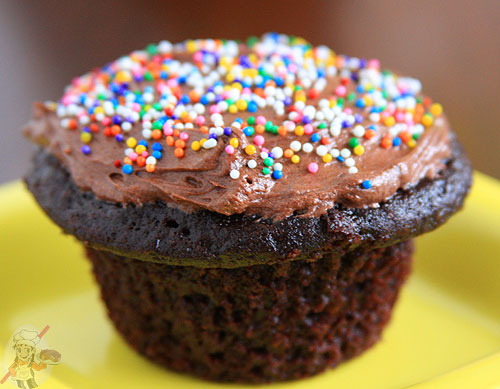 Happy Diwali Wishes to all readers of Eggless Cooking. We celebrated my little one's 4th birthday last week. He has always been a strawberry fan. He has been telling that he wants a strawberry cake right from August. So it was a no-brainer for me. All I had to do was to find a good strawberry cake recipe. But it was not as easy as I thought. More about that in the strawberry cake post. On the eve of his birthday party while I was baking the strawberry cake and pineapple sheet cake (yes baked that one too), he came next to me and asked in the cutest possible way that he wanted chocolate cupcakes. How can I say no to that adorable little guy!
I do have a couple of eggless chocolate cake/cupcakes already but didn't want to try them because I always look forward to try new recipes so that I can blog about it! Yes you got me! While doing the search somehow got to this one bowl chocolate cake recipe. It was already 11pm and I needed something pretty simple like that, which can be whipped up in a jiffy and still look like I slogged big time in the kitchen.
Because I already have enough luck with the tofu and cocoa combination especially in this "I can't believe it's eggless chocolate cake" recipe, I decided to use tofu itself in this recipe too as the egg substitute. No wonder it turned out great!

| | | |
| --- | --- | --- |
| One Bowl Eggless Chocolate Cupcakes Recipe | | |
| Prep Time | Cook Time | Makes |
| --- | --- | --- |
| 15 Mins | 23 Mins | 15 Cupcakes |
| Author | Category | Method |
| Madhuram | Cupcakes | Baking |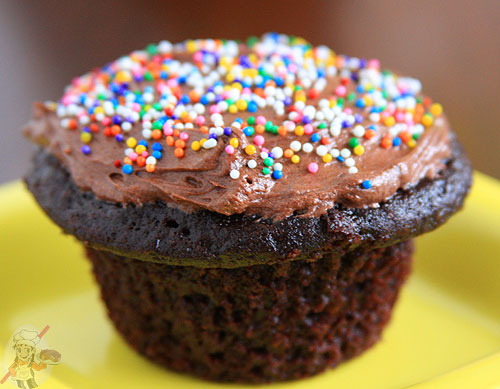 If you are in a hurry yet want to bake chocolate cupcakes that looks great and tastes "out of this world", then this one bowl eggless chocolate cake recipe is your answer.

DRY INGREDIENTS:
1 and 1/2 cups

white sugar

1 and 1/2 cups

all-purpose flour

3/4 cup

unsweetened cocoa powder

1/2 tablespoon

baking soda

1 teaspoon

baking powder

3/4 teaspoon

salt
WET INGREDIENTS:
3/4 cup

buttermilk

1/3 cup

avocado oil

1/2 cup

warm water (See My Notes)

1/3 cup

silken tofu

3/4 teaspoon

vanilla extract
Procedure:
Preheat oven at 350F/180C for 15 minutes. Line muffin tin with cupcake liners.
In a large bowl whisk together the dry ingredients. Add the ingredients mentioned under the wet mix one after the other and beat it well with an electric beater until the batter is smooth.
Fill each muffin cup until it's 2/3rds full. Bake it until a toothpick inserted in the center of the cupcake comes out with little crumbs attached. Mine was ready around the 23rd minute.
Remove it from the oven and let it cool on a wire racking for 5 minutes in the pan itself. Then remove the cupcakes out of the pan and cool it on the rack completely before frosting.
My Notes:
I got about 12 regular size cupcakes and 6 mini cupcakes. I think the recipe would yield 15 regular size cupcakes.
Usually I puree the silken tofu and then add it to the rest of the ingredients. This time I didn't. Just dumped together all the ingredients and used the electric beater to beat well. I did see bits and pieces of tofu that wouldn't blend well enough but after a couple of times, I guess it did mash well. So if you don't have an electric beater and plan to do the mixing with a spatula/wooden spoon, I would suggest pureeing the tofu first in a mixer and then adding it to the rest of the ingredients.
The original recipe had mentioned to add warm water along with the buttermilk and oil. I missed it because it was not mentioned in the ingredients list. I didn't realize it until I sat down to write this post. I'm surprised that the cupcakes turned out so good even after I omitted to add the water. But I have to agree that the batter didn't feel like a cupcake batter. It was not in a pouring consistency. I was really wondering what had happened but didn't want to take chance by adding extra liquid. I would probably add 1/2 cup of water when I bake it the next time. In that case the baking time might be increased by another minute or two, I guess.

Try this recipe, click a pic and hashtag it #egglesscooking - Proudly showcase your creations on Instagram, Facebook & Twitter!