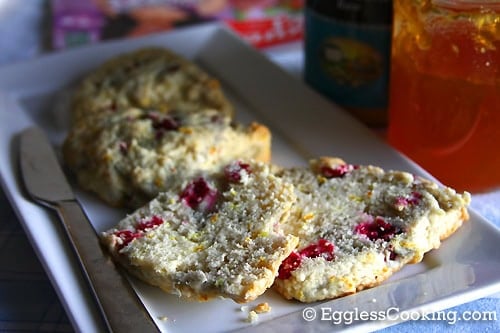 It has been a while since I baked anything.  I'm trying to cut back on baked and sweet stuff for health reasons.  I baked these cranberry scones because I had a big pack of cranberries from Costco and was looking for ways to finish it off.  I found this scone recipe on the pack itself but you can refer to the original here.  I incorporated some changes and veganized it.  So here it is, an easy vegan scone recipe. Don't forget to check a similar cranberry scone recipe I have posted already using dried cranberries and white chocolate chips.

| | | |
| --- | --- | --- |
| Vegan Cranberry Scones Recipe | | |
| Prep Time | Cook Time | Makes |
| --- | --- | --- |
| 20 Mins | 17 Mins | 12 Scones |
| Author | Category | Method |
| Madhuram | Scones | Baking |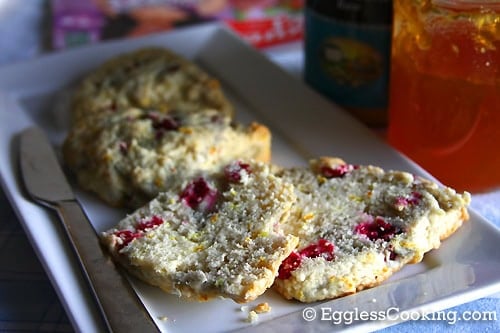 Quick and easy to bake, this vegan scone recipe can be adapted to suit your taste by substituting cranberries with your choice of berries.

Ingredients:
2-1/4 cups

All Purpose Flour

1/3 cup

White sugar

1 tablespoon

Orange peel, grated

2-1/4 teaspoon

Baking Powder

1/2 teaspoon

Baking Soda

1/4 teaspoon

Salt

1/2 cup

Coconut Oil (solidified)

1 cup

Fresh or Frozen Cranberries, chopped

1/2 cup

Milk or Yogurt (I used Almond Milk)

1 teaspoon

Vanilla extract
Substitutions:
Procedure:
Preheat oven at 350F/180C for 15 minutes. Lightly grease a large cookie sheet with non-stick cooking spray.
In a large bowl, combine together the flour, sugar, orange peel, baking powder, baking soda and salt.
Cut in the coconut oil and mix it using a pastry blender or 2 knives, until mixture resembles coarse crumbs.
Stir in cranberries. Add the milk and vanilla extract.
Divide the dough into half. On a lightly floured surface pat one half of the dough into 6 inch circle which is 1/2 inch thick. Cut into 6 wedges. Repeat it for the other half of the dough too.
Place the scones on the prepared baking sheet and bake for 15-20 minutes until lightly browned. Mine was ready around 17 minutes. Serve warm.
Taste:
These scones were light and flaky, mildly sweet, which was absolutely perfect for us. Enjoy it warm with a dab of butter and your choice of fruit spread.
My Notes:
I have not baked scones using whole wheat flour or whole wheat pastry flour. So I don't know how it will turn out texture-wise and taste-wise and hence I'm not recommending it as a substitute for all purpose flour.
For chopping frozen cranberries, rinse it under running tap for a couple of minutes, drain and chop it immediately.
The original recipe required the scones to be baked at 400F/200C for 15 minutes, but I reduced it to 350F because I was using coconut oil, the smoking point of which is 360F.

Try this recipe, click a pic and hashtag it #egglesscooking - Proudly showcase your creations on Instagram, Facebook & Twitter!