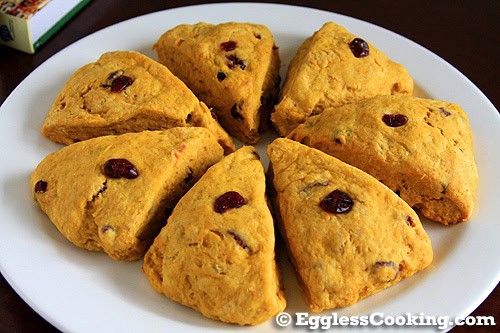 I'm back with another pumpkin recipe. This time it's moist and buttery pumpkin cranberry scones. As always I found this amazing recipe in my favorite website and have modified it to make it egg free. I also included a considerable amount of whole wheat flour and added in dried cranberries to keep up with the "fall baking" theme.

| | | |
| --- | --- | --- |
| Moist Pumpkin Cranberry Scones Recipe | | |
| Prep Time | Cook Time | Makes |
| --- | --- | --- |
| 25 Mins | 20 Mins | 16 Scones |
| Author | Category | Method |
| Madhuram | Scones | Baking |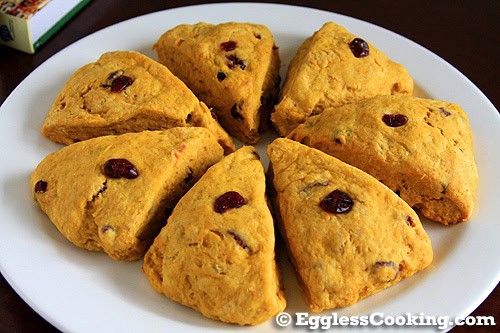 Moist and buttery pumpkin scones makes a wonderful addition to any breakfast table or as a tea time snack. The light orange hue makes it eye candy too.

Ingredients – Part 1:
2 and 1/2 cups

all-purpose flour

2 cups

whole wheat flour

1/2 cup

packed brown sugar

4 teaspoons

baking powder

1 teaspoon

ground cinnamon

1/2 teaspoon

baking soda

1/2 teaspoon

salt

1 cup

cold butter, cut into cubes
Ingredients – Part 2:
1/2 cup

plain yogurt

1 and 1/4 cups

canned pumpkin

3/4 cup

milk, divided
Ingredients – Optional:
Substitutions:
flour – whole wheat pastry flour
butter – solidified coconut oil, vegan butter substitute
yogurt – soy yogurt or any other non dairy yogurt for vegans
dried cranberries – raisins or chocolate chips
Procedure:
Preheat oven at 400F/190C for 15 minutes.
In a large bowl combine together all the ingredients in Part 1 except the butter.
Cut in the butter using 2 forks or a pastry knife until the mixture resembles coarse crumbs.
In another bowl whisk together the yogurt, pumpkin and 1/2 cup of milk.
Stir the wet mix into the flour mix until moistened. Fold in the cranberries, if using.
Turn the dough on a floured surface and knead a couple of times. Greasing your hand lightly with oil/butter will make the kneading easier.
Divide the dough into two parts and pat each into an 8-inch circle. Cut each circle into 8 wedges and place it on an ungreased baking sheet an inch apart and brush the remaining milk over the scones.
Bake for about 12-20 minutes. I'm guessing that it took 20 minutes because I used whole wheat flour (See My Notes). The original recipe suggests to bake between 12-15 minutes.
Transfer to wire racks and cool for about 10 minutes before serving. Glaze it with your choice of icing if you prefer it.
Taste:
These pumpkin scones were very moist unlike the other scones I have baked so far. This was nice too. I did get the raw smell of whole wheat flour when I tasted it immediately after baking. But it did gradually disappear after a couple of hours. I'm not complaining at all because I(we) have got used to whole grain baking and we rarely feel it. The sweetness is mild and I think that's why a glaze was suggested in the original recipe. I added the dried cranberries in the recipe and I feel that it gives adequate sweetness to the scones.
My Notes:
I think you would have to use 3/4ths cup of sugar if you omit the cranberries and don't do the glaze.
If you have pumpkin pie spice, go ahead and add it. Also whole wheat pastry flour could be used instead of the whole wheat flour and all purpose flour combo.
The original recipe suggested to bake the scones for 12-15 minutes. But I was actually able to see uncooked dough here and there even after 15 minutes. I think this could be because of the whole wheat flour I used. That along-with the pureed pumpkin made it pretty dense. So I baked for another 5 minutes and the scones turned out perfect.
This recipe makes a large batch of scones. Bake them ahead and freeze it. Pop it in the microwave oven for 20 seconds (more or less depending upon your oven) before serving and it tastes like "just out of the oven". I followed this trick myself and it sure does work.
I'm pretty sure that you could halve the recipe without any problem for a smaller batch.

Try this recipe, click a pic and hashtag it #egglesscooking - Proudly showcase your creations on Instagram, Facebook & Twitter!