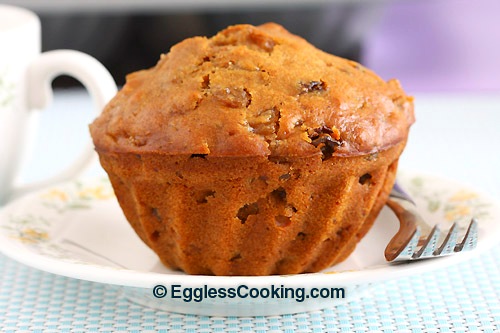 I had bookmarked this apple cake recipe long back and didn't get a chance to try it until last week. As usual Taste of Home's recipe didn't fail me. Since I have baked a lot of apple cakes, I decided to substitute it with pears and the result was total yumminess. This is my first try baking a pear cake and it turned out so good that even my husband who usually stays away from sweets kept asking for seconds and thirds. When I tasted the batter I felt it was over the top sweet but after baking the cake did not taste very sweet. It was sweeter than some of the recipes I have here but definitely good. So for me this is more of a dessert cake than a snack cake.
The original recipe calls for butter which I have replaced with a vegan vegetable oil spread. Other than that I have not made any changes in the recipe. Another change I have made is using a different pan instead of a fluted tube pan mentioned in the recipe. I used a mini bundt pan with 6 inserts. I had one more batter left over after filling that pan, which was enough to make about 7 mini muffins. I think you could also use a 9×13 inch pan instead. If baking as muffins, the batter should be enough to make about 18-20 muffins.
Reading the recipe I knew that the cake would be a very big one which would be way more than our family could eat and that's why I decided to bake it as mini bundt cakes so that I can share it with some of my friends without cutting it and making a mess. So you could also try baking it as mini loaves and it would make perfect gifts. Make sure to check the baking time according to the pan you use.

| Prep Time | Cook Time | Makes |
| --- | --- | --- |
| 30 Mins | 40 Mins | 10 inch fluted tube pan |
| Author | Category | Method |
| Madhuram | Cakes | Baking |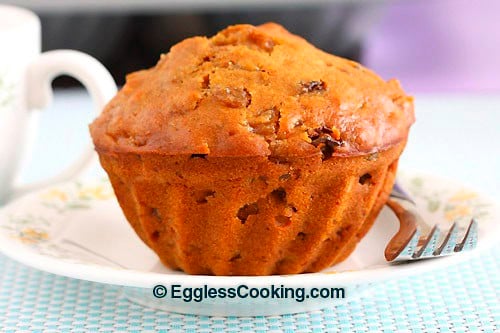 Very easy to bake, this pear cake is moist, sweet and gets and amazing texture from the cooked pears, plumped raisins and walnuts.

Ingredients:
4 cups (about 2 large pears)

Diced Pear

2 cups

Golden Raisins

2 cups

Unsweetened Apple Juice

1 and 1/2 cups

Brown Sugar

6 tablespoons (I used Becel Vegan Spread)

Butter/Margarine

2 teaspoons

Salt

1 teaspoon

Ground Cinnamon

3 cups

All Purpose Flour

2 teaspoons

Baking Soda

1 cup

Chopped Walnuts (optional)
Procedure:
In a large saucepan, bring the first 7 ingredients to a boil. Reduce heat; simmer for 5 minutes uncovered. Remove from heat and cool to room temperature.
Meanwhile preheat the oven to 350F/180C for 15 minutes. Lightly grease the pan with non stick cooking spray. I used a mini bundt pan (with 6 inserts). Greased it with shortening first and sprinkled some all purpose flour and tap off the excess.
In a large bowl combine the flour, baking soda and walnuts. Fold in the pear mixture. Transfer batter to the prepared pan.
Bake for about 40-45 minutes or until a toothpick inserted in the center comes out clean. Mine was done by 38 minutes.
Cool for 10 minutes on a wire rack before removing the cakes from the pan.
My Notes:
As mentioned above, this pear cake recipe can be baked in a couple of different pans. So the time I have mentioned in the procedure will not stand good if you choose a different pan size. Check for the doneness of the cake accordingly.
I did not peel the pears. Diced it with the skin.
Walnuts was not mentioned in the original recipe but I used it and I would definitely suggest using either that or pecans.
If you are a spice fan you could also use some ground clove.

Try this recipe, click a pic and hashtag it #egglesscooking - Proudly showcase your creations on Instagram, Facebook & Twitter!