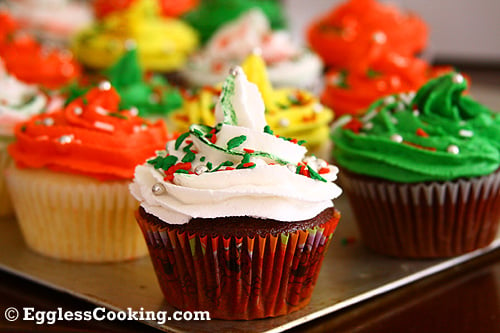 Hello friends, hope you all had a wonderful Christmas, happy New Year and a lovely Pongal! I know that I went missing again but back with a decadent vegan red velvet cake recipe! As I have mentioned before I'm trying to cut back on baking to get back on a healthy lifestyle. I have to do this because I completely lack self-control when it comes to sweets. So I have decided to cut it at the source itself!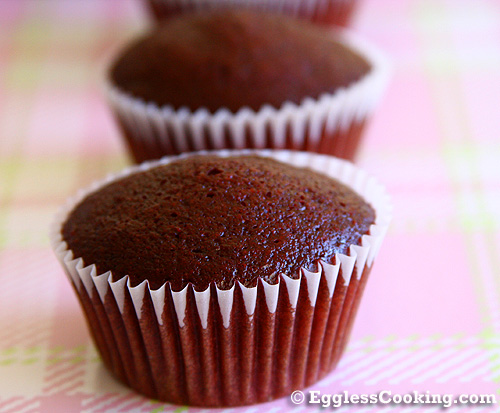 During Christmastime I got an order to bake some cupcakes. Initially, I was requested to make egg free red velvet cupcakes but I told them that I haven't tried it so far and will stick to vanilla and chocolate itself. Actually, I have been avoiding the red velvet cupcakes all these days because I'm not comfortable using food colors and that too this particular recipe uses so much of it.
Also, it is quite difficult to find a vegetarian red food color. But being the baking enthusiast that I am, I did not want to miss the opportunity to try something new. So I started searching the web for a vegan red velvet cupcake recipe and found this in Food.com.
The recipe is all over the internet and supposedly has featured in Vegan Cupcakes Take Over the World too. This recipe is quite similar to the vegan chocolate cake recipe I have posted earlier, except that it does not use as much cocoa powder. These vegan red velvet cupcakes were crimson in color instead of bright red and looked more like beet cupcakes. When I try this recipe the next time for my family I'm going to use pureed beets instead of the food color.
This red velvet vegan cupcake recipe can also be used to make vegan red velvet cake. You can bake two layered cake. The recipe should be good enough to bake two 8 or 9 inch round cakes. What special way than to celebrate your special occasion with a vegan red velvet cake with vegan cream cheese frosting! Another interesting idea is to bake them in a mini muffin tin to make cute little red velvet vegan cupcakes. This size will be perfect if you are baking it for small children especially.

| | | |
| --- | --- | --- |
| Vegan Red Velvet Cupcakes Recipe | | |
| Prep Time | Cook Time | Makes |
| --- | --- | --- |
| 20 Mins | 17 Mins | 12 cupcakes |
| Author | Category | Method |
| Madhuram | Cupcakes | Baking |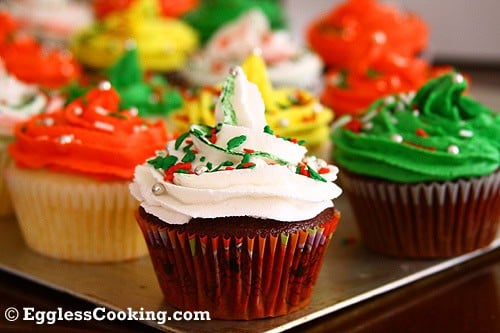 Make your special occasions even more special by baking these vegan red velvet cupcakes. Frost it with your favorite frosting and add sprinkles to suit the celebration.

Ingredients:
1 cup

Non Dairy Milk (I used almond milk)

1 teaspoon

Apple Cider Vinegar

1 1/4 cups

All Purpose Flour

1 cup

sugar

2 tablespoons

Cocoa powder

1/2 teaspoon

Baking powder

1/2 teaspoon

Baking soda

1/2 teaspoon

Salt

1/3 cup

Oil

2 tablespoons

Red Food Coloring (make sure that it's vegan)

2 teaspoons

Vanilla Extract

1/4 teaspoon

Almond Extract
For Frosting, Check this Vegan Butter cream Icing recipe
Procedure:
Preheat the oven at 350F/180C for 15 minutes. Line a 12 cup muffin tin with paper liners and grease it lightly.
In a medium size bowl, mix together the milk and vinegar allowing it to curdle. This will take about 5 minutes.
Meanwhile in a large bowl sift together the flour, cocoa powder, baking powder, baking soda and salt. Stir in the sugar too.
Once the milk has curdled, stir in the oil, food color and the extracts. Whisk it well to combine.
Make a well in the dry ingredients and slowly add the wet ingredients to it, stirring it until all the ingredients come together. Small lumps are okay. Take care to see that you do not over mix it otherwise you will not get fluffy cupcakes.
Fill each muffin tin 3/4ths full of the batter.
Bake it for about 16-20 minutes or until a toothpick inserted in the middle of the cupcake comes out clean or with very little crumbs is okay too. Mine were done after 17 minutes.
Transfer the pan to a wire rack and let it remain there for 5 minutes. After that remove the cupcakes from the pan and let it cool completely before you can frost it.
Taste:
Since I have not tasted a regular red velvet cupcake before I have nothing to compare this vegan red velvet cupcake with, but I firmly believe that even those who have tasted the original version will love this vegan version too. It doesn't taste very "chocolaty" or doesn't have an overpowering vanilla flavor either. The original recipe uses some chocolate extract, which as the author suggests makes this cupcake stand out. I was not able to find it though.
My Notes:
My red velvet cupcakes looked more like purple Velvet cupcakes. I think I should have used the entire bottle (28ml) of red food color instead of just the 2 tablespoons. The color of the cake depends upon the brand of food color you use. Mine looked more like cupcakes made with beets, which actually is a very good alternative for the red food color.

Try this recipe, click a pic and hashtag it #egglesscooking - Proudly showcase your creations on Instagram, Facebook & Twitter!