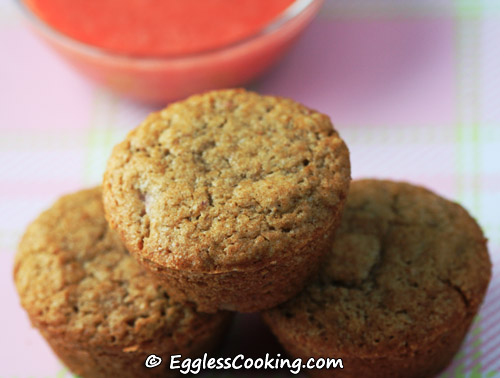 This strawberry cupcake recipe is from The Joy of Vegan Baking. This was the first recipe I ever tried from this book and my first experience with vinegar too. I was surprised that it didn't taste anything like vinegar.
It was very sweet for me, so I would reduce the sugar quantity of sugar when I bake it the next time. Earlier I had this doubt if reducing or increasing the quantity of sugar in a recipe would affect the end product, but recently I got it clarified.
Day before yesterday I baked some blueberry muffins (using vinegar) from the same book and the sugar mentioned in the recipe was 3/4 to 1 cup and I chose to add 3/4 cup because of the experience with the strawberry cupcakes. The muffins came out very good and we were okay with sweetness.
For some, it may be very less but we were fine with it. I wanted to bake these muffins once again (I'll mention the reason when I post that recipe) and added some more sugar, little more than 3/4 cup but less than 1 cup.
Again the muffins turned out good. So I'm sure you can play with the sugar measurement in this strawberry cupcake recipe too because it's pretty similar to the blueberry muffins recipe.

| | | |
| --- | --- | --- |
| Vegan Strawberry Cupcakes Recipe | | |
| Prep Time | Cook Time | Makes |
| --- | --- | --- |
| 15 Mins | 45 Mins | 12-16 Cupcakes OR Two 9 Inch Layers |
| Author | Category | Method |
| Madhuram | Cupcakes | Baking |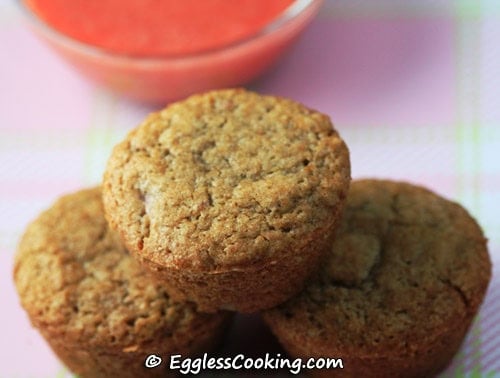 Can a cupcake made with vinegar taste so good? Yes! Sure! Try these vegan strawberry cupcakes and you will know what I mean.

Ingredients:
1 and 3/4 cups

Unbleached All Purpose Flour (I used Bleached)

3/4 to 1 cup

Sugar

1 teaspoon

Baking Soda

8oz (I used 14 strawberries)

Frozen/Fresh Pureed OR Crushed Strawberries

1 teaspoon

Vanilla Extract

1/2 cup

Canola Oil

1 tablespoon

White Distilled Vinegar
Procedure:
Preheat the oven to 350F/180C for 15 minutes. Grease/line a muffin tin or grease a 9 inch loaf pan.
In a large bowl combine together the flour, baking soda and sugar.
In another bowl, mix the oil, vinegar and vanilla. I pureed the strawberries in a blender, because I was not sure if my son would like to bite of chunks of strawberry in the muffin. Add the pureed strawberry also to the oil mixture and stir to combine.
Create a well in the center of the dry ingredients and add the wet ingredients. Stir together but do not over stir.
Pour the batter into the prepared muffin tins. I got exactly 12 muffins.
Bake for about 22 minutes or until a toothpick inserted into the center comes out clean. If baking a loaf bake it for 40-45 minutes and check for the doneness.
Remove from the oven and place on a wire rack to cool. When cool, frost the cupcakes and top each with a whole strawberry.
My Notes:
The original recipe had 1 cup of sugar, but I felt that it was very sweet for us. So I have made it as 3/4 to 1 cup.
Also the time mentioned in the recipe for muffins was 30 minutes, but mine was done around 22 minutes itself. The time mentioned for the loaf was 1 hour, but I have reduced it to 40-45 minutes. I have tried a couple of recipes from this book, they all turn out good, but there is some difference in the time it bakes. Mine always bakes at least 8-10 minutes earlier than the time mentioned in the recipe. Maybe it's my oven! Anyway just watch out.
The top of the cupcake was slightly crispy than soft. I think that's because of the sugar. Since we are not creaming the sugar in this recipe, I think the sugar tends to be in a semi-crystal state, forming a crust like a thing. But in the blueberry muffin recipe also I did not cream the sugar, but it did not have the crusty top. It was so good and light. I can't wait to post that recipe here.
I used a food processor to puree the strawberries. It was a wide base 1 cup mini bowl. I didn't have to add water at all. If you use a blender I think adding little water would be necessary and I'm sure that it would not affect the result in any way.

Try this recipe, click a pic and hashtag it #egglesscooking - Proudly showcase your creations on Instagram, Facebook & Twitter!