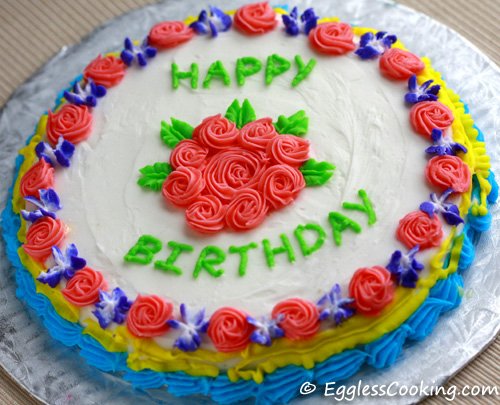 I was looking for a good white cake recipe to bake for my husband's birthday. I saw a recipe for vegan white cake in The Vegan Family Cookbook by Chef Brian P. McCarthy. Actually that book has a lot of interesting recipes, especially vegan baking recipes and I literally want to try each one of them. Wish I had the time for it. So do look for that book in your local library.
For that week's class I had to take 8 cupcakes. So I used the recipe to bake one 8-inch cake for my husband's birthday and the remaining batter was exactly enough for 8 cupcakes. We practiced with tips 3, 12, 21, 67 and 2D in the 3rd class. Check the following links to see what decorations are possible with these tips.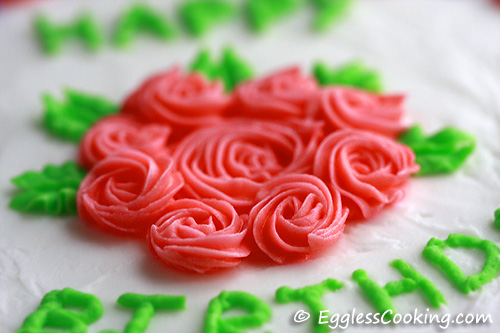 | Prep Time | Cook Time | Makes |
| --- | --- | --- |
| 15 Mins | 30 Mins | One 8-inch Cake & 8 Regular Size Cupcakes OR Two 8-inch Cake Rounds OR One 9×13-inch Cake. |
| Author | Category | Method |
| Madhuram | Cakes | Baking |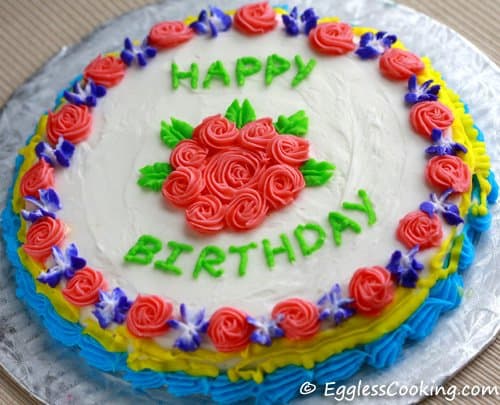 A very good recipe for a vegan white cake using EnerG egg replacer powder.

Ingredients:
3 cups

Cake Flour

2 teaspoon

Baking Powder

1/2 teaspoon

Salt

2 teaspoons

Egg Replacer Powder (EnerG)

1/4 cup

Lukewarm Water

1 and 1/2 cups

Unsweetened Soy Milk

1/2 cup

Margarine

1 and 1/3 cups

Sugar

1 tablespoon

Vanilla Extract
Procedure:
Preheat oven to 350F for 15 minutes. Oil and flour cake pans. I used one 8-inch round pan and baked the remaining batter in a muffin tin for cupcakes. Got 6 of them.
In a bowl, mix together the flour, baking powder and salt.
In a blender/food processor blend together the warm water and EnerG and blend it until it's frothy. To this add the soy milk and blend it for another 30 seconds and set it aside.
In another bowl beat the margarine with an electric mixer until softened. Add sugar and vanilla to the margarine and cream together thoroughly.
Add 1/2 of the soy milk mixture to the margarine/sugar mixture and beat for a minute.
Add 1/2 of the flour to the margarine and beat for a minute.
Now add the remaining soy milk mixture and flour mixture alternately and beat together for a minute after each addition.
Pour the cake batter into prepared pans.
Bake 25-30 minutes or until a toothpick inserted in the center of the cake comes out clean.
Cool the cake in the pan for 10 minutes. Remove from pan to wire cooling rack.
Taste:
This cake was good, but I think I felt the presence of soy milk when I ate the cake without the icing. Luckily my husband and others didn't feel it. So next time I'll be trying some other non-dairy milk instead. It did have a nice texture, especially the cupcakes. Together with the frosting it tasted no different than any other cake.
My Notes:
I used sweetened soy beverage so I reduced the quantity of sugar to 1 cup and it was perfect because it also got the sweetness from the frosting.
For the margarine, I used Fleischman's No Salt Added soft tub margarine.
If you don't have cake flour it's ok. Instead use this substitute which is widely used. Place 2 tablespoons of cornstarch in a 1 cup measuring cup and then fill the rest (until the top of the cup) with all purpose flour and level it off.

Try this recipe, click a pic and hashtag it #egglesscooking - Proudly showcase your creations on Instagram, Facebook & Twitter!