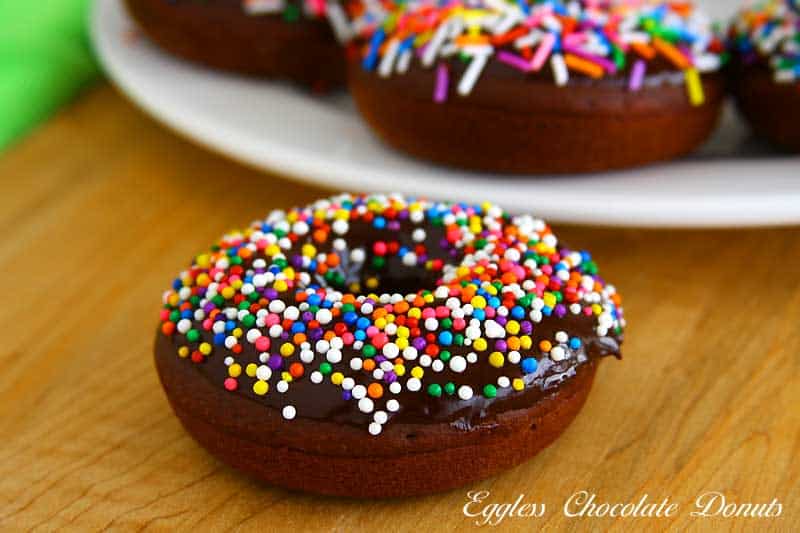 Eggless donuts, pie, cheesecake, tarts are long pending in this blog. For some reason I have this mental block from trying these recipes, even yeast bread recipes. It's been a while since I baked this beginner's white bread! Have to get to those recipes too.
I think 2 years back I did try to make homemade donuts. It was not a baked donut recipe but the traditional deep-fried donut recipe. Like all such recipes that doughnut recipe involved the use of yeast and eggs. Of course, I can't get away omitting yeast, that I was aware of, but was not sure how to substitute for the egg.
Didn't have Ener-G egg replacer at home which came to my mind immediately, so went with a mix of cornstarch, baking powder, etc.
No wonder it didn't turn out as good as I expected. It looked great, no doubts about it at all. But the texture was horrible! It was sort of crispy, dry..altogether definitely not like store bought donuts.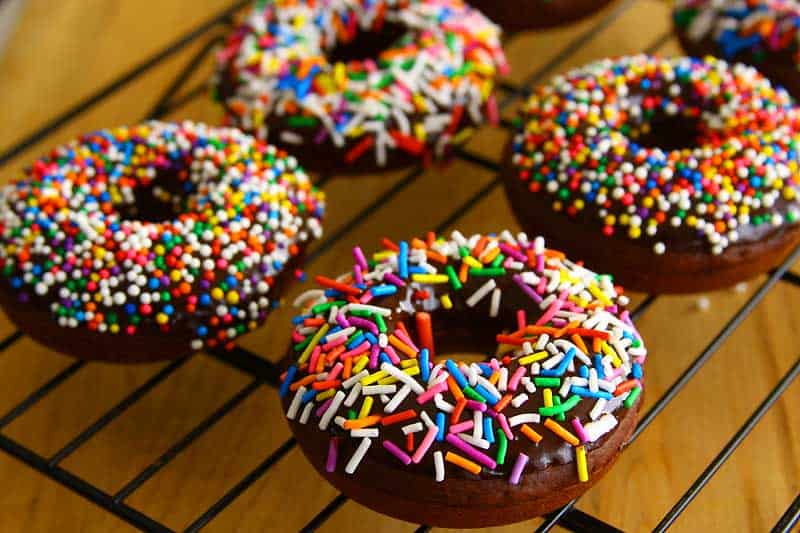 Ever since I just avoided trying it even though I wanted to. Then I came to know about baked donuts. Saw a couple of recipes but still didn't try it out. But I had bought donut pans, the regular round one and also heart-shaped one.
I once tried some left-over eggless checkerboard cake batter in the heart shaped donut pan and it did come out well. It looked so cute, especially that it was a pink/red coloured cake batter. Now I know what to make for next Valentine's Day!
Last week it was my eldest son's last day of school in grade 5 and I wanted to surprise him with some baked treat when he got back from school. He loves sweets and especially anything chocolatey! While browsing on Pinterest for some easy chocolate dessert recipes I came across this baked chocolate donut recipe.
It made only a small batch, just 6 baked doughnuts, the size of the pan I had. So I decided to try it, convincing myself that even if it doesn't turn out well it's just a small recipe, I wouldn't be wasting too many raw materials.
I chose flax egg as an egg substitute for the egg in the original recipe.
Don't ask why because when it comes to egg substitutes in baking it just flashes when I see a recipe and fortunately it has been correct most of the time, as it was with this baked doughnut recipe.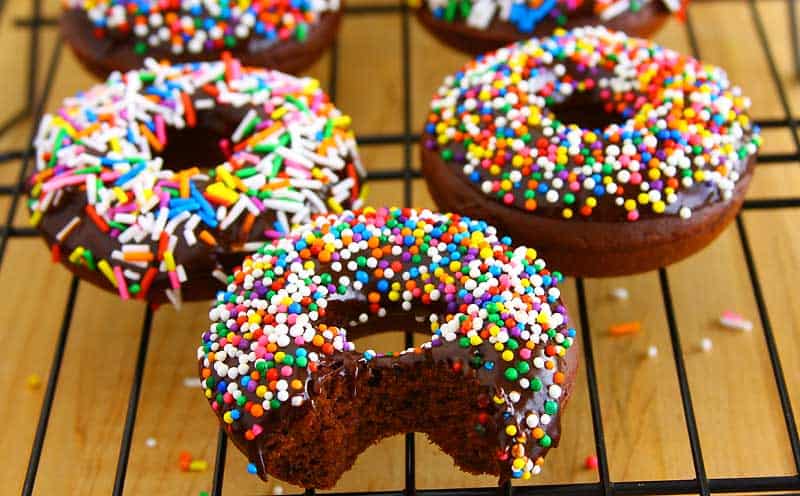 These egg-free baked donuts looked perfect. I was really stunned to see that I was able to remove the doughnuts neatly from the donut pan. It looked perfect! But how did it taste? Was it any good, was it similar to that of fried donuts? The answer would have to be yes and no.
Yes, because it tasted very good. No, because it did not taste or have the texture of deep-fried donuts made with yeast. It was not light and airy like those fried donuts instead it had the texture of a muffin/cake. That's the reason that baked donuts are also referred to as cake donuts.
But that won't stop me from trying this baked chocolate donut recipe or any other baked donut recipe for that matter. It would make an excellent gift during Christmas or anytime and would be a beautiful addition on a breakfast table or your potluck party or a school bake sale!
Try this easy and simple baked chocolate donut recipe and wow your family and friends!

| | | |
| --- | --- | --- |
| Baked Chocolate Donuts Recipe | | |
| Prep Time | Cook Time | Makes |
| --- | --- | --- |
| 25 Mins | 08 Mins | 6 Baked Chocolate Doughnuts |
| Author | Category | Method |
| Madhuram | Donuts | Baking |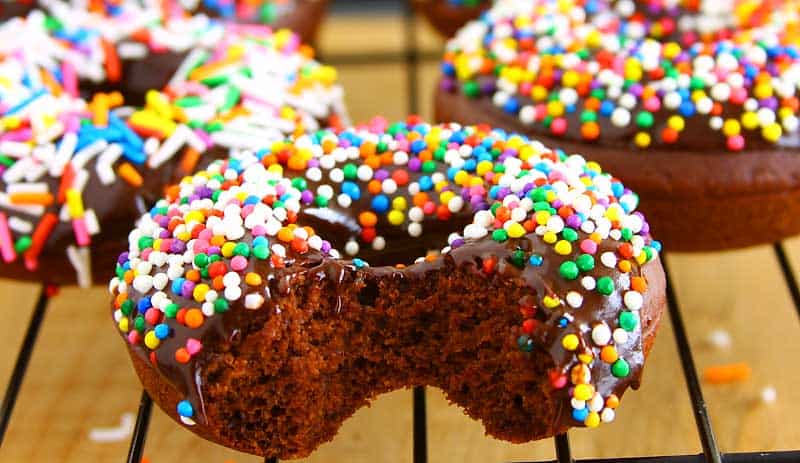 Ever wondered how to make donuts at home? Do you want to make donuts but not comfortable with handling yeasted dough? Baked donuts is the answer! Try this simple eggless baked chocolate donut recipe and be ready to receive lovely compliments from everyone.

Ingredients:
3/4 cup

all-purpose flour

1/4 cup

unsweetened cocoa powder

1/4 cup

granulated sugar

1 teaspoon

baking powder

1/4 teaspoon

baking soda

1/4 teaspoon

salt

1/3 cup

buttermilk

1

flax egg

1/2 teaspoon

vanilla extract

1 tablespoon

avocado oil (any oil of your choice)
for the glaze:
3/4 cup

semi-sweet chocolate chips

1-2 tablespoons

milk
Procedure:
Preheat oven to 420F/220C.
Grease a 6 regular size donut pan with non-stick cooking spray and also dust it with some all purpose flour. Set aside.
In a small bowl prepare flax egg and set aside.
In a large mixing bowl, whisk together flour, sugar, cocoa powder, baking powder, soda and salt.
In a large measuring cup, measure the buttermilk first, then add the flax egg, vanilla and oil. Whisk well.
Add wet ingredients to dry ingredients and whisk until smooth, about 2 minutes. I felt that the batter was a bit thick. So added little water in small increments unto 2 tablespoons.
It is suggested to pipe the donut pan with the batter instead of spooning it. Using a ziploc bag will make the job easy. If you don't have anybody to help you with holding the ziploc bag, place the bag in some container like shown in the video and fill it with the batter. Once done close the bag and cut one corner with scissors and pipe out the batter evenly among donut cups in your pan. Fill about 2/3rds full. The batter will be perfect for the 6 donut cups.
Tap the pan against your counter few times to release any air bubbles.
Bake donuts in preheated oven for 8 to 10 minutes or until the toothpick inserted in few places in each doughnut comes out clean. Mine was done in exactly 8 minutes.
Remove the pan from the oven and place it on a cooling rack. Leave it undisturbed for at least 10 minutes and then remove the donuts from the pan carefully and place it on the wire rack. You may use a butter knife to carefully lift the donut out of the pan.
Glaze:
Place chocolate chips in a medium microwave safe bowl. I didn't have heavy cream as mentioned in the original recipe. So just added a tablespoon of 2% milk to the chocolate chips and melted it in the microwave in small increments until it melted completely and was smooth when mixed well.
Now dip the donut in the glaze and decorate it with sprinkles while it is still wet. Leave it on the cooling rack for the glaze to set.

Try this recipe, click a pic and hashtag it #egglesscooking - Proudly showcase your creations on Instagram, Facebook & Twitter!