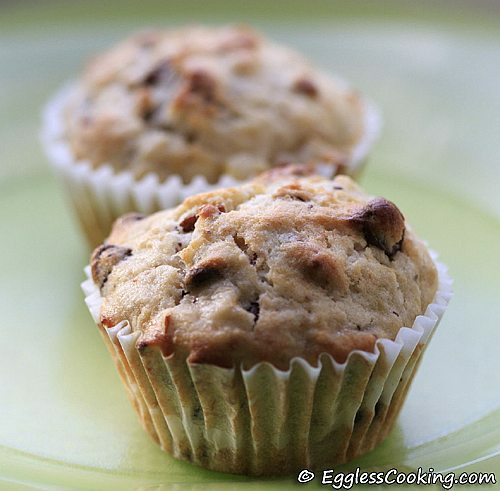 I adapted this banana muffin recipe from the book Vegetarian (available in Barnes and Nobles as Bargain Priced). These muffins are easy to prepare, not overly sweet; perfect to start the morning or have it with coffee in the afternoon to avoid mid-day snack attack. The original recipe had used 2 bananas and 2 eggs. To make it eggless I used 3 bananas and 1/4 cup buttermilk and the muffins turned out great.
My husband loved these banana muffins so much that he himself packed it in his lunch bag for a snack. Usually, when I bake something I place a small piece in a Ziploc bag and keep it in his lunch bag and that will come back home intact. So I did not pack this muffin for him. But later only I noticed that he had packed it for himself. That's like "2 thumbs up" for me!

| | | |
| --- | --- | --- |
| Chocolate Chip Banana Muffins Recipe | | |
| Prep Time | Cook Time | Makes |
| --- | --- | --- |
| 15 Mins | 20 Mins | 12 Muffins |
| Author | Category | Method |
| Madhuram | Muffins | Baking |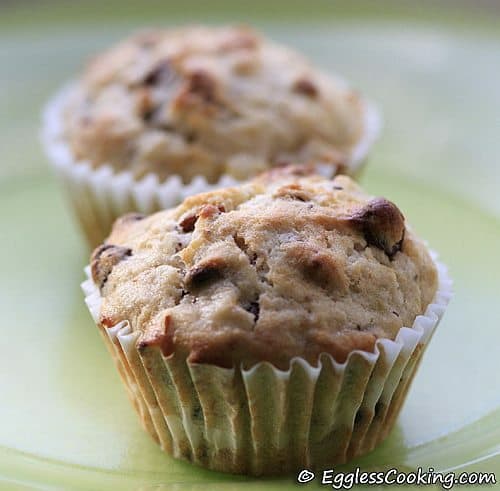 Eggless banana muffins using buttermilk as an egg substitute.

Ingredients:
2 cups

All purpose flour

1 teaspoon

Baking powder

a pinch

Salt

3/4 cup

Granulated Sugar

3/4 cup

Semisweet chocolate chips

6 tablespoons

Low fat milk

10 tablespoons (1 and 1/4 sticks)

Unsalted, Melted Butter

1/4 cup

Buttermilk

3

Ripe Mashed Small Bananas

1 cup (optional)

Chopped Pecans
Procedure:
Preheat the oven to 400F for 15 minutes. Line the muffin tin with paper liners or grease the tin.
In a medium size bowl combine together the milk, butter and buttermilk.
In another large bowl sift together the flour, salt and baking powder.
Add the sugar, chocolate chips and nuts to the flour mixture and stir well.
Slowly stir in the wet ingredients to the dry ingredients, but do not overdo it.
Fold in the mashed bananas.
Fill each muffin cup with 3 tablespoons of batter.
Bake for 20 minutes or until a toothpick inserted in the center of the muffin comes out clean.
My Notes:
The bananas I used were extremely ripe, so I simply mashed it with a fork. If the bananas are not that ripe you could cut into pieces add few drops of water/milk and blend it in a blender/food processor.
The original recipe used chocolate chunks. Since I did not have it I went with semisweet chocolate chips. If you have chocolate chunks, chop 5 ounces of semi-sweet chocolate into large chunks and use it instead of the chips.
The sweetness was perfect for us. Not very sweet like the ones you get in stores. If you have a very sweet tooth you would have to increase the quantity of sugar or chocolate chips.
You could substitute vegetable/canola oil instead of butter to make it healthier. I have tried it in a couple of other recipes and it works. Since I wanted to finish the butter in the refrigerator I did not do this substitution.
You could also substitute whole wheat flour for the all-purpose flour. I didn't do it this time because the brand of wheat flour I'm using right now is not good in banana muffins. A couple of days ago I tried a banana muffin recipe with whole wheat flour and did not like the taste. I liked it when I made something similar a year ago, but that was a different brand of wheat flour, so I went with all-purpose flour itself.

Try this recipe, click a pic and hashtag it #egglesscooking - Proudly showcase your creations on Instagram, Facebook & Twitter!