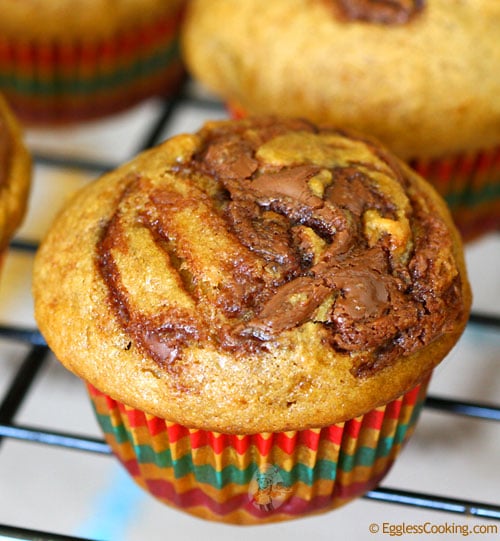 Until recently the vegan blueberry muffins was my favorite muffin recipe ever. God knows how many times I have baked it with so many variations! But all that changed one day when I baked these banana Nutella muffins. I don't know if I'm being bias because I'm a chocoholic. The love for Nutella doesn't help either!
So I think I have to push the blueberry muffins recipe down, give that the second place and these absolutely decadent beauties move to the sweet first spot. My kids loved these muffins so much that they are deliberately avoiding eating bananas so that it would ripen very much and I can make these banana Nutella muffins again.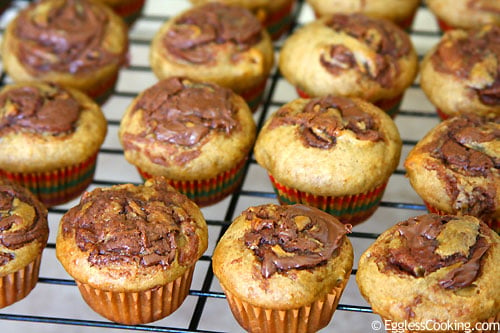 I have tried a couple of baking recipes using very ripe bananas but this muffin recipe beats them all. I also wanted to include peanut butter in these muffins and then only realized that if I do so my son can't take it for lunch because of the nut allergies prevalent in school. Sunflower seed butter is a very good replacement for those who can't eat peanut butter. It has a similar flavor. (Update: At the time I had posted this recipe, hazelnuts were allowed in my son's class, but if your school/workplace is completely nut-free then these muffins can't be taken because Nutella has hazelnuts.)
So I included that too, but that flavor did not show up in the muffins. Adding chopped walnuts or pecans to the muffin batter would have tasted good too. All I could smell and taste was the bananas and Nutella and I'm not complaining about that at all! Thanks to Jessica for this amazing recipe. I just tweaked it a little to make it egg free.

| | | |
| --- | --- | --- |
| Banana Nutella Muffins Recipe | | |
| Prep Time | Cook Time | Makes |
| --- | --- | --- |
| 20 Mins | 10 Mins | About 32 Mini-Muffins |
| Author | Category | Method |
| Madhuram | Muffins | Baking |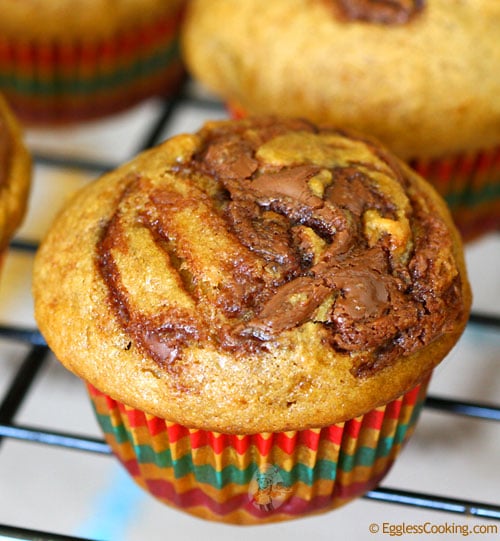 I strongly believe that banana and Nutella are made for each other. If you have any doubts about that, bake these muffins and you will agree with me too.

Flour Mix:
1 cup

all-purpose flour

1 cup

whole wheat flour

1 teaspoon

baking soda

1 teaspoon

baking powder

1/4 teaspoon

salt
Wet Mix:
1 cup

mashed banana (about 2 medium)

1/4 cup

sunflower seed butter

1/2 cup

white sugar

1/2 cup

brown sugar

1/4 cup

almond milk

1 teaspoon

apple cider vinegar

1/4 cup

avocado oil

2 teaspoons

vanilla extract
Others:
1/2 cup

chopped walnuts

Nutella

as needed
Substitutions:
flour – whole wheat pastry flour
sunflower seed butter – peanut butter or another 1/4 cup of mashed banana itself
almond milk – any other milk of your choice (dairy or non-dairy)
apple cider vinegar – white vinegar
avocado oil – any other oil of your choice
walnuts- any other nut of your choice
Procedure:
Preheat oven at 350F/180C for 15 minutes. Line a 24 cup mini muffin tin with paper liners or grease it lightly with non-stick cooking spray.
In a medium bowl mix together the dry ingredients and set aside.
In a large bowl stir together the rest of the ingredients listed under "wet mix". Fold in the nuts too, if using.
Fill the prepared muffin cups with a tablespoon of batter for each muffin. Top each muffin with about 1/2 teaspoon of Nutella and swirl it with a toothpick.
Bake for 10 minutes or until a tooth pick inserted in the center comes out clean.
Remove the pan and leave it on a cooling rack for about 5 minutes. Then remove the muffins from the pan and let it cool completely on the rack before storing it.
My Notes:
I just made 24 mini muffins and the rest of it as regular size muffins and got 3 of it. I'm guessing you would get another 7-9 mini muffins for that batter.

Try this recipe, click a pic and hashtag it #egglesscooking - Proudly showcase your creations on Instagram, Facebook & Twitter!