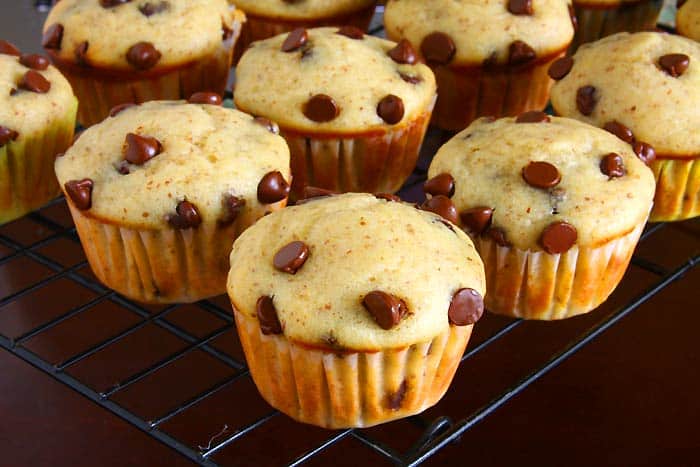 Today, I'm excited to share my delightful eggless peanut butter banana muffin recipe. These scrumptious treats combine the classic flavors of banana and peanut butter in perfect harmony, creating a delightful treat for everyone to enjoy.
I adore this recipe because of its incredible flavor profile. The overripe bananas' natural sweetness complements the peanut butter's rich, nutty taste, resulting in a match made in culinary heaven. Trust me, once you experience the delightful combination of these two ingredients, you'll wonder why you haven't tried it sooner!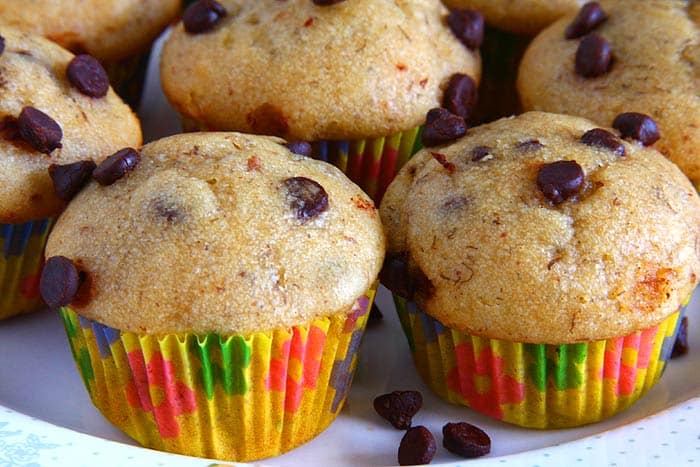 To achieve a light and fluffy texture without using eggs, I've used yogurt and apple cider vinegar as substitutes. Yogurt provides moisture and helps create a tender crumb, while apple cider vinegar acts as a leavening agent, giving the muffins a gentle rise. These ingredients work wonderfully as egg replacements, resulting in deliciously moist muffins.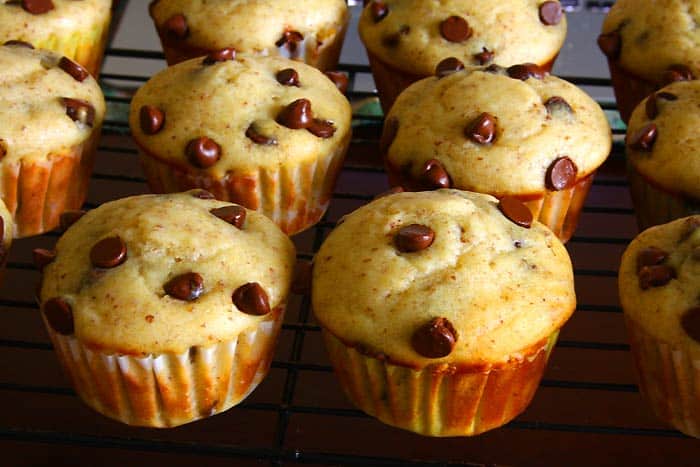 To make these muffins, we'll be using a combination of half whole wheat pastry flour and half all-purpose flour. This blend adds a wholesome touch while ensuring tender muffins that will melt in your mouth.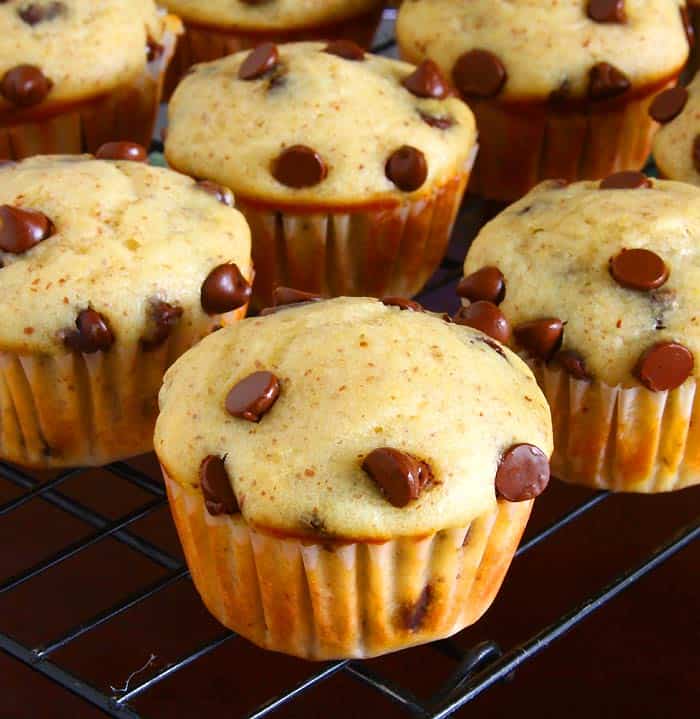 If you want to make vegan muffins, you can explore non-dairy alternatives like non-dairy yogurt non-dairy milk, and non-dairy chocolate chips.
I must mention that these muffins are not overly sweet. The natural sweetness from the ripe bananas shines through without overwhelming your taste buds.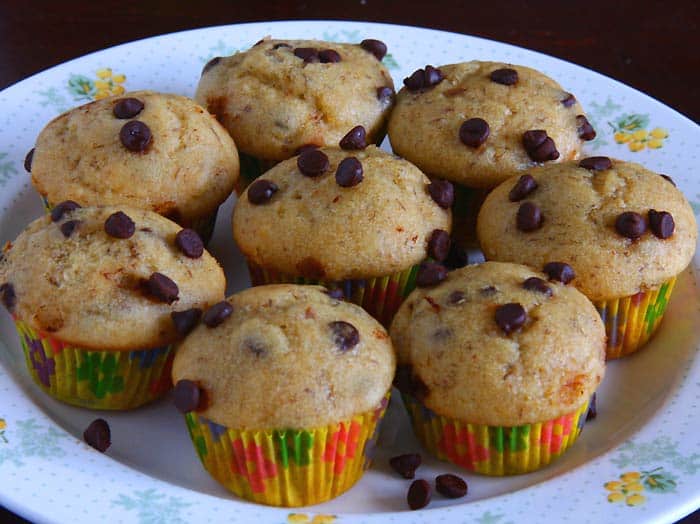 For added convenience, I've made these muffins as mini-sized treats, perfect for school lunches or on-the-go snacks. However, feel free to adapt the recipe to make regular-sized muffins.
Get ready to indulge in these eggless peanut butter banana muffins that are light, fluffy, and bursting with incredible flavors. Your taste buds will thank you for this delightful treat, and you'll return to this recipe repeatedly. Let's get baking!

| | | |
| --- | --- | --- |
| Eggless Peanut Butter Banana Muffins Recipe | | |
| Prep Time | Cook Time | Makes |
| --- | --- | --- |
| 20 Mins | 15 Mins | 54 Mini Muffins |
| Author | Category | Method |
| Madhuram | Muffins | Baking |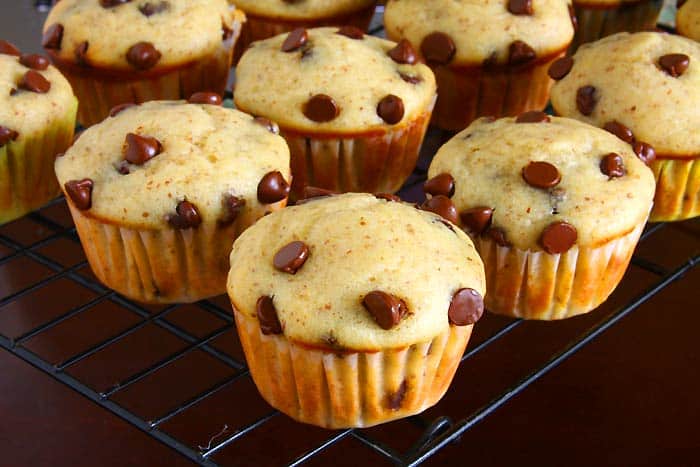 This recipe is for eggless peanut butter banana muffins, combining the flavors of ripe bananas and peanut butter. Yogurt and apple cider vinegar are egg substitutes, producing light and fluffy muffins. Optional non-dairy alternatives make it vegan-friendly.

Ingredients:
Dry Mix:
1 and 1/2 cups

all-purpose flour

1 and 1/2 cups

whole wheat pastry flour

1 and 1/4 cups

granulated sugar

1 teaspoon

baking powder

1 teaspoon

baking soda

1/2 teaspoon

salt
Wet Mix:
1 cup

milk (I used 2%)

3/4 cup to 1 cup

mashed banana

1/2 cup

peanut butter

1/2 cup

yogurt

1 teaspoon

apple cider vinegar

1 teaspoon

vanilla extract

1/4 cup

water (as needed)
Add ons:
1 cup

mini chocolate chips
Procedure:
Preheat oven to 400F/200C. Line mini muffin tins with paper liners and generously grease them with non-stick cooking spray so the muffins don't stick to the paper liner once baked.
Mix the ingredients listed under Dry Mix; make a well.
To this, add the wet ingredients one by one.
Using a whisk or spatula, gently incorporate the wet mix into the dry mix and add more water if needed to get the right consistency of the batter.
Stir in 3/4th cup of chocolate chips. (Reserve about 1/4 cup of chocolate chips to sprinkle on the muffin batter once the tins are filled).
Spoon a tablespoon of batter into the prepared pan. Once all the muffin tins are filled, sprinkle the reserved chocolate chips on top of the muffins.
Bake at 400F/200C for 5 minutes, reduce the oven temperature to 375F/190C, and bake for another 15-17 minutes or until a toothpick inserted in the center of the muffin comes out clean. Mine was done in 15 minutes.
Remove the muffin tins from the oven and place them on a wire rack to cool. After about 10 minutes, remove the muffins from the tins and let them cool completely before storing them in containers.
Taste:
These eggless peanut butter banana muffins offer a delightful balance of flavors. The natural sweetness of ripe bananas complements the nutty richness of peanut butter, creating a match made in culinary heaven.
Adding whole wheat pastry flour to the mix enhances flavor with subtle nuttiness and earthy notes. It also creates a tender texture and maintains the muffins' light and fluffy consistency.
Using yogurt and apple cider vinegar as egg substitutes further contribute to the moist and delicate crumb, making each bite truly irresistible.
My Notes:
To make these peanut butter banana muffins vegan, you can use non-dairy milk, yogurt, and vegan chocolate chips.
If you have a nut allergy, you can replace the peanut butter with any seed butter you choose.
I have not tried this recipe with gluten-free baking mix, but I'm pretty confident it will work just fine.
The baking time will be longer if you want to bake it as regular muffins. Probably between 20-22 minutes.
Like most muffins, these peanut butter banana muffins can also be frozen. I usually wrap each muffin with plastic wrap (of course, once it's cooled completely) and then store it in heavy-duty ziplock bags in the freezer. I'm guessing that it can be frozen for up to 3 months.
Nutrition Facts
Eggless Peanut Butter Banana Muffins
Amount Per Serving
% Daily Value*
Potassium 43mg1%
Total Carbohydrates
10.1g
4%
* Percent Daily Values are based on a 2000 calorie diet.


Try this recipe, click a pic and hashtag it #egglesscooking - Proudly showcase your creations on Instagram, Facebook & Twitter!