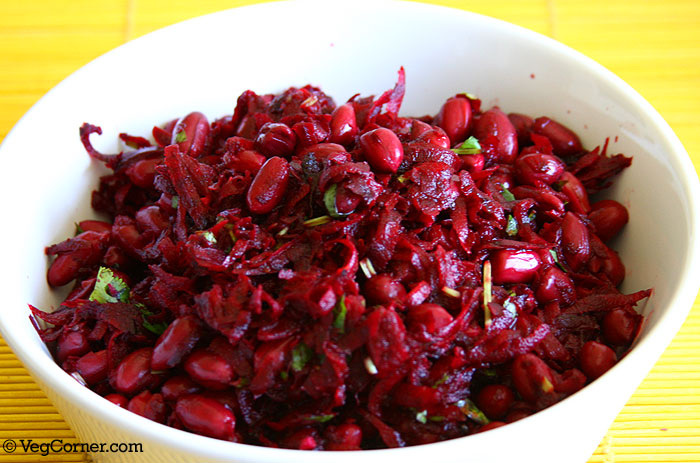 Salad is pretty regular in my house. We eat at least 4-6 salads every week. Although I would like to double it. I usually have it only for lunch but my husband prefers it for dinner too. So I'm constantly looking for simple, tasty and satisfying salad recipes.
Most of the days it's the regular lettuce/spinach, carrot, cucumber, tomato, olives and beans combo with some homemade dressing. This definitely gets boring, at least for me but my husband is fine with the same old salad day in and day out.
He has a lot of quirks when it comes to food. So it's getting quite difficult these days. Either I have to make 2 totally different salads every day or I have to eat that boring lettuce salad which my husband prefers.
Last month I was telling (rather grumbling) my mother how my husband had bought about 4-5 pounds of beets almost in 2 consecutive days. "Who does that?", you might wonder. Welcome to my life! Remember the carrot fest?
In his defense, I had not written beets in the "do not buy" category. I totally forgot that but why would I write it when he had bought a bagful on a Saturday, which I have not cooked on Sunday or Monday. Between Saturday and Monday, he had all his meals at home.
Just imagine how would I have reacted. That's when my mother insisted to try this recipe for the beets-peanut salad. Actually, she has been telling me about this recipe for quite some time now but I didn't get to it until my fridge was flooded with beets. She learned this recipe from her friend who knew it from here.
Freshly picked, raw peanuts are used in the original recipe which I have substituted with cooked peanuts. So if you are able to get the fresh ones, go ahead and use it.
This salad recipe has become a huge hit in our house that I make it at least once a week. I also tried another combination with grated carrots and black chickpeas, which tasted great too.

| | | |
| --- | --- | --- |
| Beets and Peanut Salad Recipe | | |
| Prep Time | Cook Time | Makes |
| --- | --- | --- |
| 10 Mins | 20 Mins | 3 Servings |
| Author | Category | Method |
| Madhuram | Salads | Mixing |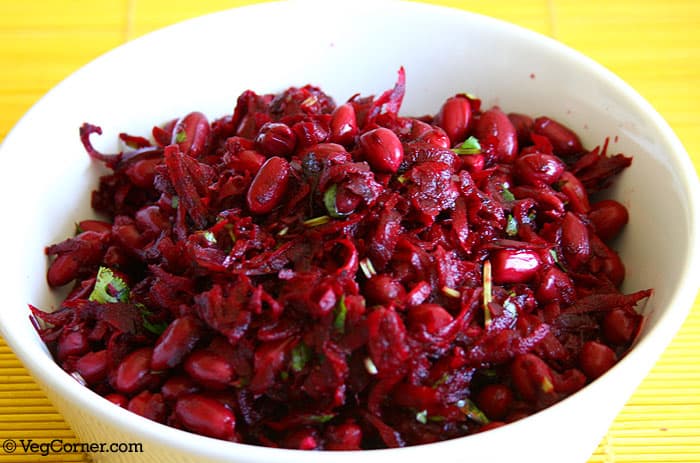 A welcome change to the usual lettuce salad, this vibrant beets-peanut salad recipe is sure to be a crowd pleaser.

Ingredients For Salad:
3 Cups

Beets, Grated (2-3 Medium Size Beets)

1 and 1/2 cups

Peanuts, Cooked
Ingredients For Dressing:
1 Tablespoon

Oil ( I prefer Coconut/Sesame Oil)

1/2 Teaspoon

Mustard Seeds

1

Green Chili

1-2 Tablespoons

Lemon Juice

1/4 Teaspoon

Turmeric Powder

Salt

To Taste

Coriander Leaves

For Garnish
Procedure:
In a large bowl, mix together the grated beets and boiled peanuts (See My Notes).
In a small frying pan heat the oil. Once it is hot, add the mustard seeds and let it splutter. The add the green chili, split lengthwise and fry it for a minute or two. Add this to the beets. Stir in the lemon juice, turmeric powder and salt. Mix it well. Check for salt and garnish it with finely chopped fresh coriander leaves.
My Notes:
The proportion of beets to peanuts I have mentioned here is not fixed. Increase or decrease the quantity of either to suit your taste.
I usually cook peanuts in a pressure cooker. South Indians who prepare Sundal might already know how to cook it. This instruction is for others who don't know it already. Raw peanuts is available in Indian grocery stores. If you have a small size cooker, you can cook the peanuts directly in it; by adding the peanuts and water just enough to cover it, with some salt, a pinch of hing and turmeric powder. Cook it for 1 whistle. Once the pressure subsides, open the lid and drain the peanuts in a colander and run it under cold tap water so that it doesn't get mushy. Or you may choose to put the peanuts and water in a small vessel and put that vessel in the cooker and cook as usual. I have never cooked raw peanuts on stove top directly. But I guess it should work definitely, although it might take more time than the pressure cooker method.
I have started using liberal quantities of turmeric powder almost in all of the savory dishes I prepare these days after coming to know about its cancer-fighting properties and how it helps our joints to a great extent because of its anti-inflammatory properties as well.

Try this recipe, click a pic and hashtag it #egglesscooking - Proudly showcase your creations on Instagram, Facebook & Twitter!