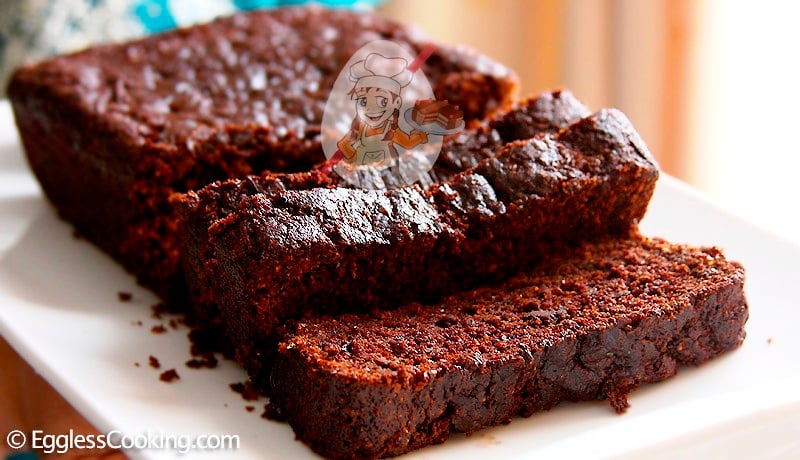 When life gives you zucchini bake this chocolate zucchini bread and when life gives you carrots bake this carrot cake. If you are a member of Costco or other such membership warehouse clubs, you might have understood what I'm trying to tell. For those who haven't heard about Costco, it's a store which sells products at low prices but at very high volume, which is usually preferred by large families and businesses. To make it more clear, if you pay $3 for 2lbs of carrots in your regular grocery store, you would be paying the same for 10lbs in Costco. Of course it's a steal but what to do with the 5 kilos of carrots or 3 kilos of zucchini in a family of 3 adults and 1 kid? Then you might ask me, why do you buy it when you think that it's too much.
The reply would be "you haven't met my husband yet". However precise the list can be, he doesn't fail to surprise me each and every time he does the groceries. Either he forgets to buy something, or will buy something which I haven't mentioned or will get kilos of 1 item in the list, like the time he got carrots and zucchini. With a newborn at home it's not as easy as it used to be for me to go shopping. These days I have 2 columns in the list, one for vegetables/fruits to be bought and the other for vegetables not to be bought and another column for lot of instructions. Believe me or not I'm actually spending more time on writing the list than cooking because it has to be so specific otherwise I end up having a store of my own. The time he bought 10 pounds of carrots I literally started crying especially when he started justifying that I should consider this an opportunity to cook/bake something new and blog about it. I wonder if all husbands are bestowed with this unique trait.
So I was going through a couple of recipe sites to get some ideas and finally decided to bake a chocolate zucchini bread. I also tried a zucchini kheer (pudding) which came out very good. I'll blog about that in VegCorner. I tried this bread recipe with few changes to make it healthier. I'm a fan of whole wheat pastry flour and have found that it works best with chocolate/cocoa powder. So I switched the all purpose flour with whole wheat pastry flour, replaced some of the fat with unsweetened applesauce and reduced the quantity of chocolate chips by using the mini chips. All in all, it was one tasty bread and I was able to give this for my son's breakfast without thinking twice. The only change I would make the next time I bake this chocolate zucchini bread is using a smaller loaf pan instead of the 9×5 inch pan because the bread did not rise like the other quick breads I have baked so far.

| | | |
| --- | --- | --- |
| Chocolate Zucchini Bread Recipe | | |
| Prep Time | Cook Time | Makes |
| --- | --- | --- |
| 15 Mins | 1 Hrs 05 Mins | One 8×4 inch loaf. |
| Author | Category | Method |
| Madhuram | Breads | Baking |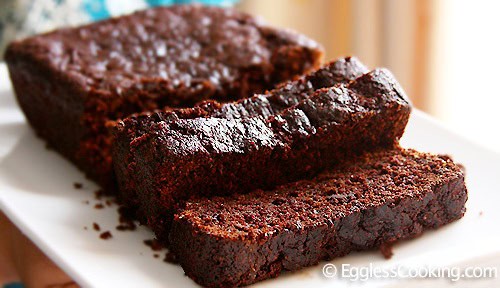 Bake this super moist and healthy chocolate zucchini bread and indulge it anytime of the day.

Ingredients:
1 and 1/2 cups

Shredded Zucchini

1 cup

Whole Wheat Pastry Flour

1/2 cup

Unsweetened Cocoa Powder

1 teaspoon

Baking Soda

1/2 teaspoon

Baking Powder

1/4 teaspoon

Salt

1/4 teaspoon

Ground Allspice

1/4 cup

Oil

1/4 cup

Unsweetened Applesauce

1/2 cup

Granulated White Sugar

1/2 cup

Brown Sugar

6-8 tablespoons

Buttermilk

1 teaspoon

Vanilla Extract

1/4 cup

Semi sweet, mini chocolate chips
Procedure:
Preheat oven to 350F/180C for 15 minutes. Lightly grease an 8×4 inch loaf pan (See Note 1). I also lined it with a piece of parchment paper to enable easy removal of the loaf from the pan.
Grate the zucchini and keep it aside. In a large mixing bowl combine flour, cocoa powder, leaveners, salt and spice.
In another medium size bowl beat together the oil, applesauce, both the sugars, buttermilk and vanilla extract.
Fold in the grated zucchini with the wet ingredients.
To this add the flour mixture and beat it until just combined. Stir in the chocolate chips.
Transfer the batter to the prepared loaf pan and bake it between 55-65 minutes or until a toothpick inserted in the center of the bread comes out clean. Mine was done in about 58 minutes.
Transfer the pan from the oven and place it on a wire rack. Remove the bread from the pan after 10 minutes and let it cool completely before you can slice it. Leaving the bread to cool overnight is preferable.
My Notes:
I used a 9×5 inch pan and felt that the bread did not rise as expected because the recipe was too small for that size pan. That's why I have suggested to use an 8×4 pan instead. I'm not sure whether it's the pan size or the use of whole wheat pastry flour instead of all purpose flour.
If you are a spice fan, go ahead and add about 1/2 a teaspoon of ground cinnamon as well to make this chocolate zucchini bread more aromatic.

Try this recipe, click a pic and hashtag it #egglesscooking - Proudly showcase your creations on Instagram, Facebook & Twitter!