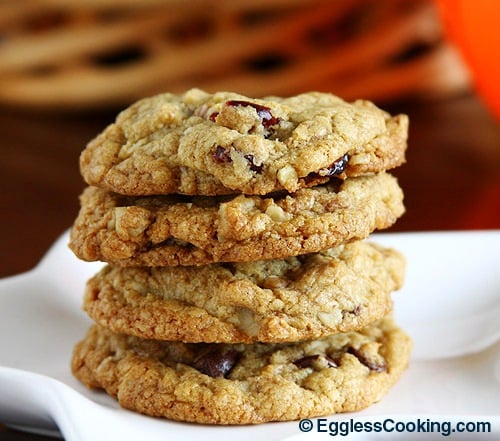 I had to bake a big batch of cookies and while searching for recipes I found this in my favorite website. At first I was not sure whether to try it or not because it called for ingredients in large quantities and I wasn't sure if the cookies would turn out good and was worried about wastage too. I also thought that I should not experiment new recipes for such an occasion but bake a few batches of a recipe which I have already tried. After a lot of deliberation I decided to try the new recipe itself and thank God it came out very good!
This cookie recipe has room for a lot of variations and I didn't shy away. I wanted to bake these as multigrain cookies by using a variety of grain flours. So instead of 5 cups of all purpose flour, I have used a mix of oat flour, whole wheat pastry flour, Quinoa flour and all purpose flour. The recipe also called for about 2 and 1/2 to 3 cups of peanut butter chips, for which I used a mix of semisweet chocolate chips and dried cranberries. I also added rolled oats. The cookies turned out perfect and the sweetness was just right. Had I used the entire chocolate chips as mentioned in the original recipe, the cookies would have been too sweet for us. So if you are a sweet toothed person you will have to increase the quantity of chocolate chips.

| | | |
| --- | --- | --- |
| Multigrain Chocolate Chip Cookies Recipe | | |
| Prep Time | Cook Time | Makes |
| --- | --- | --- |
| 30 Mins | 40 Mins | Approx. 9 dozen cookies |
| Author | Category | Method |
| Madhuram | Cookies | Baking |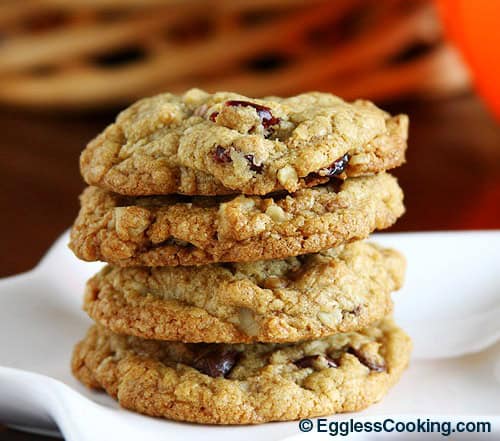 This multigrain cookie recipe can feed an army, simple to bake and quite healthier than the usual chocolate chip cookies.

Ingredients:
2 cups

Butter, melted and cooled

1 and 1/2 cups

Sugar

1 and 1/2 cups

Brown Sugar

8 teaspoons

Ener-G Egg Replacer powder

15 tablespoons

Lukewarm Water

1 tablespoon

Vanilla Extract

1 cup

Oat Flour

1 cup

Whole Wheat Pastry Flour

1 cup

Quinoa Flour

2 cups

All Purpose Flour

1 tablespoon

Baking Soda

1 teaspoon

Salt

4 cups

Chopped Walnuts

1 and 1/2 cups

Semisweet Chocolate Chips

1 cup

Dried Cranberries

1 and 1/4 cups

Rolled Oats
Procedure:
Preheat oven to 350F/180C for 15 minutes.
In a blender whip together the egg replacer powder and water; until it's frothy. Keep it aside.
In a bowl sift together the flours, baking soda and salt; stir well and set aside.
In a large bowl, cream together the butter and sugars. Add the whipped egg replacer mixture and vanilla; beat well.
To this add the flour mixture. Fold in the nuts, dried cranberries, chocolate chips and see note 3 before mixing rolled oats.
Drop by spoonfuls (about 1 tablespoon of dough per cookie) onto un-greased baking sheet; flatten it slightly and bake for 10-12 minutes or until lightly browned. I baked mine for 11 minutes.
My Notes:
The original recipe uses 5 cups of all purpose flour, so you should be fine without the flours I have mentioned. I'm also sure that you could use a combination of other grain flours like brown rice, spelt etc. For oat flour, I powdered rolled oats in a blender.
I have used Ener-G egg replacer to replace 4 eggs.
The cookie dough started off a bit watery but after adding the nuts, chocolate chips and cranberries it became quite thick. I got the idea to add rolled oats after mixing the nuts etc. By that time the dough had become very thick, so I knew that mixing in the oats would be quite tough. So I divided the dough into 3 portions and mixed the oats in 3 portions as well. To avoid this you could mix in the oats while sifting the flour, baking soda itself and set aside.
I didn't get 12 dozen cookies as mentioned in the recipe but only 9 dozen (108 cookies).
I did not flatten the cookies for the first batch, so these were a bit thick and chewy. So from the next batch onwards I flattened them lightly and they spread out beautifully and were quite crispy.

Try this recipe, click a pic and hashtag it #egglesscooking - Proudly showcase your creations on Instagram, Facebook & Twitter!