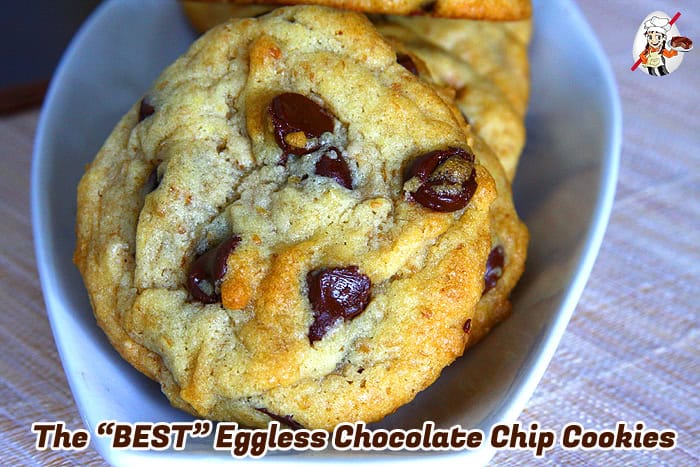 Eureka! Eureka! that's what I screamed once I tasted these eggless chocolate chip cookies. I have baked crispy and chewy variety of chocolate chip cookies without eggs earlier, but hands down this is the BEST.
This eggless chocolate chip cookie recipe is from one of my favorite cookbooks "The Joy of Vegan Baking". I didn't have non-dairy butter and non-dairy semi-sweet chocolate chips, so used regular butter and semi-sweet chocolate chips.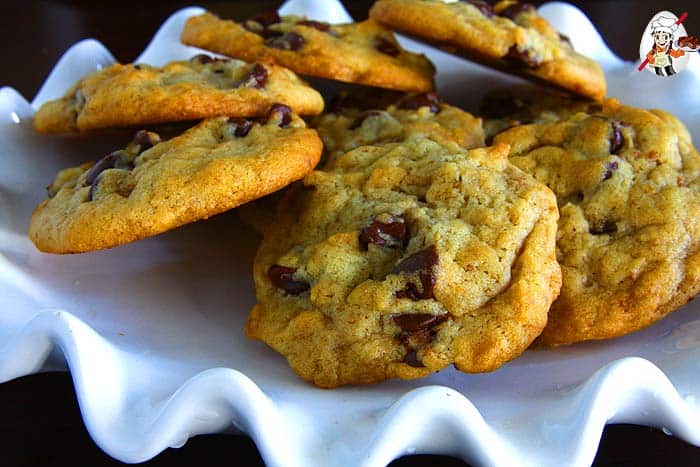 Other than that I did not make any changes in the recipe. The cookies turned out awesome. Crisp around the edges and chewy in the center. Just perfect. If you want to bake eggless chocolate chip cookies, then this is the recipe you must have.
Since chocolate chip cookie recipes are the most favorite cookies among kids and grown-ups, getting it right especially egg free is definitely a very big deal. I have a lot of chocolate chip cookie recipe without eggs in the blog but this version has become my all-time favorite.
This eggless chocolate chip cookie recipe is definitely a keeper!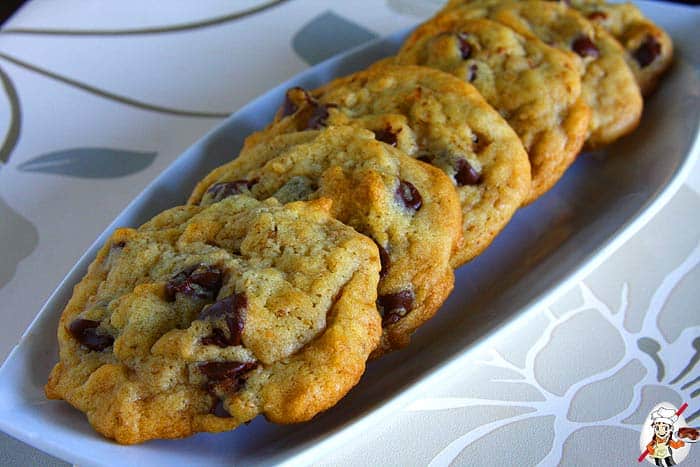 PS: Bake these pumpkin chocolate chip cookies if you are looking for a different variety of chocolate chip cookies.
Update: The most frequently asked question in this recipe usually is "what can I use instead of Ener-G egg replacer?" I suggested flax eggs and also mentioned that the cookies won't be as crisp as the ones using Ener-G.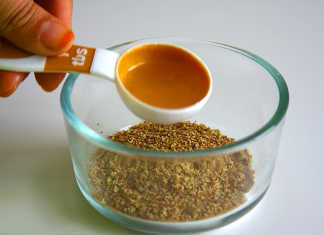 A detailed discussion about the properties of whole flax seeds and ground flax seed (Flax Egg) and it's role as an egg substitute while baking.
It was just a guess based on my experience baking cookies with flax egg as an egg substitute. I have wanted to try it actually for long now and finally got to it last night.
I followed the same procedure listed below but instead of using Ener-G egg replacer used flax eggs as egg substitute and add it to the creamed plant-based butter (Becel) and sugar mixture and beat it with a handheld beater.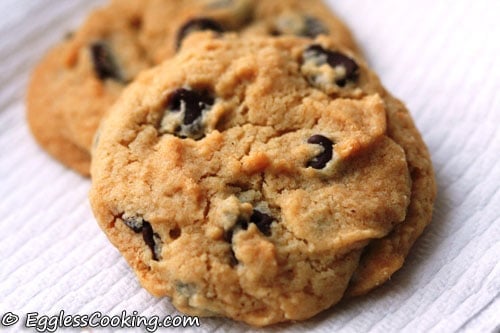 The flax egg mixture foamed up so much just like how eggs would and I was pleasantly surprised! I also added an additional 1/4 cup of chocolate chips this time.
Another question I keep getting is, "how to avoid too much spreading of the cookies? or what to do if I get flat cookies?"
Most of the time by just seeing the consistency of the cookie dough you can be pretty sure how the cookies will turn out when baked.
This time when I set to bake another version of the best eggless chocolate chip cookies using flax eggs, the cookie dough was sticky and I was sure that if I bake it, I will end up having chocolate chip crepes and not cookies.
Refrigerating the dough for an hour or so is the answer to this problem. I left the dough in the fridge overnight and baked it the next day.

| | | |
| --- | --- | --- |
| The BEST Eggless Chocolate Chip Cookies Recipe | | |
| Prep Time | Cook Time | Makes |
| --- | --- | --- |
| 15 Mins | 10 Mins + Cooling Time | 3 and 1/2 Dozen Cookies |
| Author | Category | Method |
| Madhuram | Cookies | Baking |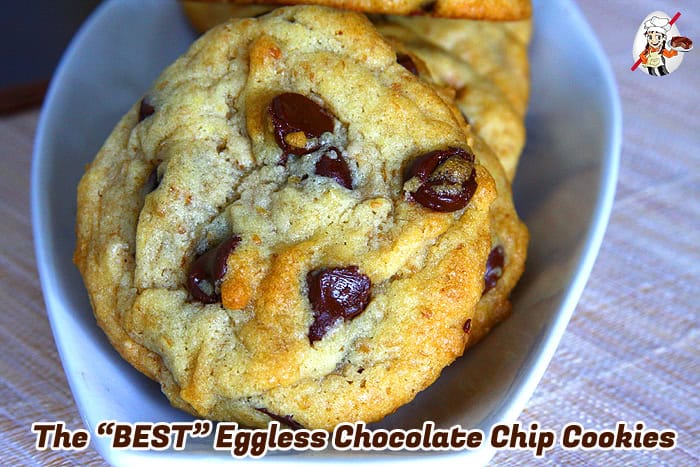 The BEST Eggless Chocolate Chip Cookies Video Recipe (Updated)
4.9

from

39

reviews
The BEST eggless chocolate chip cookies ever. These cookies are crisp around the edges and chewy inside, with an addictive taste. This chocolate chip cookie without eggs recipe is definitely gets an A+.

Ingredients:
2 and 1/4 cups

All-Purpose Flour

1 teaspoon

Baking Soda

1/4 teaspoon

Salt

1 cup

Softened Butter

3/4 cup

Granulated Sugar

3/4 cup

Firmly Packed Brown Sugar, (I used light)

2 teaspoons

Vanilla Extract

4 and 1/2 teaspoons

Ener-G in place of 3 eggs

6 tablespoons

Water

1 and 1/2 cups

Semi Sweet Chocolate Chips

1 cup

Nuts (Optional)
Substitutions
butter – plant based butter like Becel
Ener-G – 3 flax eggs (3 tablespoons of flaxseed meal whisked with 9 tablespoons water)
Procedure:
Preheat the oven to 375F/190C for 15 minutes. If using a non stick pan greasing is not necessary, otherwise use parchment paper to line the cookie sheets.
In a large bowl, cream together the butter, granulated sugar, brown sugar and vanilla.
In a food processor/blender whip together the egg replacer powder and water together, until it's thick and creamy. Add this mixture to the creamed butter and sugar, combine thoroughly.
In another bowl, sift together the flour, baking soda and salt.
Gradually beat the flour mixture into the wet mixture until it begins to form a dough.
When it is almost thoroughly combined stir in the chocolate chips and nuts, if using. The flax eggs version cookie dough was sticky so I chilled the cookie dough in the fridge overnight.
I greased a tablespoon to scoop the dough and drop it easily onto the baking sheet.
Bake 8-10 minutes, or until golden brown. Flax eggs version of these chocolate chip cookies had the best texture after baking it for 11 minutes. See My Notes for further details.
Let stand for 2 minutes on the baking sheet itself. Then transfer the cookies to wire racks to cool completely before storing.
Taste & Texture:
These eggless chocolate chip cookies taste great both warm and at room temperature. Soon after baking, it's crispy around the edges with a soft center and after a while,it becomes soft throughout. We liked it both ways.
The cookies aren't much sweet actually, which is perfect for us because we prefer less sweet treats, but others might want to increase the quantity of sugar by another 1/4 cup or so.
Flax eggs make the cookies less crispy and chewier than the cookies made with Ener-G egg replacer.
My Notes:
My first batch of cookies did not turn golden brown even after 11 minutes. I removed it anyway and noticed that the bottom was very brown. So from the second batch onwards I removed it from the oven around 9 minutes itself. Even though the cookies had a pale yellow color, they were baked enough and tasted very good. I guess using dark brown sugar instead of light brown sugar would give the golden brown color. When I did the flax eggs version recently, the cookies were best after baking for about 11 minutes. I initially tested with 8 minutes like mentioned for the Ener-G version but it was too soft. After test baking few batches, I felt that 11 minutes gave the best texture. So experiment with baking time.
For vegan chocolate chip cookies use non-hydrogenated, non dairy butter and nondairy semisweet chocolate chips.
Add another 1/4 cup to 1/2 cup of sugar for sweeter cookies.
Nutrition Facts
Eggless Chocolate Chip Cookies
Amount Per Serving
% Daily Value*
Potassium 15mg0%
Total Carbohydrates
14.1g
5%
* Percent Daily Values are based on a 2000 calorie diet.


Try this recipe, click a pic and hashtag it #egglesscooking - Proudly showcase your creations on Instagram, Facebook & Twitter!