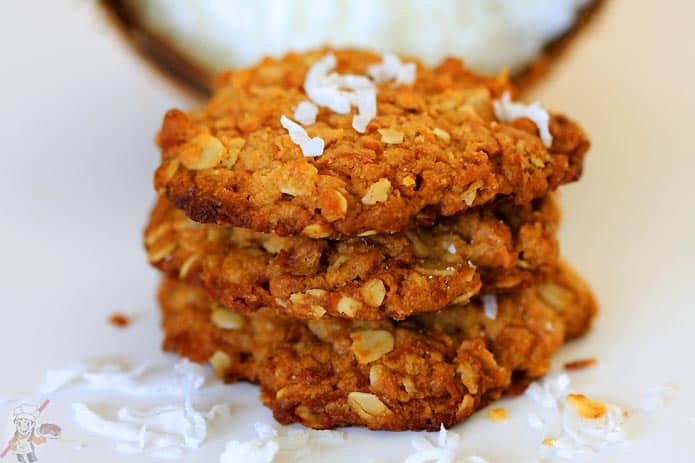 Last week my husband suddenly had cravings for oatmeal coconut cookies. He picked one pack from the store, but I put it back in the shelf because if he does not like it, he will not touch it and I have to finish it. Moreover, I try as much as possible to avoid buying baked goods for health reasons and also I don't want to miss a chance to bake.
So as soon as I came home, dug out my Cookies book and started searching for coconut cookie recipes. That book has 1001 cookie recipes (published by Readers Digest) and there were a lot of types of coconut cookies and I narrowed down to this one because it was simple to bake, used little butter when compared to the other recipes and also it included oats.
If it had been my early days of baking I would have searched for recipes for oatmeal cookies without eggs. But now that I know the ins and outs, I guess almost, of egg substitution I just look for recipes and decide which substitute to use depending upon the ingredients in the recipe.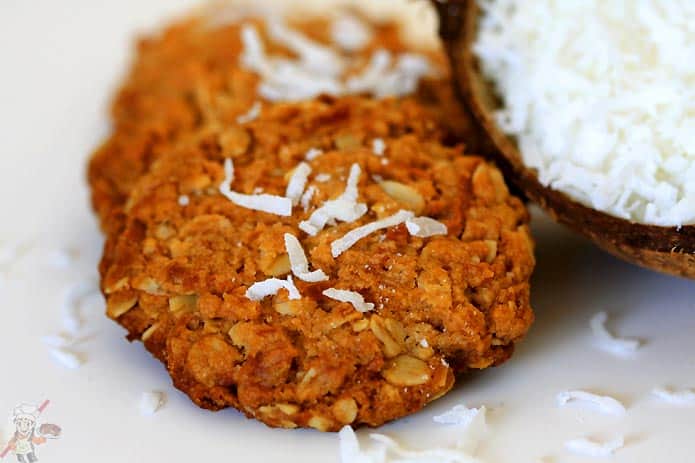 Actually I did find 2-3 no egg oatmeal cookies recipe, but most of the time I do not like blogging the exact same recipe without any changes. So in recipes like that, I see if I can make any changes if not, I choose recipes with eggs and make it mine by coming with an egg substitute.
As for this recipe, the original recipe was for eggless coconut cookies. I didn't have to think of an egg substitute but just did a minor change. I used honey instead of light corn syrup. So if you want to make it egg free oatmeal cookies as well as a vegan then use maple syrup or agave nectar or corn syrup itself.
As usual, my husband did not relish these oatmeal coconut cookies immediately but started liking it very much after a couple of days when it was almost over and started asking for more. It was an instant hit with my son and I too loved it.
If you are still wondering how to make oatmeal cookies without eggs, I have a separate page for egg free oatmeal cookies.

| | | |
| --- | --- | --- |
| Oatmeal Coconut Cookies Recipe | | |
| Prep Time | Cook Time | Makes |
| --- | --- | --- |
| 15 Mins | 20 Mins | 21 Cookies |
| Author | Category | Method |
| Madhuram | Cookies | Baking |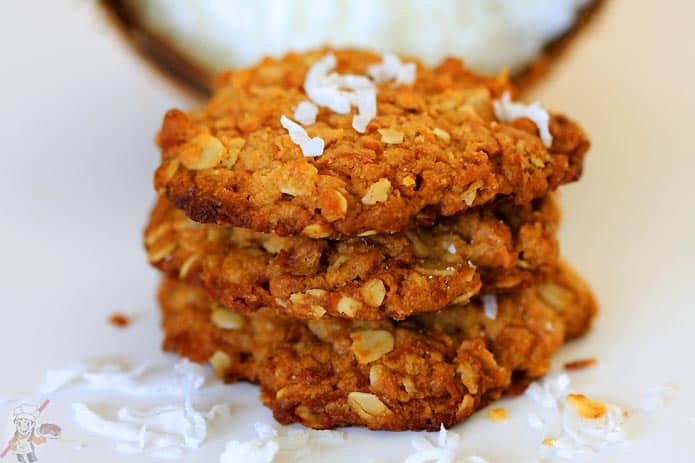 Oatmeal Coconut Cookies
4.9

from

44

reviews
This oatmeal coconut cookies without eggs is very easy to bake, even novice bakers can get it right. It has an amazing texture, crisy around the edges and chewy in the middle. A good snack anytime of the day.

Ingredients:
1 cup

All Purpose Flour

1/2 teaspoon

Baking Soda

1/8 teaspoon

Salt

1 cup

Shredded Coconut (I used sweetened)

1 cup

Quick Cooking Oats (I used large flake)

1/2 cup

Butter

3/4 cup

Granulated Sugar

2 tablespoons

Honey
Procedure:
Preheat the oven to 350F for 15 minutes. Butter two cookie sheets. I used one extra large cookie sheet I recently purchased from Walmart. It was a dark coated non stick pan. Usually cookies baked on such dark coated sheets turn brown very quickly, so I lined it with parchment paper and then greased it with cooking spray.
In a large bowl sift together the flour, baking soda and salt. Stir in the coconut and oats.
Melt the butter with the sugar and honey in a small saucepan over medium heat. Remove it from the stove and let it cool for 2 minutes.
Pour the melted butter mixture to the dry ingredients and mix well with a spatula.
Roll into balls the size of walnuts and place 1 inch apart on the baking sheet and flatten it slightly with a fork.
Bake for 15-20 minutes, or until golden brown. If using 2 cookie sheets, shift racks halfway through the baking to ensure even browning. Mine turned golden brown after 13 minutes itself. I think it's because of the dark coated cookie sheet.
Let the cookies cool on the sheets until they firm slightly. Then using a spatula carefully lift the cookies and transfer it to a cooling rack to cool completely.
Taste:
These oatmeal coconut cookies were very sweet. Initially it was crisp around the edges and chewy in the center. After 2-3 days, it started getting soft around the edges too. It also smells very buttery when consumed immediately. We did like the taste and I will make it again but will definitely do something to reduce the sweetness. My son liked it very much, but my husband did not like it in the beginning. He started liking it after 4 days when it was more chewy.
My Notes:
The recipe did not mention whether to use sweetened or unsweetened coconut. I had the sweetened one, so I used it. I think if I had used the unsweetened variety the sweetness of the cookies would have been perfect for us.
Light corn syrup was mentioned in the recipe. I had that in hand, but I anticipated that some of you might ask what can be substituted for it. So I used honey. I think either omitting this or reducing the quantity of sugar to 1/2 cup will also work if you want less sweeter cookies.
These coconut cookies spread a lot, so be sure to leave enough space while placing the dough on the baking sheets.

Try this recipe, click a pic and hashtag it #egglesscooking - Proudly showcase your creations on Instagram, Facebook & Twitter!