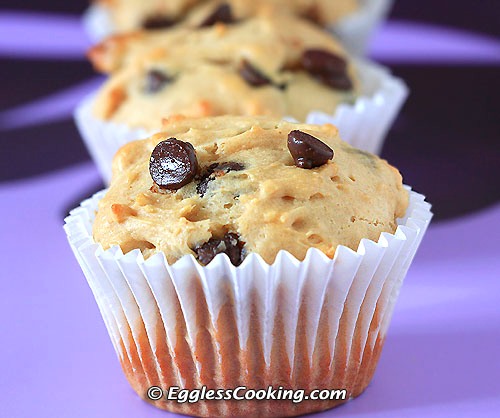 Even though I have recorded my dislike for peanut butter a couple of times here in the blog, I baked these chocolate chip peanut butter cupcakes for my son because like most of the children he is a hard core peanut butter fan. I don't know what I would do without peanut butter because its an accompaniment for most of his main food; from breads, dosas, chapathis to even pasta. He absolutely loves the pasta dish I make or him with whole wheat penne tossed with steamed broccoli and peanut butter sauce. We saw that on TV one day and he asked me to prepare it for that day's dinner and it has become a regular now.
Coming to this peanut butter cupcakes recipe, I found it in a tofu/vegan cookbook. I don't remember the name of the book and the author. While going through my cookbooks I found this handwritten recipe which I had copied from a book that I had borrowed from the library. That book had a lot of interesting recipes using tofu. After doing a search on Amazon, looking at the cover, I think it must be "Tofu 1-2-3".
This recipe for peanut butter cupcakes is so simple to bake if you have all the ingredients in hand like I did. I was able to prepare the batter and fill it in the muffin tins during the 15 minutes the oven was preheating. The baking time is 20 minutes. Cool it for another 5 minutes and viola within 45 minutes you have your delicious homemade vegan cupcakes. The version I have here is not vegan because I didn't have dairy free chocolate chips. So mine is vegan friendly.
These cupcakes get my vote because the flavor of peanut butter was very mild; not as strong as I was hoping it to be. Another vote for not being overly sweet and for not having added fat other than the peanut butter. It got two thumbs up from everybody in my family. So if you too are looking for something similar then do try these chocolate chip peanut butter cupcakes.

| | | |
| --- | --- | --- |
| Chocolate Chip Peanut Butter Cupcakes Recipe | | |
| Prep Time | Cook Time | Makes |
| --- | --- | --- |
| 15 Mins | 20 Mins | 12 cupcakes (See My Notes #3) |
| Author | Category | Method |
| Madhuram | Cupcakes | Baking |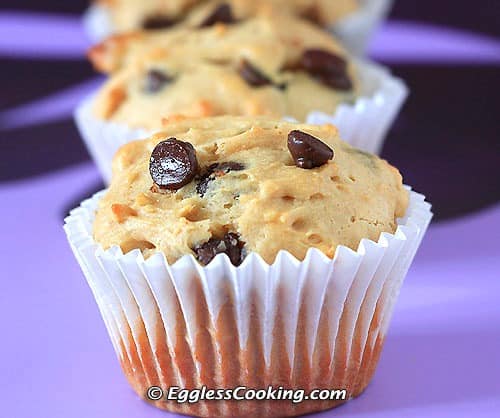 Easy to bake yet very delicious vegan friendly chocolate chip peanut butter cupcakes.

Dry Ingredients:
2 cups

All Purpose Flour

1 tablespoon

Baking Powder

1/2 teaspoon

Salt

1/2 cup

Semisweet Chocolate Chips
Wet Ingredients:
1 cup

Maple Syrup

2/3 cup

Soft Silken Tofu (See My Notes #1)

1/2 cup

Creamy Peanut Butter (I used unsweetened and unsalted)

3 tablespoons

Milk (I used 2%)

1 teaspoon

Vanilla Extract

2 tablespoons

Water (See My Notes #2)
Procedure:
Preheat oven to 350/180C for 15 mins. Lightly grease and line the muffin tin with paper liners. Also spray the paper liners lightly so that you can peel off the cupcakes easily.
In a large bowl sift together the flour, baking powder and salt.
Blend together all the wet ingredients except water.
Pour the wet mixture to the flour and combine until just moistened. Stir in the chocolate chips too. If you feel that the batter is too tight add 1 to 2 tablespoons water.
Fill each muffin cup 2/3rds full. Bake for 20 minutes or until a toothpick comes out clean. I checked after 16 minutes but the cupcakes were not done; the batter was sticking to the toothpick. I baked for another 4 minutes and it came out clean.
Cool for 5 minutes before removing from pan to wire rack. Do not leave it in the tin for more than 5 minutes because the paper liner will start giving out moisture and the muffins will become soggy.
My Notes:
Soft silken tofu was mentioned in the original recipe but all I had was Firm silken tofu and that too the Lite variety from Mori Nu. Earlier I baked a chocolate cake using that tofu and got a rubbery cake so I was in a dilemma whether to use it or not and finally decided to go with it. Surprisingly these peanut butter cupcakes turned out very good; light and fluffy unlike the chocolate cake. I used the dry measuring cup to measure the tofu. Mine was vacuum packed so it did not have any water at all. I spooned it in the 1/3rd cup twice.
Water was not mentioned in the original recipe but I had to use it because I felt that the batter was too thick. I think that this wouldn't be necessary if we use soft tofu because it has more water content than the firm silken tofu I used. I guess that the consistency of peanut butter also matters. Mine was quite hard as I had stored it in the fridge. I think another tablespoon of water also would not have hurt the cupcakes. So consider all this before adding the water.
I got only 11 cupcakes but the batter could have been easily divided among the 12 muffin cups. Mine looked more like muffins with small domes than cupcakes. Had I stretched the batter among the 12 cups it would have looked perfect.
If you have a sweet tooth increase the quantity of chocolate chips to 3/4th cup or the maple syrup by another 1/4 cup.

Try this recipe, click a pic and hashtag it #egglesscooking - Proudly showcase your creations on Instagram, Facebook & Twitter!