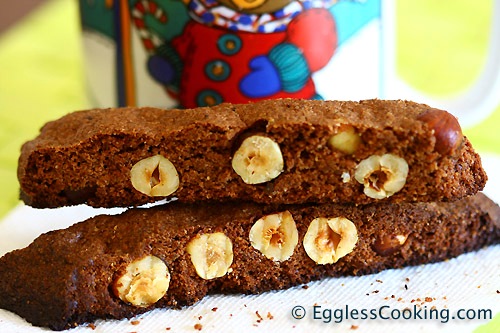 Chocolate biscottis have been in my "to-bake" list forever and I was so excited to see a vegan chocolate hazelnut biscotti recipe in my favorite book Veganomican. I have borrowed that book from the library so many times and have taken copies of a lot of recipes. If only they had included pictures of the recipes I would have bought a copy for myself. My recipe collection pile has become so much out of control that I have decided not to borrow anymore cookbooks from the library.
This biscotti recipe is very simple to prepare. No special ingredients or equipments. Simple measuring, mixing and baking kind of recipe. The original recipe used all purpose flour and I substituted it with whole wheat pastry flour and Quiona flour.

| | | |
| --- | --- | --- |
| Vegan Chocolate Hazelnut Biscottis Recipe | | |
| Prep Time | Cook Time | Makes |
| --- | --- | --- |
| 20 Mins + 30 Mins Waiting | 30 Mins | 18-22 Biscottis |
| Author | Category | Method |
| Madhuram | Biscottis | Baking |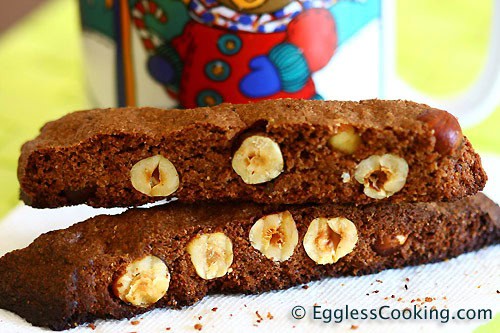 Nobody can guess that these chocolate hazelnut biscottis are vegan because it doesn't taste any different from the usual store bought biscottis. The almond extract enhances the flavor and gives a rich appeal to the biscottis.

Ingredients:
1/3 Cup

Almond Milk

2 Tablespoons

Flax Seed Meal

3/4 Cup Plus 2 Tablespoons

Sugar

1/2 Cup

Canola Oil

1/2 Teaspoon

Vanilla Extract

1/2 Teaspoon

Almond Extract

1 And 1/4 Cups

Whole Wheat Pastry Flour (See My Notes)

1/2 Cup

Quinoa Flour

1/3 Cup

Dutch Processed Cocoa Powder/Regular

2 Tablespoons

Arrowroot Powder (Cornstarch Can Be Used Too)

2 Teaspoons

Baking Powder

1/2 Teaspoon

Salt

1 Cup

Whole, Raw Hazelnuts
Procedure:
Preheat the oven to 350F/180C for 15 minutes. Lightly grease a large cookie sheet. (See Notes)
In a large bowl, whisk together milk, flax seed meal for about 30 seconds.
Add the sugar, oil and extracts and stir until smooth.
Sift in the flour, cocoa powder, arrowroot, baking powder and salt.
Stir to mix and just as the dough starts to come together, knead in hazelnuts.
Knead very briefly to form a stiff dough. Push in the nuts if it pops out.
On the baking sheet, form the dough into a rectangle about 12 inches long and 3-4 inches wide.
Bake for 28 minutes, until lightly puffed. The top may also be slightly crackled. It was just 26 minutes and the bottom already started to burn, so I removed it from the oven. So be alert and keep an eye on it once it crosses 20 minutes.
Remove from the oven, allow to cool for 30 minutes, until very firm.
Turn up the oven to 375F/190C.
Carefully transfer the baked dough to a cutting board. With a serrated knife, slice 1/2-inch thick slices. Push down the knife in one shot; don't saw the slices off because it could crumble. The biscottis are very delicate at this stage so be gentle while handling it.
Set the slices on the cookie sheet and bake for 12-15 minutes until your desired level of brownness and crispness is achieved.
Remove from the oven and cool for a few minutes on the baking sheet before transferring the slices to a cooling rack. When completely cool, store in an air tight container.
Taste:
I'm 100% sure that nobody can guess that these chocolate hazelnut biscottis are vegan. They tasted very good without the unpleasant odor of eggs which some store bought biscottis have. The come out rather chewy out of the oven but firm up as it cools and get the right texture. When I tasted the biscottis on the day I baked I did notice the flavor of whole wheat pastry flour and thought maybe I should have gone with all purpose flour itself. But after about 48 hours, even that was missing and it tasted like any other biscotti. The only thing I would change when I bake this again is to lightly toast the hazelnuts before mixing it to the dough. Even while the oven is preheating you could place the hazelnuts on a baking sheet and leave it in the oven for 7-8 minutes. The nuts hadn't baked evenly throughout the biscottis. Some where crunchy and some chewy. I would have like it if the nuts were all crunchy.
My Notes:
The amount of all purpose flour mentioned in the original recipe was 1 and 1/2 cups. I had some leftover quinoa flour which measured to 1/2 cup exactly so I used that and 1 cup of whole wheat pastry flour as suggested in the recipe. Once the flour and wet ingredients were mixed the dough was not at all stiff so I had to use another 1/4 cup of whole wheat pastry flour to get the required consistency. I would recommend starting with 1 and 1/2 cups flour first and then add some more if you think it's necessary.
Even though the recipe says to lightly grease the cookie sheet I think that's not enough. Either you have to grease it well or use parchment paper because mine did sort of stick to the sheet. I wanted to remove the entire log of baked dough and cut it on a cutting board to avoid knife marks on the baking sheet, but I was not able to do that. I had to cut it on the cookie sheet only.
While the dough is baking for the first time, check for signals of burning on the bottom of the dough. Since the dough is already brown, you cannot find it from the looks but you can definitely smell it. I started getting that burnt smell around the 22nd minute itself but did not bother because I thought it might be the cocoa smell and when I removed the pan after the 26th minute, the bottom had blackened a little bit more than I had expected.
When the biscottis are sliced and baked for the second time, baking for 13-14 minutes should be fine. When the cookies come out of the oven they don't feel crisp at all to the touch or taste. It looks under-baked. Don't get fooled by this and stick it in the oven once again because as the biscottis cool they firm up and the get the same texture as that of store bought biscottis.

Try this recipe, click a pic and hashtag it #egglesscooking - Proudly showcase your creations on Instagram, Facebook & Twitter!