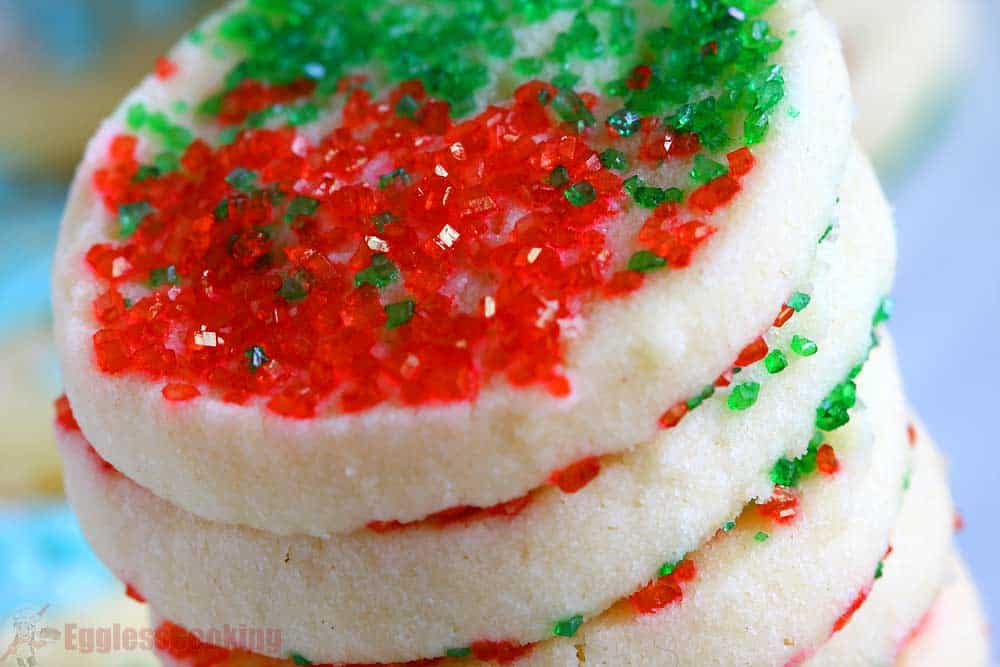 Yay! It's that time of the year again! The baking spree begins. Have a couple of "to-bake" recipes lined up. Starting this season's baking with these adorable Christmas sugar cookies recipe. Sugar cookies has always been and is still a "must-bake-for-Christmas" recipe. One of the many reasons being it's simple and baking large batches can be done with ease making it the most preferred cookie for the annual cookie swap.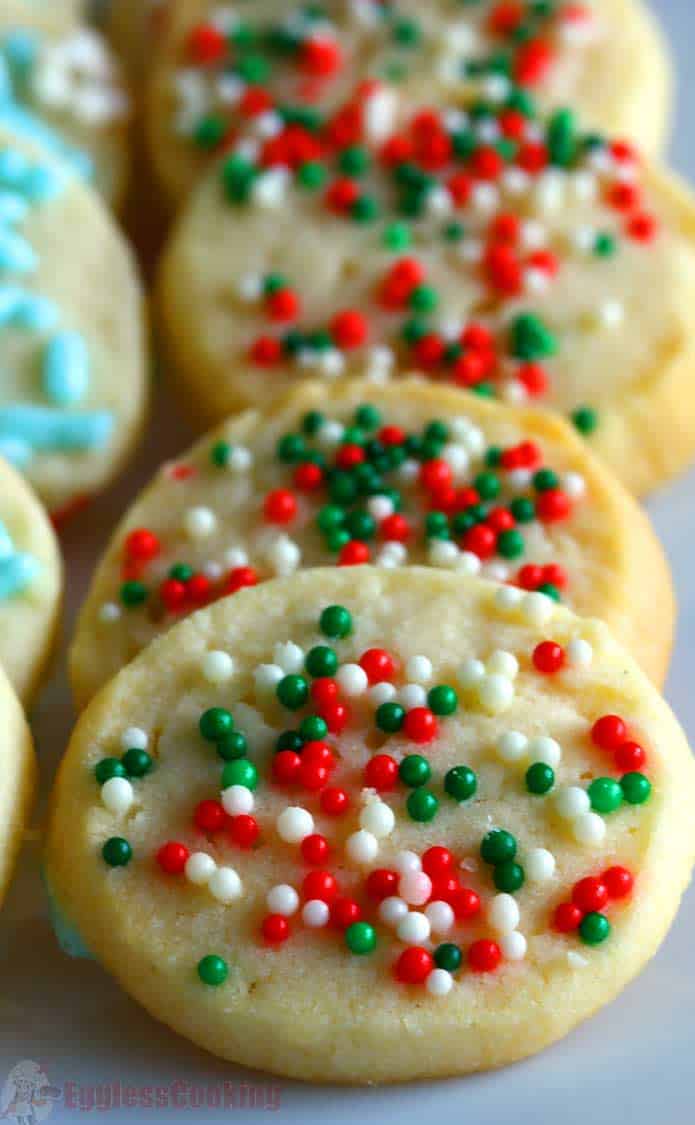 Also these Christmas sugar cookies provide a lot of room for a variety of decorations. Sky is the limit when it comes to dressing it up. Christmas or winter themed sprinkles, colored sugar, frosting, icing and so much more to transform an ordinary plain white cookie into something fabulous.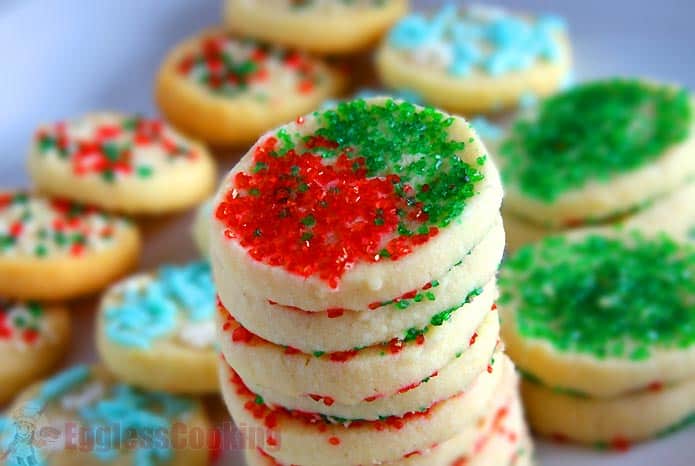 I already have an eggless sugar cookie recipe here. But that's not the slice and bake type. You have to scoop the dough, and flatten it. I was on the look out for a slice and bake sugar cookie and found this Christmas sugar cookies recipe in my favorite website, Taste of Home. The recipe is egg free to begin with, so I didn't have to make any substitutions. 1/4 cup of sweetened condensed milk is used in the recipe which I assume was the replacement for 1 egg. Could very well be!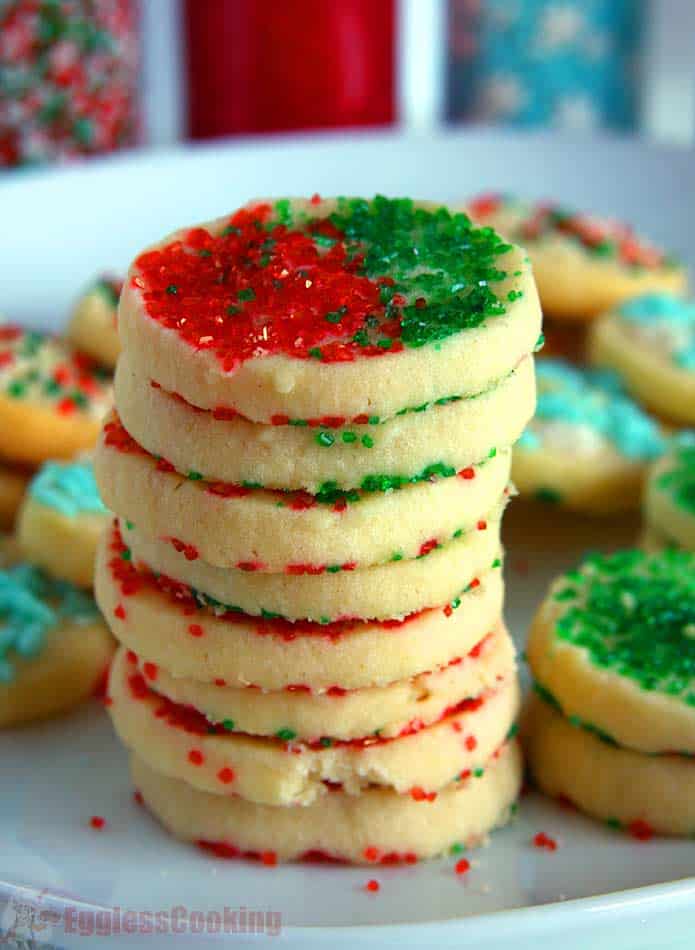 | | | |
| --- | --- | --- |
| Christmas Sugar Cookies Recipe | | |
| Prep Time | Cook Time | Makes |
| --- | --- | --- |
| 1 Hr 30 Mins | 7-9 Mins | 150 Cookies (Approx) |
| Author | Category | Method |
| Madhuram | Cookies | Baking |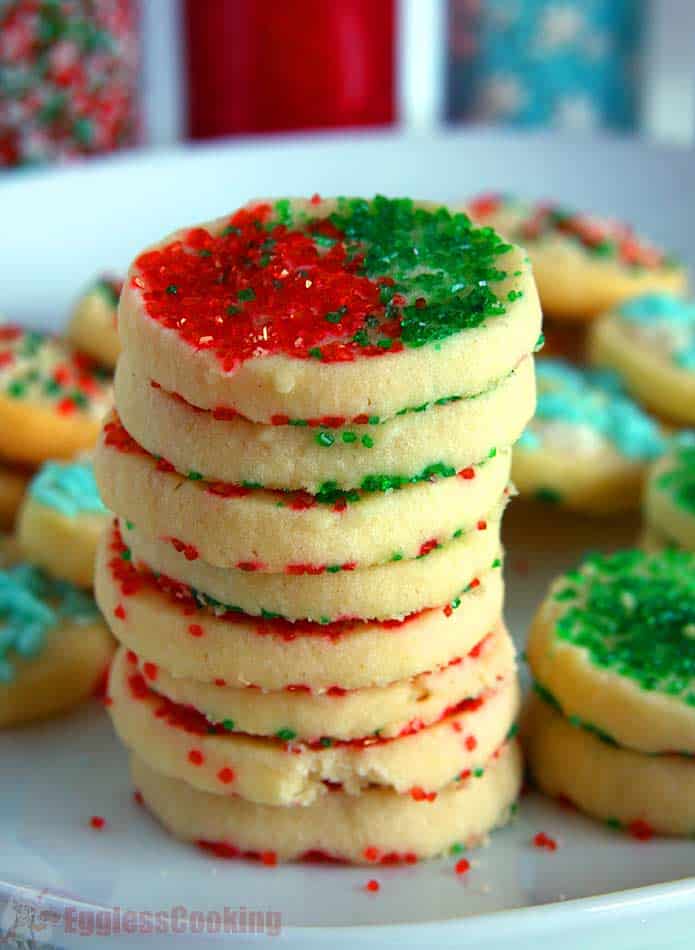 Christmas Sugar Cookies
5.0

from

1

reviews
Running out of eggs? Yet want to make the most amazing Christmas sugar cookies with beautiful decorations? Then don't worry, you are in the right place.

Ingredients:
2 cups

butter, softened

1 cup

white sugar

1/4 cup

sweetened condensed milk

1 teaspoon

vanilla extract

4 cups

all-purpose flour

1/8 teaspoon

salt
Procedure:
In a large bowl beat together the butter and sugar until light and creamy.
Add in the milk and vanilla. Beat well.
Stir in the flour and salt and mix well.
The dough will be a bit loose at this stage. Divide it into 5, 1 cup portions. Using some flour form the dough into logs about 7-8 inches long (see My Notes). Wrap it in plastic wrap or parchment paper and cool it in the fridge for at least an hour before baking.
After an hour remove one log at a time from the fridge (See My Notes). Meanwhile preheat the oven at 350F/180C. Slice the log to about 1/4-inch for each cookie, decorate it with sprinkles, colored sugar, etc. Place it on a lightly greased baking sheet about an inch apart and bake for about 7-9 minutes.
Remove the sheet out of the oven. Let it cool completely on a wire rack before storing it in an air tight container.
My Notes:
I followed the recipe and did 10 inch logs and felt that the cookies were too small in diameter making it difficult to top it with sprinkles. So I suggest that you can stop it with just 7-8 inches log
Also remove one log at a time from the fridge so that the dough will not loosen up and you can slice it easily without the dough sticking to the knife and also get thick, even slices.

Try this recipe, click a pic and hashtag it #egglesscooking - Proudly showcase your creations on Instagram, Facebook & Twitter!