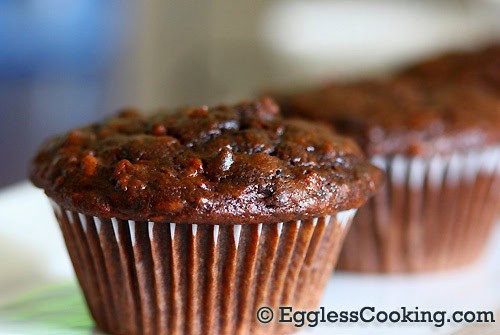 Finally I baked some muffins after a long break. All these days something was stopping me from getting into the kitchen for baking. But now that I have baked these double chocolate muffins, I have sort of got into the baking mood and all I can think of now is what can I bake next. For me baking is addictive, once I start it there is no stopping. The only bad thing about this is that I will start packing pounds eating all of it. Already the 2 months vacation in India, Navarathiri and Diwali celebrations has sent the scales tipping way more than it should be. I have to find some way to enjoy baking and also not to gain weight. Any suggestions?
We are also super excited about our first recipe video ever. Hope you all like it. The credit goes to my husband for shooting, editing and all the other technical aspects which goes into it. As always we are open to any constructive comments about the video, so that we can do better in our next attempts.
I found this recipe for double chocolate muffins here a long time back. Maybe even a year or so. Finally got a chance to bake it yesterday. The secret ingredient in this muffin recipe is the Fiber One original bran cereal. It has about 13gms fiber in a 1/2 cup serving and zero sugar. I don't like this cereal all by itself, so I mix it with some other cereal. So if you too don't like a particular cereal then you should be using it up by preparing these delicious double chocolate muffins. You will hardly notice it.

| | | |
| --- | --- | --- |
| Double Chocolate Muffins Recipe & Video | | |
| Prep Time | Cook Time | Makes |
| --- | --- | --- |
| 20 Mins | 16 Mins | 10 Muffins |
| Author | Category | Method |
| Madhuram | Muffins | Baking |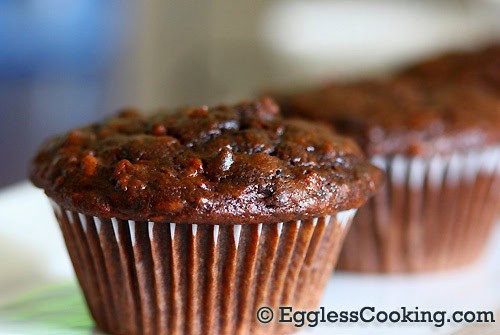 It's hard to believe that the secret ingredient in these delicious double chocolate muffins is Fiber One's original bran cereal.

Ingredients:
1 Cup

Fiber One Original Bran Cereal

1 And 1/3 Cups

Buttermilk

1/4 Cup

Oil (I Used Vegetable Oil)

1/4 Cup

Pureed Banana (About 1/2 A Banana)

1 Teaspoon

Vanilla Extract

3/4 Cup

Brown Sugar (I Used Light Brown)

1 Cup

All Purpose Flour

1/2 Cup

Cocoa Powder

1 Teaspoon

Baking Soda

1/4 Teaspoon

Baking Powder

1/4 Teaspoon

Salt

1/3 Cup

Mini Chocolate Chips
Procedure:
Preheat oven to 375F/190C for 15 minutes. Line a muffin tin with paper liners or grease it with some cooking spray.
Place the cereal in a zip-loc bag and crush it coarsely or use a food processor.
Soak the crushed cereal with the buttermilk in a large bowl for 5 minutes.
Add the oil, pureed banana, vanilla extract and brown sugar to the cereal mixture and stir it.
Sift in the flour, cocoa, baking soda/powder and salt directly over the wet ingredients, breaking lumps if any.
Combine everything until just moistened. Do not over mix.
Stir in the chocolate chips.
Fill the muffin cups with the batter, about 3/4ths full in each cup. I got only 10 muffins for the above measurement even though the original recipe was for 12 muffins. So fill some water in the empty tins about 1/2 full, to ensure even baking.
Bake for about 15-20 minutes, or until a toothpick inserted in the center of a muffin comes out clean. Mine was done by 16 minutes.
Remove the muffin tin from the oven and place it on a cooling rack for about 5 minutes. Serve the muffins warm or at room temperature.
Taste:
Even before tasting, I was ecstatic when I removed these double chocolate muffins from the oven because they looked perfect. I would say that these were the best looking muffins I have ever baked. I couldn't wait to taste it. My friend had come over to my place so we both tasted it and we loved it. She was all praises for the muffin. I personally liked the texture of the cereal in the muffin. I did not powder it completely, so there were small bits and pieces of the cereal here and there which gave a nice texture to the muffins. The sweetness was just right and the house was filled with the wonderful aroma of chocolate. The muffins do have a subtle banana flavor. If you don't like it then you should try unsweetened applesauce instead.
My Notes:
I used about 1/2 a medium size banana and pureed it with little water in a blender. 1/4 cup of unsweetened applesauce or pureed prune (from the baby food aisle) is also a good alternative.
For the flour you can use 1/2 whole wheat flour and 1/2 all purpose flour as mentioned in the original recipe or even a cup of whole wheat pastry flour.
You can also lightly grease the muffin liners with some cooking spray so that you can remove the muffins almost immediately from the liner without most of the muffin sticking to the paper. Or else you will have to wait for at least 45-60 minutes.

Try this recipe, click a pic and hashtag it #egglesscooking - Proudly showcase your creations on Instagram, Facebook & Twitter!