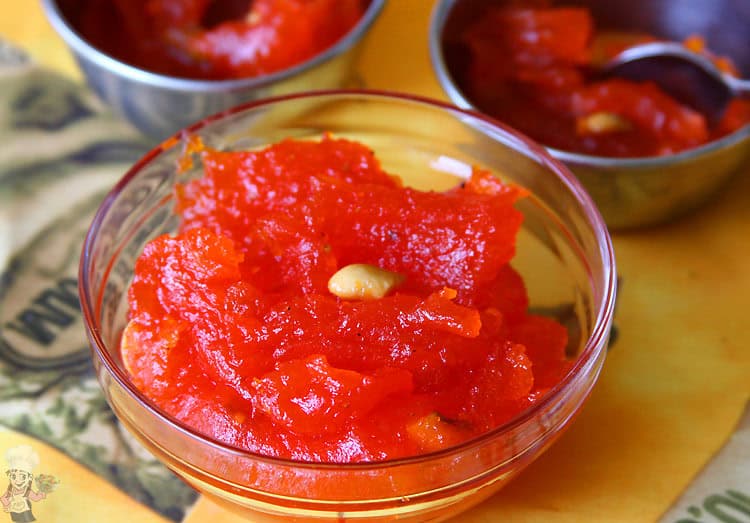 Potato Halwa: Wow! It's been almost two years since I posted anything here and that changes from today. I hope so 😉 Since it has been a long time, I thought I will mark this new beginning with a sweet recipe, potato halwa. I know it's not a health conscious recipe like the other recipes I blog in this space, but I think it's ok for a girl to give in to her sugar cravings once in a while. So excuse me.
Had a lot of potatoes at home and I usually make this family favorite aloo poha aka aval uppuma. Later I remembered reading somewhere about making gulab jamuns using potatoes and wanted to try it but wasn't in the mood for frying or anything. Wanted to make something simpler than that. Also I had just made ghee and had a pan with some ghee on it after storing the freshly made ghee to a container and wanted to use that pan to make some sweet. See that's how economical I am 😉
That's when I got the idea to make potato halwa. Halwa or more popularly called as alva in Southern India where I come from is a dessert which is usually made using any grain flour, lots of ghee and sugar. Halwa made using nuts, fruits and vegetables is also quite popular. Carrot halwa is very famous in North India and ash gourd halwa in the South.
I have tried potato halwa about an year ago in the microwave oven. This time I thought I will make it on the stove top because didn't want to waste some of the ghee that was sticking to the pan.
Making potato halwa in the stove top is a bit time consuming and requires more elbow grease when compared to making it in the microwave oven but it's totally worth the effort.
If you prefer making this potato halwa in the microwave oven, stir in the 3 tablespoons of ghee and potato and cook it on high for two minutes stirring once in between. Then mix together the milk, sugar, food coloring and cook it for 5-6 minutes mixing once or twice in between. Keep in mind that the time it takes to cook depends upon the heat setting you use in the oven.
You can also try the same halwa recipe using sweet potato, pumpkin and beets. But you may have to pressure cook the beets. I haven't tried cooking it in the microwave oven like I did with the potatoes for this potato halwa recipe.

| Prep Time | Cook Time | Makes |
| --- | --- | --- |
| 05 Mins | 25 Mins | 1.5 Cups |
| Author | Category | Method |
| Madhuram | Sweets | Cooking |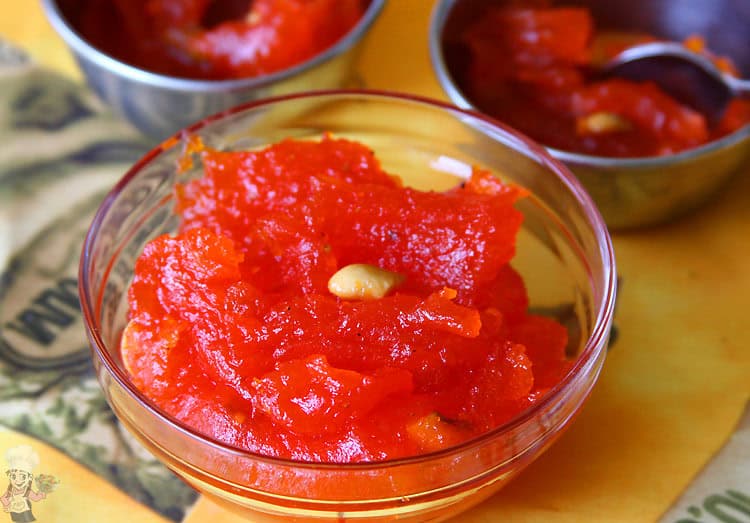 Having guests over and looking for a dessert recipe to make in a jiffy? This potato halwa recipe is easy to make both on the stove top and microwave oven.

Ingredients:
1 cup

cooked and mashed potato (about 4 medium size potatoes)

4 tablespoons

ghee

1/2 cup

milk (I used 2%)

3/4 cup to 1 cup

granulated sugar

1/4 cup

cashewnut (break them into small pieces)

a pinch

kesari powder (orange food coloring)

a pinch

cardamom powder
Procedure:
Take 4 medium size potatoes, wash it well and prick it throughout using a fork. I used the "potato" setting in the microwave oven to cook the potatoes without any water. You can do it over stove-top or in the pressure cooker. The key is the potato should not contain any excess water. That's where the setting in the microwave oven comes very handy.
When the potatoes are done put it in a dish filled with cold water. This helps in peeling the skin because the potatoes will be too hot to handle otherwise.
Place the cooked and peeled potatoes in a large bowl and mash it well using a potato masher. At the end you might have to use your fingers to knead it like a dough to break the small lumps if any.
In a medium size frying pan, heat about 3 tablespoons of ghee and fry the broken cashew pieces golden brown and keep aside.
Now sautee the mashed potato in the rest of the ghee in the pan for about 4-5 minutes. Keep stirring it frequently otherwise the potatoes will stick to the pan.
Add the milk and keep stirring for couple more minutes.
Now add the sugar (I used 1 cup of sugar) and orange food color and mix well. The sugar will start to melt and you will get a tomato soup like consistency mixture but don't worry.
Stir in the cardamom powder and keep adding the remaining 1 tablespoon ghee in small increments and keep mixing the halwa until the ghee separates and the halwa thickens. This might take another 5 minutes.
Transfer it to a heat-proof dish and add the fried cashewnuts and serve it warm.

Nutrition Facts
Servings: 5
Per Serving
% Daily Value*
Calories

275

Total Fat

11.7g

15%
Saturated Fat

6.8g

34%
Trans Fat

0g

Cholesterol

28mg

10%
Sodium

13mg

1%
Potassium 78mg
2%
Total Carb

44.4g

15%
Dietary Fiber

0.4g

1%
Sugars

41.3g

Protein

1.5g

Vitamin A 11% – Vitamin C 5%
Calcium 2% – Iron 2%

Try this recipe, click a pic and hashtag it #egglesscooking - Proudly showcase your creations on Instagram, Facebook & Twitter!