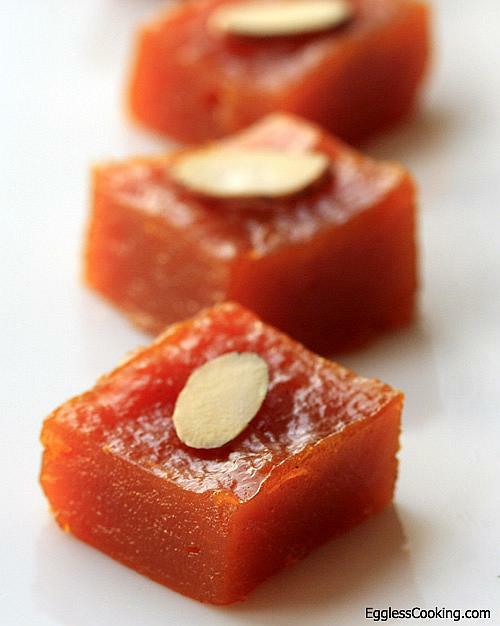 Hailing from India, it's no surprise that mango is my favorite fruit. I'm pretty sure that it' the most favorite fruit of majority of the population. Even though it is best consumed ripe and fresh as a whole fruit by itself, we do use it in umpteen number of ways because it is versatile.
I usually have a a can of mango pulp (from Indian store) at home because it is an easy way to whip up some cool and refreshing smoothie or milk shake for surprise guests or just for us on hot summer afternoons. One of those days I stumbled upon RedChillies' banana halwa recipe and was wondering how to prepare mango halwa in the similar method.
I was not sure how it would come out or how it would taste but to my surprise I was able to get perfect pieces of mango halwa and it tasted like th mango bars (aam papad) which we get in India. This easy mango halwa can be prepared using just two ingredients, mango pulp and very little ghee. No need to add extra sugar because the pulp is already very sweet.
A word of caution though, you need to keep stirring the pulp adding very little ghee in 2-3 intervals for about 45 minutes otherwise it will stick to the bottom of the pan. I would also suggest using a non-stick pan for trying this mango halwa recipe.
To try more mango dessert recipes this summer check this list of Top 10 Mouthwatering Mango Desserts. Also if you are looking for a way to use up leftover mango pulp you can try this vegan mango pudding or vegan mango cake too.
P.S: I don't know why I didn't think of this but one of the readers said that she tried this mango halwa recipe in microwave oven instead of stove top and it was done in 4-5 minutes. So there you go, you have got yourself an instant mango halwa recipe. All you need is mango pulp and a large microwave safe bowl.

| Prep Time | Cook Time | Makes |
| --- | --- | --- |
| 15 Mins | 45 Mins | 4-5 Perfect Squares & Some Small Pieces |
| Author | Category | Method |
| Madhuram | Sweets | Cooking |
Looking for mango pulp recipes? Wondering how to make mango halwa? I've got one delicious answer for both your questions. Make this easy mango halwa from mango pulp.

Ingredients:
2 and 3/4 cups

Mango Pulp

1 tablespoon

Ghee
Procedure:
In a heavy bottom vessel (I used a small pressure cooker) add the ghee and when it is hot add the mango pulp.
Keep stirring the mixture every 10-15 minutes so that it does not stick to the vessel.
The mixture will reduce in quantity, there will be a change in color and after 45 minutes transfer this mixture to a greased (with very little ghee) plate. I used 2 and 3/4 cups of pulp and it cooked down to 3/4ths of a cup approximately. So a very small plate is enough.
I left the plate undisturbed for one more hour and then tried cutting it into pieces and it came out perfectly. Garnish it with nuts of your choice.
My Notes:
After cooking the sweet I googled Mango Halwa and found that it can be done even more quickly in a microwave oven. A couple of food bloggers have done it but nobody has sliced it. So I'm going to try that the next time.
I have an electric range so it has taken about 45-50 minutes for me. I think if cooked in a gas stove it should only take half the time.
You could use the entire can of mango pulp too, it will measure abut 3 and 1/2 cups. I reserved the balance to make mango milk shake and tofu-mango pudding. If you use the entire can, you would have to cook it for couple more minutes.

Try this recipe, click a pic and hashtag it #egglesscooking - Proudly showcase your creations on Instagram, Facebook & Twitter!

This mango halwa recipe was updated and republished from the recipe archive of 2009.