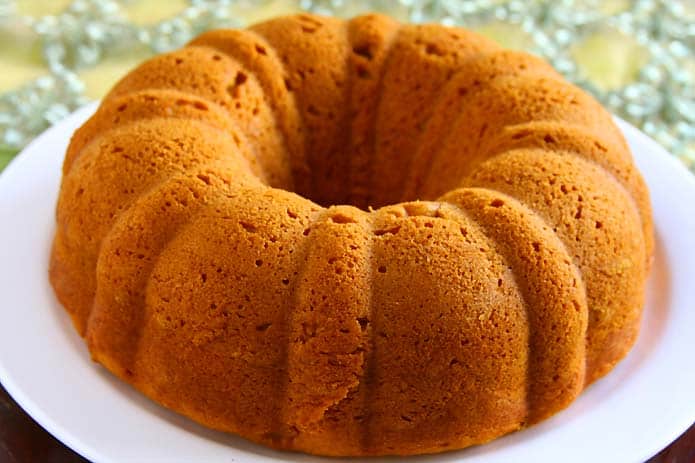 Pound cakes have always been my favorite kind of cake. Yes it is very rich and buttery and calorie loaded but taste doesn't come without a price! I have already tried a plain eggless pound cake using silken tofu as an egg substitute.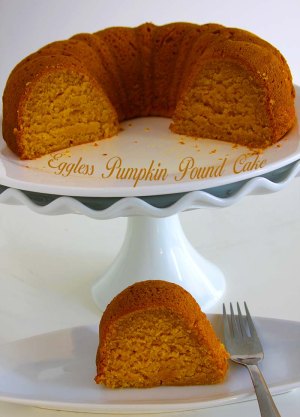 While trying that recipe I felt that using just silken tofu made the pound cake a bit dense. At that time I hadn't tried my eggless blueberry pound cake yet and hadn't found out that a combination of yogurt and silken tofu as egg substitute works like magic in egg free cakes.
I really wanted to try that combination in a plain pound cake recipe again but didn't get a chance until now. Recently I stumbled upon this sweet potato pound cake recipe and I wanted to try it.
But I didn't have sweet potato or silken tofu but had serious cravings to bake this pound cake that day. Luckily remembered having a can of pumpkin puree and decided to bake it as pumpkin pound cake with Kefir as egg substitute. Didn't have enough yogurt too!
I have already baked this decadent egg free maple walnut cake using Kefir as egg substitute and was confident that this eggless pumpkin pound cake will turn out great too.
As expected the pumpkin pound cake turned out very well. I also loved the fact that it was not too sweet. The only thing I felt was I could have baked it for another 5 minutes at least. More on this in My Notes.
Overall this pumpkin pound cake is yet another fancy addition to your Thanksgiving menu if you think that this vegan pumpkin cake roll is not in your alley.

| | | |
| --- | --- | --- |
| Eggless Pumpkin Pound Cake Recipe | | |
| Prep Time | Cook Time | Makes |
| --- | --- | --- |
| 25 Mins | 1 Hr | One 10-Inch Bundt Cake |
| Author | Category | Method |
| Madhuram | Cakes | Baking |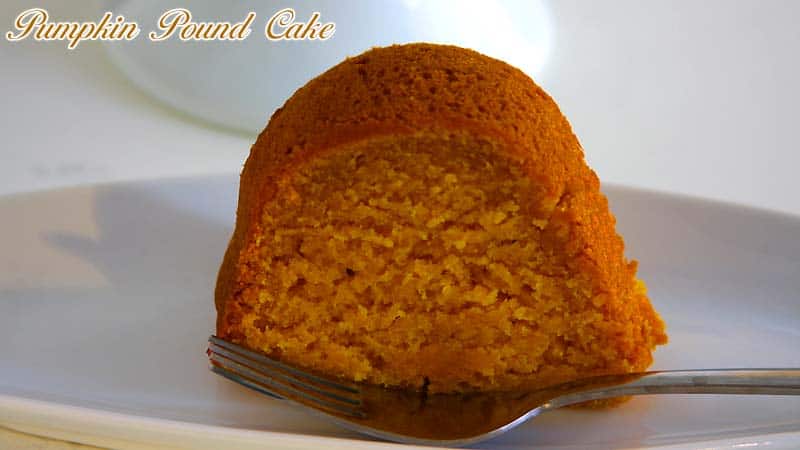 Move over pumpkin pie! Let's make room for this rich, buttery and decadent eggless pumpkin pound cake which will definitely be a crowd pleaser!

Ingredients:
1 cup

butter, softened

2 cups

granulated white sugar

3/4 cup

kefir or yogurt

2 teaspoons

vanilla extract

1 teaspoon

apple cider vinegar

3 cups

all-purpose flour

2 teaspoons

baking powder

1 teaspoon

baking soda

1/4 teaspoon

salt

2 cups

pumpkin puree
Procedure:
Preheat oven to 350F/180C. Generously grease and flour a 10-inch fluted/bundt pan and set aside.
In a large bowl beat together the butter and sugar until light and fluffy.
Add Kefir in 3 additions, beating well after each addition. The mixture will look curdled but nothing to worry.
Beat in the vanilla extract and vinegar too.
In a medium sized bowl, stir together the flour, baking powder, baking soda and salt.
Add this flour mix to the creamed mixture and mix well. Stir in the pumpkin puree too and combing well. If the batter is too sticky add in a tablespoon or two of water. But make sure that you don't make the batter too watery.
Pour the batter into the prepared pan and bake for about 50-60 minutes or until a toothpick inserted near the center comes out clean. I baked it for 55 minutes. (See My Notes)
Remove the pan from the oven and let it cool on a wire rack for at least 10 minutes in the pan itself before removing the cake out of the pan. Slice and serve once it is completely cool.
My Notes:
It looked like the pound cake was a bit moist and under-cooked on the top side. The middle and bottom looked fine. I removed the cake from the oven when the toothpick inserted in the center of the cake came out clean but yet it was slightly under cooked. I guess it's because of the liquid content in the recipe and also bundt cakes especially pound cakes take a bit longer to bake fully.
I guess another 5-8 minutes at least in the oven would have been perfect. I'm thinking we shouldn't worry about the cake becoming dry because of overcooking as it has enough liquid/moisture in it to hold up pretty well for that extended baking time.

Try this recipe, click a pic and hashtag it #egglesscooking - Proudly showcase your creations on Instagram, Facebook & Twitter!