What is Silken Tofu?

Silken tofu is also known as Japanese-style tofu. Unlike regular tofu (Chinese-style), silken tofu has a softer consistency because of the high water content. Tofu textures differ based on the water content, meaning the more the water is pressed out the firmer it gets. Regardless of the type/style of tofu, it's made by curdling soy milk and pressing them into sliceable cakes. So yes it's vegan.

Is Soy Healthy?

Is soy healthy or not is totally a different issue and a big one. I would leave it you to make the decision on it. I would in general stay clear away from highly processed soy products that are being marketed as meat alternatives and high consumption of soy in any form until there is a clear green signal that it doesn't do any harm. Until then I prefer using non-GMO, organic tofu maybe once or twice a week and fermented soy products like tempeh which apparently doesn't have any red flags.

Silken Tofu Health Benefits

On the brighter side it's good to know that tofu is an excellent source of calcium, manganese and protein. It's also a good source of omega-3 fatty acids, iron and Vitamin B1.

Types of Silken Tofu

Silken tofu also comes in different types like regular tofu, like firm, medium and soft, but can be used interchangeably without affecting the texture of the dish, mostly because whatever the type it may be, it is generally blended along with the other ingredients in the recipe. So it should not be a problem as to what type of silken tofu you choose to use.

These days silken tofu or any tofu for that matter is readily available in most grocery stores whether Western or Eastern. You can look for it in the refrigerator section along with cheese products in some stores, or natural/organic section. The ones in aseptic boxes doesn't require refrigeration. So just ask the store clerk if you have problem locating it or you can buy online here.

Silken Tofu As An Egg Substitute

Silken tofu is mostly used as an egg substitute and/or dairy substitute. It's a perfect dairy substitute while making creamy soups, smoothies, dips and more. It also works out as a great egg substitute in cakes, cupcakes, muffins, etc. And let's of course not forget its use when you want to make egg free scramble, omelettes or frittaatas. While baking I normally use 1/4 cup of pureed silken tofu for each egg to be replaced up to a maximum of 3-4 eggs.

How to use Silken Tofu as an egg substitute?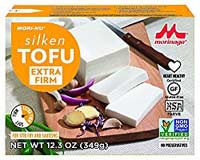 Tofu is another popular egg substitute. It's made by curdling soy milk and pressing them into sliceable cakes. It is a boon for those who want to go egg-free. From scrambled eggs to frittatas and cakes to frostings, tofu has its place in many dishes.
Substitute 1/4 cup silken tofu or soft tofu for each egg. Measure 1/4 cup tofu and then puree/whip it before adding it to the other ingredients. Along with the tofu adding an additional 1/4 teaspoon baking soda to the recipe will give better results.
When using this replacement, baked goods won't brown as deeply, but they will be very moist and dense. Best suitable for rich, dense & moist cakes, bread, chocolate chip cookies, and brownies.

Silken Tofu Recipes
Here is the full list of baking recipes that use Silken Tofu as an egg substitute: