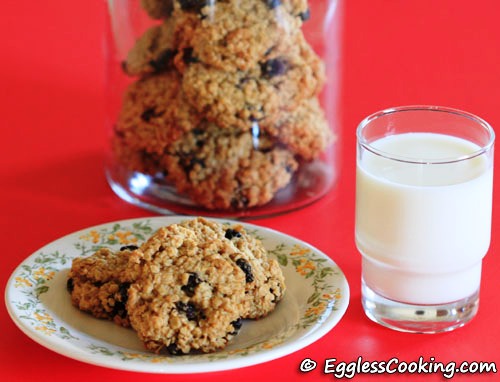 After the success of egg free version of the classic chocolate chip cookies (both chewy and crispy), I wanted to try my hands on another American classic the "Oatmeal Raisin Cookies".

| | | |
| --- | --- | --- |
| Vegan Oatmeal Raisin Cookies Recipe | | |
| Prep Time | Cook Time | Makes |
| --- | --- | --- |
| 15 Mins | 13 Mins + Cooling Time | 21 Cookies |
| Author | Category | Method |
| Madhuram | Cookies | Baking |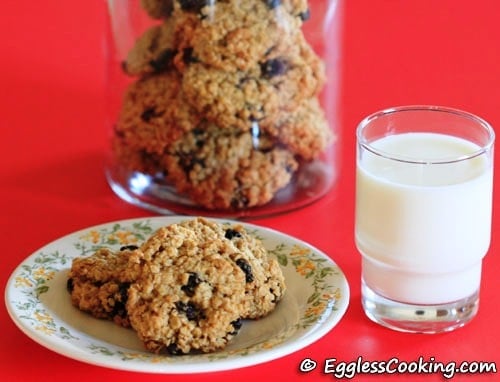 Vegan Oatmeal Raisin Cookies
4.8

from

22

reviews
Nobdoy can guess these chewy, tasty and healthy Oatmeal Raisin Cookies as vegan.

Ingredients:
3/4 Cup Or 1.5 Sticks

Vegan Butter/Regular Butter, Unsalted (Room Temp)

1 Cup

Light Brown Sugar

1

flax egg

1 Teaspoon

Vanilla Extract

3/4 Cup

All Purpose Flour

1/2 Teaspoon

Baking Soda

1/2 Teaspoon

Salt (I Used Only 1/4 Teaspoon)

1/2 Teaspoon

Ground Cinnamon (I Used Only 1/4 Teaspoon)

3 Cups

Old Fashioned Rolled Oats (I Used Quick Cooking Oats – Not Instant)

1 Cup

Dried Cranberries Or Cherries Or Raisins Or White/Dark Chocolate Chips (Optional, I Used Raisins)

1 Cup

Toasted And Chopped Walnuts Or Pecans (Optional)
Procedure:
Preheat oven at 350F/180C for 15 minutes. Prepare 2 large baking sheets either greasing it or lining it with parchment paper.
Cream the butter and sugar until smooth and creamy. I used a hand mixer.
In a blender, add flax seed powder and water and blend it until it's foamy.
Add the flax seed mixture and vanilla extract to the creamed butter. Stir it well using a wooden spoon/spatula.
In a medium size bowl, sift together the flour, baking soda, salt and cinnamon.
Add the flour mixture to the wet ingredients and combine it well using a spatula.
Now stir the oats and other optional ingredients you wish to include.
Drop the batter by a table spoon 2 inches apart. I used an ice cream scoop.
Wet your hands and flatten the cookies so that they are about 1/2 an inch thick.
Bake it for 12-15 minutes or until the edges are golden brown and the centre is little wet.
Remove it from the oven and let it cool in the baking sheet itself for 5 minutes. Then transfer it to a wire rack to cool it completely.
My Notes:
I baked the batch with aluminum baking sheet for 14 minutes and the one in dark color non stick baking sheet for 13 minutes. The cookies were chewy.
I wanted to try baking with vegan butter alternatives for long time now. So I bought Earth Balance Vegan Butter and tried this recipe with that, instead of regular dairy butter. I'm 100% sure that the cookies will come out good with regular butter also, because the original recipe uses the same.

Try this recipe, click a pic and hashtag it #egglesscooking - Proudly showcase your creations on Instagram, Facebook & Twitter!

I didn't know then that it's going to cost me a lot of time and material to find the perfect recipe for an eggless version. I had one recipe in hand from a book called "Cookies". Also check out the full collection of Vegan Cookies.
Since I have baked earlier from this book, I thought of proceeding with a recipe from that book itself. Then I saw that it used 1 and 1/2 sticks of butter, so I thought why not search for a healthy version of the cookies and found one in the net. It used only 5 tablespoons of butter, if I remember right.
I proceeded with that recipe, substituting flax seed meal for the eggs in the recipe. I think I went overboard by replacing 1/2 the quantity of all purpose flour with whole wheat flour, because the cookies did not taste any good. I guess it was because of too many substitutions.
After the failure of the first experiment I decided to follow a regular recipe (not the low fat versions) exactly, but only replacing the eggs. So as per my first plan I decided to go with the recipe from the "Cookies" book. Again I used flax seed meal here to replace the one egg in the recipe.
The dough came together and the cookies also looked like the store bought ones. I couldn't wait to taste the cookies. But this time, the sugar in the recipe messed it up for me. It was way too sweet, even for a sweet toothed person like my mother and myself.
I did see a vegan oatmeal cookie recipe in "The Joy of Vegan Baking" book, but it used steel cut oats and I was not able to find it in the grocery store which I go regularly. So I thought why not try a recipe from the "Joy of Baking" website! Found this recipe and I was surprised that the recipe which I had tried out earlier was the same, but for the quantity of sugar.
The previous recipe used 1 and 3/4 cups of sugar, whereas this recipe used only 1 cup of light brown sugar. This convinced me to try the recipe because only the sugar was excess in the previous batch. I baked these cookies yesterday and am very happy that they came out very well.
Everybody liked the cookies, it tasted just like the ones from the bakery. Who said you need eggs to bake tasty cookies? We were not able to taste the flax seed meal at all. The cookies were chewy and tasted awesome. I can bet that nobody would guess that they are vegan cookies.