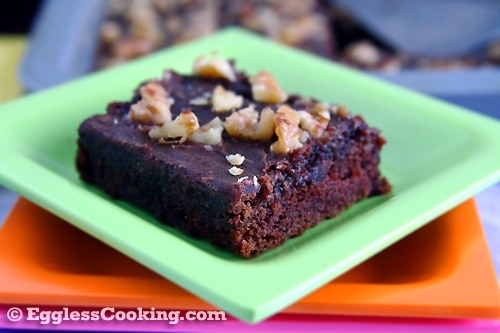 Last month my friend had asked me to bake a cake for her daughter's informal birthday party. She requested me to bake a plain eggless vanilla cake.
I choose to bake this eggless vanilla cupcake recipe because it has a nice hint of orange flavor. Instead of cupcakes, I baked it in a 15/9×1-inch jelly roll pan. For the frosting, I chose to use the recipe from the Hummingbird cupcake recipe.
Topped the cake off with colorful sprinkles and edible confetti. I have baked so much and most of it turns out great and get a lot of compliments from friends and family but this time I was quite nervous because I was giving the cake without even tasting a tiny bit of it. I couldn't wait to hear from them and was very happy when she informed me that everybody liked it.
So what does this have to do with the chocolate cake? Since I'm always looking forward to trying new recipes, I wanted to try one for this birthday gathering too. I have always wanted to try a Texas chocolate cake, but kept postponing because the recipe is too big for just the 4 of us or too small for a party. I thought this was a perfect occasion to try a chocolate sheet cake. I decided to bake it in 2 pans instead so that I could have one pan for us and give away the other pan to my friend. The plan worked out perfectly and the cake turned out very tasty. It tasted more like a rich chocolate brownie. Everyone loved it, especially the birthday girl.

| | | |
| --- | --- | --- |
| Eggless Texas Chocolate Sheet Cake Recipe | | |
| Prep Time | Cook Time | Makes |
| --- | --- | --- |
| 25 Mins | 20 Mins | 24 Slices |
| Author | Category | Method |
| Madhuram | Cakes | Baking |
Looking for an easy dessert idea to feed a crowd? This eggless chocolate sheet cake is the best recipe to try.

Ingredients for the Cake:
Part 1:
2 cups

white sugar

2 cups

all-purpose flour

1 teaspoon

baking soda

1/2 teaspoon

salt

1/4 teaspoon

baking powder
Part 2:
1 cup

water

1/2 cup

butter

1/4 cup

unsweetened cocoa powder
Part 3:
1/2 cup

pureed silken tofu

1/2 cup

buttermilk

1 teaspoon

vanilla extract
Ingredients for the Frosting:
2 cups

confectioner's sugar

1 cup

chopped walnuts (preferably toasted)

1/2 cup

butter

1/3 cup

milk (I used 2%)

1/4 cup

unsweetened cocoa powder

1 teaspoon

vanilla extract
Procedure:
Preheat oven to 375F/190C for about 15 minutes. Grease a 15x10x1-inch jelly roll pan. (See My Notes).
In a large bowl, sift together the Part 1 ingredients.
Bring the Part 2 ingredients to a boil. Remove from heat immediately and mix it with the dry flour mix.
In a small bowl, mix together the Part 3 ingredients and stir it into the cocoa mixture.
Pour the batter into the prepared pan and bake for about 20-22 minutes or until a toothpick inserted in the middle of the cake comes out clean.
While the cake is baking, prepare the frosting by bringing butter, milk and cocoa to a boil, stirring constantly. Remove from heat; add the sugar and vanilla. Mix well. Once the cake is out of the oven, spread the frosting evenly on the hot cake and sprinkle with nuts immediately. Let the cake cool completely before slicing. I left it overnight. (See My Notes).
My Notes:
I actually used two 11×7-inch pans instead of one 15×10 inch pan and got 24 pieces of cake totally. You can bake this chocolate cake in a 13×9 inch pan too but the baking time and the number of servings would change depending upon the pan size.
I prefer toasting the nuts because it gives a nice crunchy texture. You can either toast it in a cookie sheet in the oven while its preheating or do it stove top, stirring constantly so that it wouldn't burn. Toast the whole nuts and the chop it.
I left the cake to cool overnight. When I tried to slice it the next morning, the frosting was making it sort of messy to cut it. So I cooled it in the refrigerator for about 30 minutes and got very neat slices.
Nutritional Information for 1 Slice
Calories:

255.0


Total Fat:

11.7 g


Saturated fat:

5.4 g


Unsaturated fat:

5.6 g


Cholesterol:

21.5 mg


Total Carbohydrate:

37.0 g

Sugars:

27.3 g


Dietary Fiber:

1.2 g


Protein:

2.9 g


Sodium:

116.5 mg


Potassium:

91.7 mg

Try this recipe, click a pic and hashtag it #egglesscooking - Proudly showcase your creations on Instagram, Facebook & Twitter!