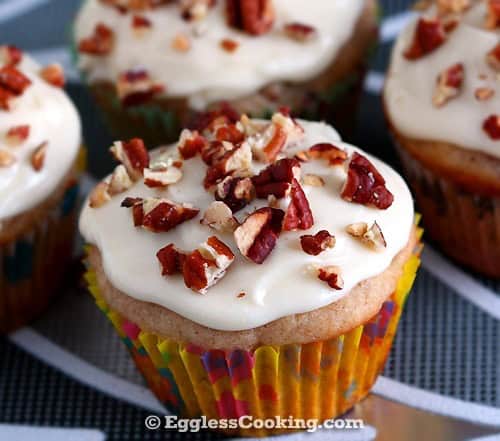 Happy New Year to all my beloved readers. I wish you all a joyful and peaceful year ahead. Today I'm going to blog about a moist, flavorful and decadent cupcake recipe. Do not expect anything healthy because it's loaded with butter, sugar and calories. And that makes hummingbird cake absolutely delicious! Usually when I see a recipe I always think about the healthy modifications I can make but not for this one.
I just let go everything and decided to bake and enjoy it as it is with respect to the fat and sugar content and white flour. I did use unsweetened applesauce and plain yogurt as egg substitutes. I also used cake flour instead of all-purpose flour.
The reason for the name Hummingbird cake is not known but one guess is the cake is as sweet as the nectar a hummingbird would like to feed on. And that's absolutely true because these cupcakes are very sweet. I saw this recipe for Hummingbird cake here when I was looking for recipes using banana.
I had a lot of overripe bananas and wanted to bake something new other than the vegan banana bread, vegan double chocolate banana cupcakes and banana chocolate chip muffins I usually bake. At first I was a bit hesitant after looking the fat and sugar content but decided to go with it anyhow. No wonder I received a lot of compliments from my family and friends.

| | | |
| --- | --- | --- |
| Egg-Free Hummingbird Cupcakes Recipe | | |
| Prep Time | Cook Time | Makes |
| --- | --- | --- |
| 1 Hr (Incl. Frosting) | 20 Mins | 24 Cupcakes |
| Author | Category | Method |
| Madhuram | Cupcakes | Baking |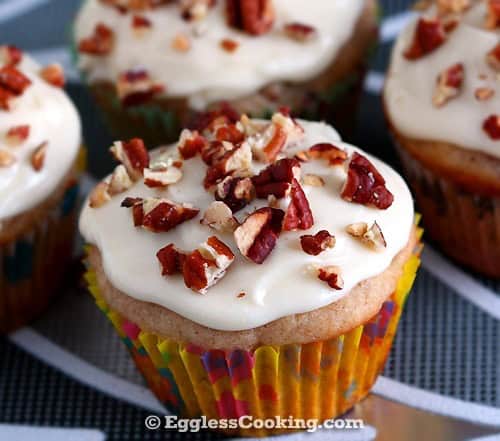 This is a special occasion cupcake recipe. The cake flour gives a light and fluffy texture while the bananas, applesauce and pineapple makes the cupcakes very moist and flavorful.

Ingredients – PART 1:
1 cup

butter, softened

2 cups

white sugar

1/2 cup

unsweetened applesauce

1/4 cup

plain yogurt(I used 2%)

2 teaspoons

vanilla extract

1 teaspoon

apple cider vinegar
Ingredients – PART 2:
2 cups

mashed bananas

1/2 cup

crushed pineapple, drained
Ingredients – PART 3:
3 cups

cake flour

1 teaspoon

baking soda

1/2 teaspoon

baking powder

1 teaspoon

cinnamon, ground

1/2 teaspoon

salt
Ingredients – PART 4:
1 cup

flaked coconut, unsweetened

1 and 3/4 cups

toasted and chopped pecans
FROSTING INGREDIENTS:
1 package (8 ounces)

cream cheese (I used light)

1/2 cup

butter, softened

3-3/4 cups

confectioner's sugar

1 teaspoon

vanilla extract
Procedure for Cupcake:
Preheat oven to 350F/180C for 15 minutes. Line two 12 cup muffin tins with paper liners. While the oven is heating, place the pecans on a cookie sheet and toast it in the oven for 5-7 minutes, stirring it once or twice in the middle. Stay alert so that the pecans don't burn. After about 6 or 7 minutes, remove the sheet out of the oven and let the nuts cool. Coarsely chop the nuts and set aside.
In a smaller bowl combine together the mashed bananas and crushed pineapple. While mashing the bananas you can add a tablespoon of water or milk to make the mashing easier. In a medium size bowl stir together the Part 3 dry ingredients and set aside.
In another large bowl cream together the butter and sugar using an electric beater. Stir in the applesauce, yogurt, vanilla extract and vinegar. Beat it for another 2 minutes. The mixture will look curdled, but don't worry about that.
Now add the fruit mixture and flour mix alternately, mixing well after each addition. Do not use the mixer for this. A spatula or wooden spoon is just enough.
Once the batter comes along well, stir in the coconut and 1 cup of pecans and mix until just combined.
Scoop out 1/4th-1/3rd cup of batter in each muffin cup. I used a standard size ice cream scoop for this and it was perfect.
Bake it for 20-23 minutes or until a toothpick inserted in the middle of the cupcake comes out clean. I tested just after 20 minutes and it was done. Do not over-bake it because the cupcakes will not be moist and you will end up with dry cupcakes. Cool it completely on a wire rack before frosting.
Procedure for Frosting:
In a medium size bowl cream together the cream cheese and butter until fluffy. Add vanilla extract and confectioner's sugar 1 cup at a time and beat until smooth.
Frost the cupcakes and top it with the balance 3/4th cup of toasted and chopped pecans. (See My Notes)
My Notes:
You can very well reduce the quantity of sugar by 1/4-1/2 cup, especially if you are going to frost the cupcakes. We use a lot of bananas and the pineapple also adds to the sugar content.
The original hummingbird cake recipe had used all-purpose flour but I chose to go with cake flour because we are not using eggs and it did definitely pay off. The cupcakes had an amazing texture. So I don't know if the cupcakes would turn out so light and fluffy with all-purpose flour.
The next time I bake this cake, I'm going to omit the coconut. Everybody else loved the flavor of the cupcakes but I personally would prefer a coconut free version.
The recipe for cream cheese frosting makes a LOT of frosting. Maybe it's just me, because we do not prefer very sweet stuff. I did not frost all the 24 cupcakes but even if I had, I still would have leftover frosting unless and otherwise I slather the cupcakes with all the frosting. I frosted about 12 cupcakes but I did not go overboard with it. So I think it depends upon how much you use per cupcake. But no worries, cream cheese frosting keeps good for 2-3 months in the refrigerator, which I found out while making this vegan pumpkin roll.
Nutritional Information For 1 Hummingbird Cupcake:
Calories:

385.5


Total Fat:

17.7 g


Saturated fat:

8.1 g


Unsaturated fat:

8.5 g


Cholesterol:

26.4 mg


Sodium:

145.2 mg

Total Carbohydrate:

55.4 g


Potassium:

146.1 mg


Dietary Fiber:

2.3 g


Sugars:

38.9 g


Protein:

3.9 g

Try this recipe, click a pic and hashtag it #egglesscooking - Proudly showcase your creations on Instagram, Facebook & Twitter!