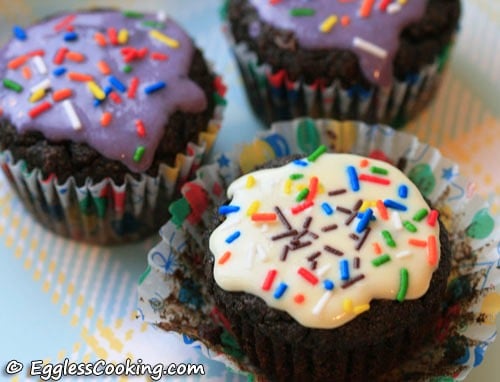 The cupcake recipe which I'm going to share with you today is such a brilliant idea to include greens and fruits in your child's diet. This is yet another sneaky recipe from The Sneaky Chef. I'm hooked to this book guys! It's really amazing what you can make your children to eat, following the simple methods given in the book.
I have renewed this book for the second time in the library and I have to return it very soon, so I'm trying out as many recipes as possible. In our library here I cannot renew it for the third time. I will have to return it and maybe get it sometime later.
Like all baking recipes mentioned in the book the chef uses the Flour blend (mixture of whole wheat flour and wheat germ) to start with. She then suggests mixing a puree of spinach/collard greens and blueberries. Didn't I say it is brilliant? The beauty of this cupcake recipe is you don't taste any of these healthy ingredients in the cupcakes. It tastes very normal, if not better than the usual chocolate cupcakes.
To make it eggless I substituted the egg in the recipe with prune puree (applesauce should also be fine). Since pureed fruits make the baked good denser I added baking soda to lighten up the cupcakes. I was crossing my fingers, because I don't play with baking soda/powder ratio in a baking recipe. I simply follow the recipe. But to my relief they came out very well, nice and fluffy.
Actually it was very fluffy, so I was thinking maybe I should have reduced the quantity of baking soda, but the next day it was alright. Everything was perfect, the cupcakes had the right texture. Another important thing, my son liked these cupcakes even on the second and third day. So something is definitely right in this cupcake recipe.

| Prep Time | Cook Time | Makes |
| --- | --- | --- |
| 20 Mins | 25 Mins + Cooling | 9 Cupcakes |
| Author | Category | Method |
| Madhuram | Cupcakes | Baking |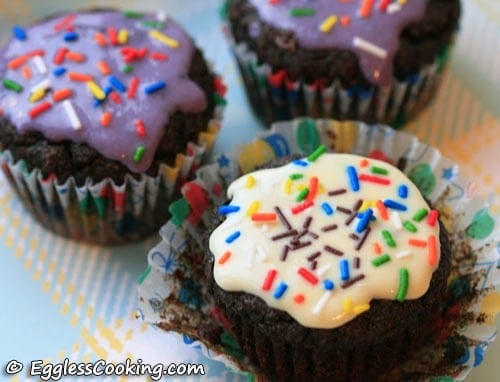 Sneak in spinach and blueberries into your kids' favorite chocolate cupcakes. Also these cupcakes use whole wheat pastry flour and wheat germ instead of all purpose flour, but you can never find it out taste, it tastes awesome.

Dry Ingredients:
1 Cup

Flour Blend

2 Tablespoons

Unsweetened Cocoa Powder

2 Teaspoons

Baking Powder

1/2 Teaspoon

Salt

Around 1/4 Cup

Miniature Chocolate Chips (Not Mentioned In The Original Recipe)

1/2 Teaspoon

Baking Soda
Wet Ingredients:
4 Tablespoons

Unsalted Butter (I Used Earth Balance Vegan)

1/3 Cup

Semisweet Chocolate Chips

1/4 Cup

Prune Puree (In Place Of 1 Egg, Also See My Notes)

2 Teaspoons

Vanilla Extract

3/4 Cup

Purple Puree (Blend Of Spinach And Blueberries)

1/2 Cup

Sugar

1 Tablespoon

Water
Procedure:
Preheat oven to 350F/180C and line a muffin tin with paper liners.
Melt the butter and chocolate chips together. I did this in the microwave oven, first for 15 seconds, stirred it once and heated it again for 20 seconds. Microwave oven times may differ so use caution while melting the mixture.
Remove from heat and let it cool for sometime.
In another bowl, stir together the pureed prune, vanilla, purple puree, sugar and 1 tablespoon water.
Combine this purple mixture with the melted and cooled chocolate mixture.
In another mixing bowl, stir together the dry ingredients and 1/2 teaspoon baking soda. Add this to the chocolate mixture and blend thoroughly.
Scoop out the dough and fill it in the muffin cups almost to the top. (I used an ice cream scoop, which measures 3 tablespoons)
Bake 23 to 25 minutes, until a toothpick inserted in the center comes out clean. Mine was done exactly at 23 minutes, but anyway I baked it for another 1 minute, just to be sure.
Cool the cupcakes on a wire rack before frosting. Frosting is optional, you may simply dust it with some powdered sugar or leave it plain.
My Notes:
For the prune puree I used Beech Nut brand, baby food. It's a small 2.5oz jar of pureed prunes. It measures exactly 1/4 cup. Alternatively you may buy prunes, soak them in hot water and grind them into a smooth paste and measure 1/4 cup of the paste. We were not able to taste the prunes in the cupcakes.
I strongly recommend eating these cupcakes the day after baking. It is unbelievably good the next day. When I tasted on the same day the taste was definitely good, but since I had used the Earth Balance blend, that flavor was definitely dominating. Actually we (couple of testers) did not taste the blueberries or spinach. I was so sure that it was the Earth Balance because I had a similar experience with the Oatmeal Raisin Cookies. But we were in for a big surprise the next day because the cupcakes tasted very normal, like any other regular cupcake.
Also when tasted on the day of baking, we were able to tell that it was made of whole wheat flour, but not on the second day. The only thing which was different is the texture. I guess that's because of the blueberries. I did grind it smooth, but I guess I should have processed it for some more time in the food processor.
My son ate half a cupcake on the first day. But when offered another piece after sometime he told me that he didn't like it. I iced the cupcakes the following day, while he was in school. They were ready when he came back and he had totally forgotten that it was the same cupcakes which I had offered him yesterday. He was clearly attracted by the icing and the sprinkles and he ate 1 cupcake without complaining. To my surprise he liked it the next day and also the day after. I also tested it with another kid who is 5 and also a picky eater. He usually doesn't eat anything including junk food like cupcakes and cookies. To his mother's surprise he also ate it. So I guess this cupcake recipe is definitely a keeper.
Alternatively this batter can also be baked in mini-bundt pans and voila you have your baked donuts. For donuts, bake 12 to 14 minutes until the tops spring back when pressed lightly. Loosed the edges with a knife and turn the donuts out over a plate. I have not tried this.

Try this recipe, click a pic and hashtag it #egglesscooking - Proudly showcase your creations on Instagram, Facebook & Twitter!

This cupcake recipe goes to "Egg Replacement – Pureed Fruit" event hosted by me.