Thanks to each and everyone of you for the words of support and wishes.  My mom made the journey without any problem. The only negative thing was her flight was delayed by 2 hrs due to bad weather.
We made the mistake of not checking the flight's status before leaving to the airport.  My mother was taking the British Airways flight from Chennai via London and it was supposed to reach here at 7.30pm. We started around 6.15pm, but that day the traffic was unbelievable and we reached the airport only at 8.30 pm.  I was worried that my mother would get panicked that we had not come.  Only a handful people were there in the arrival hall and my mother was not there.  Is this not enough to panic me?  Then we saw the message board where they have the list of flights coming into the airport with their arrival time and status.  We were so tensed that we could not locate my mom's flight.  Then after a couple of minutes we located it and confirmed that the flight had not yet arrived and was delayed by 2 hours.  Then only I was able to breathe.  By the time we reached home it was 1.00 am.
My son is already having a blast with her.  When she was in India she used to come online daily and we used to have conversation via web camera.  So he easily recognized her and yesterday night he slept with her only.  It's like he has totally forgotten me.  He wants his grandma to do everything for him, from brushing his teeth, giving him a bath and what not!
I wanted to bake something for my mother, but she has brought us a lot of sweets and snacks from India.  I think I'm gonna put on a couple of pounds easily.
For dinner yesterday I made adai using corn grits.  I usually prepare adai using Idli rava, instead of rice.  So I thought why not try it with grits, which has a similar texture.  I used Quaker brand, quick grits, which cooks in five minutes and enriched with hominy.

| Prep Time | Cook Time | Makes |
| --- | --- | --- |
| 3-4 Hours Soak Time + 15 Mins | 15 Mins | 14 Adais |
| Author | Category | Method |
| Madhuram | Tiffins/Main-Course | Fermenting/Cooking |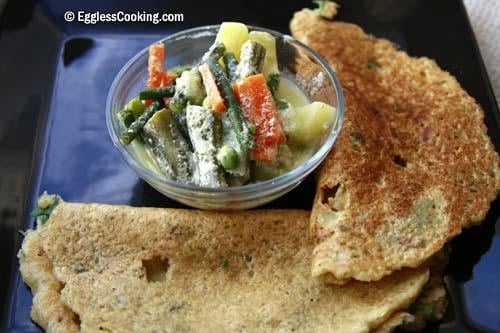 An easy recipe to prepare adai using quick cooking hominy grits and daals.

Ingredients:
1 Cup

Quick Grits

1/2 Cup

Channa Daal

1/2 Cup

Toor Daal

1/2 Cup

Moong Daal

1 Tablespoon

Urad Daal

As Per Taste

Green And Red Chillies

1 Tablespoon

Grated Ginger

1/2 To 3/4 Cup

Grated Coconut (Preferably Fresh)

As Per Taste

Salt

As Needed

Finely Chopped Coriander/Curry Leaves For Garnishing, Optional
Procedure:
Lightly rinse the grits and soak it with 1.5 to 2 cups of water.
In a separate bowl add all the daals, rinse it and soak it in 3-4 cups of water. Also add the red chillies with the daal.
After 4 hours either using a blender or wet grinder first grind the daals (adding water little by little) along with the chillies, also add the green chillies, ginger and coconut.
Once it is ground coarsely add the grits also and grind it for another couple of minutes. The batter should not be very smooth and also not very coarse.
Transfer the batter to a bowl, add salt and coriander leaves.
Now prepare the adais as usual.
Taste:
I got around 14 medium size adais for the above measurement. It was so delicious, especially with avial.
My Notes:
I usually use a combination of red chillies and green chillies in my cooking. The taste is definitely different and very good when compared to using either one.
Using fresh coconut and a lot of it really enhances the taste of adais.
Check this recipe for preparing adais using sweet corn.

Try this recipe, click a pic and hashtag it #egglesscooking - Proudly showcase your creations on Instagram, Facebook & Twitter!

This is my entry for Sangeeth's Eat Healthy – Protein Rich, event.