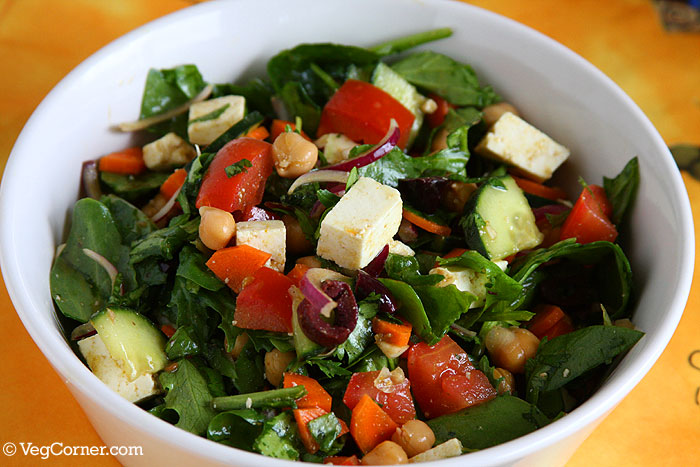 I don't know if anybody loves pickled olives like I do. I love them in salads and sandwiches more than in pizzas. So it always finds its way in most of my salads.
That's another reason why I like Greek salad more than any other salad. Last week I gave it an Indian touch by including paneer instead of feta cheese, fresh coriander for the parsley and seasoned it with curry powder. The taste was unbelievable. We all liked it very much. Hope you like it too!

| Prep Time | Cook Time | Makes |
| --- | --- | --- |
| 15 Mins | 02 Mins | 3-4 Servings |
| Author | Category | Method |
| Madhuram | Salads | Mixing |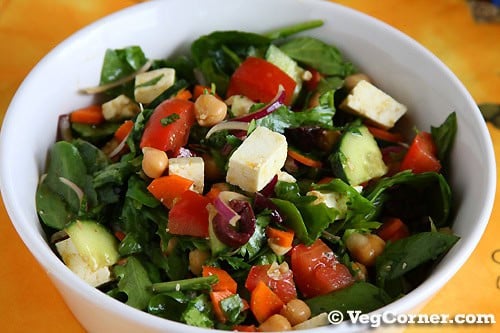 The classic Greek salad gets an Indian touch with our own paneer, coriander and curry powder.

Ingredients for Salad:
3 cups

chopped romaine lettuce or any salad greens

1/2 cup

sliced carrots

1/2 cup

sliced cucumber

1/2 cup

cubed tomato

1/2 cup

julienned red onion (1 small onion)

1/2 cup

sliced black olives

1/2 cup

cooked chickpeas

1/4 cup

finely chopped coriander

1/2-3/4 cup

cubed/crumbled paneer
Ingredients for Dressing:
2 tablespoons

extra-virgin olive oil

2 tablespoons

flax seed oil

1 tablespoon

balsamic vinegar

1 tablespoon

lemon juice

1 clove

garlic, minced

1/8 teaspoon

ground turmeric (optional)

1/4 teaspoon

curry powder

a pinch

sugar

salt and pepper

to taste
Procedure:
Toss together all the ingredients listed for the salad in a large bowl.
In a small bowl, whisk together the dressing ingredients until it all comes together.
Pour the dressing over the salad and toss well. Eat it as it is or fill it in pita pockets and top it with some plain yogurt and finely chopped mint leaves.
My Notes:
The measurements suggested is just an estimate. Increase or decrease the quantity to suit your taste. All vegetables are cut into chunks for a Greek salad, but we prefer slightly thinner slices. So that's your choice too.
Finely chopped parsley is used in original Greek salad which I have substituted with coriander to give it an Indian flavor. We love coriander. So I'm pretty generous. I would have easily used about 1/2 cup. But for some Westerners, the flavor of coriander can be quite pungent. Experiment with it if you are not sure.
The same holds good for curry powder too. I used more than the 1/4 teaspoon I have mentioned in the recipe.
Feta cheese is usually crumbled for Greek salad. Paneer also can be crumbled likewise. I chose to use cube it instead because my husband is not a big paneer fan. With cubes he can easily pick it out of his salad. Use extra-firm tofu instead of Paneer if you want to make it vegan Greek salad.
Red wine vinegar can be used instead of balsamic vinegar. You could use all olive oil instead of flaxseed oil.
Turmeric is purely optional. As I have mentioned in the beets-peanut salad recipe, I have started using it like salt.

Try this recipe, click a pic and hashtag it #egglesscooking - Proudly showcase your creations on Instagram, Facebook & Twitter!