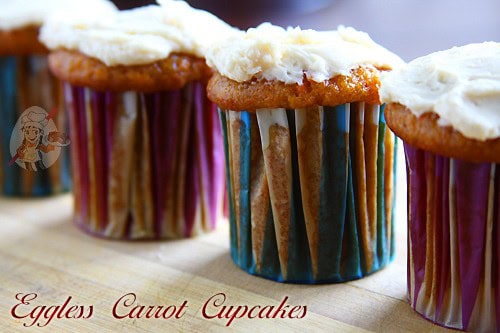 During March break my sons and I went to a museum and got a chance to see how maple syrup was made. There we got to taste fresh maple syrup and treats made of maple syrup and ever since I have become an ardent "maple syrup" fan. They also gave samples of a "maple ginger cake" which was baked there and it was very good. Being the baking enthusiast that I am I got the recipe and can't wait to try it out soon. It was this new found maple syrup mania that prompted me to bake the maple walnut cake for my birthday.
I was browsing for recipes to bake to welcome our new neighbors and I was excited when I found this maple carrot cupcake recipe which used a substantial quantity of maple syrup. Since everybody in my family loved the vegan carrot cake I baked last year for my son's birthday, I knew that carrot cupcakes would be a hit too. But when I tasted the batter after everything was mixed I felt that it did not have the maple flavor that I was expecting. So I added a teaspoon of maple extract and that did the trick. The neighbors loved the cupcakes and since then I have become a "super aunt" for the little ones there. The next time I'm going to try this recipe with all maple syrup. In that case we have to make some changes with the liquid ingredients and other adjustments too. I'll try it out first and then share my experience here.

| | | |
| --- | --- | --- |
| Maple Magic Carrot Cupcakes Recipe | | |
| Prep Time | Cook Time | Makes |
| --- | --- | --- |
| 25 Mins | 22 Mins | 15-18 Cupcakes |
| Author | Category | Method |
| Madhuram | Cupcakes | Baking |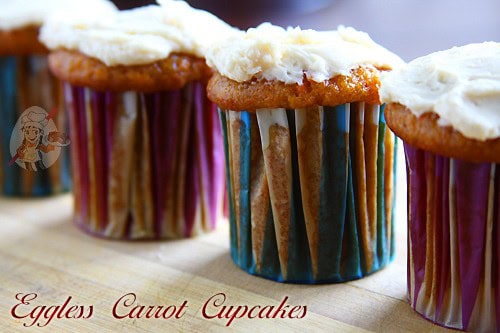 Why bake the usual vanilla and chocolate cupcakes? Give these maple carrot cupcakes a shot for your next special occasion and be prepared to get a lot of recipe requests.

Dry Ingredients:
2 cups

all-purpose flour

3/4 cup

white sugar

1 teaspoon

baking powder

1 and 1/2 teaspoons

baking soda

1 teaspoon

ground cinnamon

1/4 teaspoon

salt

3 cups

carrot, shredded
Wet Ingredients:
1/2 cup

pureed silken tofu

1/2 cup

yogurt

1 teaspoon

apple cider vinegar

1/2 cup

avocado oil

1/2 cup

unsweetened applesauce

1/2 cup

maple syrup

1 teaspoon

maple extract
Substitutes:
carrot – zucchini, beets, apple
avocado oil – any oil of your choice, melted butter
Procedure:
Preheat oven to 350F/180C for 15 min. Line muffin tin with paper liners or lightly grease it with non-stick cooking spray.
In a large bowl stir together all the dry ingredients except carrots; set aside.
In another medium bowl combine together the wet ingredients.
Stir the wet mix into the dry mix until just combined.
Fold in the carrots.
Fill the prepared muffin cups 2/3rds full and bake for 20-25 minutes or until a toothpick inserted in the center of the cupcake comes out clean. Mine was done in 22 minutes.
Cool the cupcakes in the pan before moving it to the wire rack to cool completely.
Frost it with your favorite cream cheese frosting and top it with chopped walnuts too make it look extra good.
My Notes:
The original recipe used 1 cup of sugar plus the 1/2 cup of maple syrup. I reduced the quantity of sugar to 3/4th of a cup. The cupcakes were mildly sweet without the frosting and not too sweet with the frosting.
cup of oil was used in the original recipe. I have replaced half of it with unsweetened applesauce.
I have substituted silken tofu and yogurt for 4 eggs used in the original recipe.
I used a different muffin pan which I bought from IKEA. At first I thought it was a smaller cup but was surprised to see that it held a little more batter than the usual muffin cups. I think that's the reason I just got 16 muffins, whereas the original recipe is for 18 muffins.

Try this recipe, click a pic and hashtag it #egglesscooking - Proudly showcase your creations on Instagram, Facebook & Twitter!