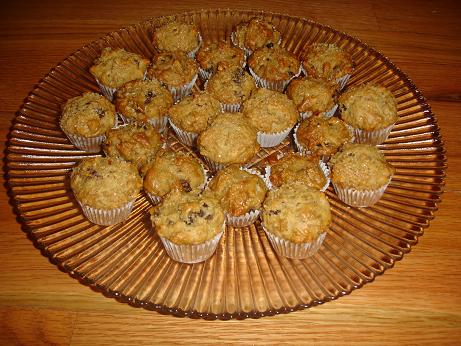 For my first recipe post I wanted something simple. Although I have a big list of recipes to be tried, the apple raisin muffin aired in Food TV was the one that kept coming to my mind. I saw it a couple of months earlier in Paula Deen's show. So this morning I went to Food TV's site and got the recipe. The original recipe yields 5 dozen mini muffins. I did not want to bake so much because it was the first time I was gonna try it. So I scaled down the recipe and it did come out well.

| | | |
| --- | --- | --- |
| Eggless Apple Raisin Muffins Recipe | | |
| Prep Time | Cook Time | Makes |
| --- | --- | --- |
| 10 Mins | 20 Mins | 2 Dozen Mini Muffins |
| Author | Category | Method |
| Madhuram | Muffins | Baking |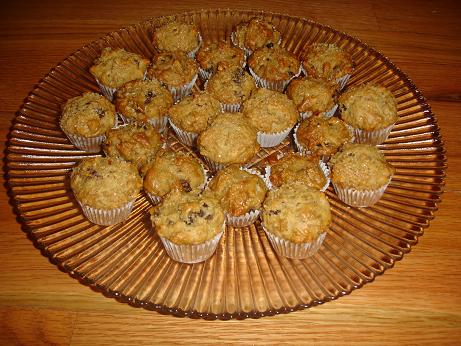 Super Easy Recipe from Food TV's chef Paula Deen.

Ingredients-A:
1/4 Cup

Water

1/4 Cup

Brown Sugar

1/4 Cup

Granulated Sugar

1/2 Cup

Raisins

1 Cup

Grated Apples

1/4 Cup

Butter

A Pinch

Cinnamon

A Pinch

Nutmeg
Ingredients-B:
2 Cups

All Purpose Flour

1 Tspn

Baking Soda

3/4 Cup

Chopped Walnuts
Procedure:
Combine all 'Ingredients-A' in a sauce pan and bring it to a boil. Remove from heat and cool completely.

Combine all 'Ingredients-B' in a large bowl. Add the cooled mixture to it and stir until blended.

Fill them in lined mini muffin tins and bake for 15 minutes at 350F.
Taste:
It passed the taste test by my husband and son.
My Notes:
The above measurements yielded exactly 2 dozen mini muffins.
The original recipe called for granulated sugar only, but I added a mixture of both light brown sugar and white sugar because I personally feel that the combination of these 2 results in a better taste.
I did not add clove powder because I did not have it.
After combining the wet ingredients with the dry, I felt that it required some more liquid, so I added some milk.
I also topped the muffins with turbinado sugar before putting them in the oven.
I baked a dozen first for 15 min and tested with a tooth pick to check if it was done. The tooth pick did not come out clean from some of the muffins so I baked it for another 2 minutes. By the time the first batch came out the remaining batter became a little more firm, so I added some more milk and baked the second dozen for 17 min and the tooth pick came out clean.
Update: Originally I used 3/4th cup of sugar both brown sugar and white sugar combined. But some of my friends told me that it was very sweet. I think I would reduce the quantity of sugar to 1/2 cup instead of 3/4th of a cup the next time I bake it. So I have changed the recipe to 1/4 cup of each sugar.

Try this recipe, click a pic and hashtag it #egglesscooking - Proudly showcase your creations on Instagram, Facebook & Twitter!