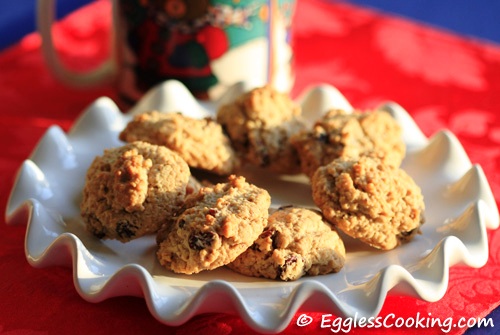 In my previous post I had written about how I miss few things in Canada and how I was a little disappointed. I think I have to take back my words now, because I have discovered few amazing things here.
I'm sure I'm going to find more interesting stuff once I start exploring the place. Last week we had been to a mall and found a store called Bulk Barn.
From where I was looking I was able to see only the name of the store in big letters and big packets of bird food. With the name and the bird food I thought it was some pet store where they were selling pet supplies in bulk and was thinking of skipping it. But I turned back again and marched towards the store and I'm so glad I did it or else I would have missed something very amazing. It's a grocery store where supplies are sold in bulk and not in ready to go packs, so you can decide to buy how much you want.
Also they have an unbelievable selection of specialty flours/grains, baking supplies, nuts, candies and many more. I felt like a kid in a candy store. I was able to find a lot of stuff which was not easily accessible to me in US as well.
Another exciting find was the community center in our area. It's just 7 minutes walk from our home. It has a decent size library (not much in the cooking section but a lot of materials for my son) and also a fitness center with reasonable prices. There are a couple of parks and walking trails also nearby. I'm loving it here!
Now coming to today's recipe, while grocery shopping last week I found oat bran and wheat bran in the store. Back in US these and similar items were available but was either costly or I had to make a special trip to the health food store. So I did not get a chance to use oat bran. When I saw it here I immediately grabbed a pack of each. I didn't know what I was going to do but bought it anyway.
Here I have to mention something, I'm a shopaholic. Not that I buy countless dresses and shoes (I used to be one back in India) but I love to buy grocery supplies and cookbooks. While browsing the web for recipes using oat bran I found this recipe. I have tweaked it little bit to suit our taste.

| | | |
| --- | --- | --- |
| Outrageous Oat Bran Cookies Recipe | | |
| Prep Time | Cook Time | Makes |
| --- | --- | --- |
| 15 Mins | 10 Mins | 44 Cookies. |
| Author | Category | Method |
| Madhuram | Cookies | Baking |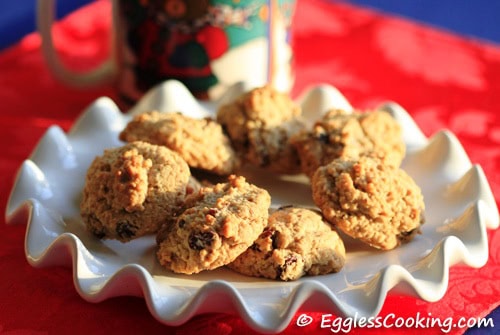 Outrageous Oat Bran Cookies
4.9

from

8

reviews
Don't let the name scare you away because these super healthy oat bran cookies without eggs will be a hit even with the kids. This cookie recipe is a proof that healthy and tasty doesn't have to be mutually exclusive. Wholesome cookies made with white whole wheat flour, oat bran and flax-seed meal, doesn't get any better.

Ingredients:
3/4 cup (1 and 1/2 stick)

Softened Butter

3/4 cup

Brown Sugar (I used light)

1/3 cup

Granulated Sugar

1/2 cup

Unsweetened Applesauce

2 teaspoons

Vanilla Extract

1 cup

All Purpose Flour

1 cup

White Whole Wheat Flour

1 cup

Oat Bran

1/4 cup

Flax Seed (I used powdered flax seed)

1/4 teaspoon

Baking Powder

3/4 teaspoon

Baking Soda

Little

Ground Cinnamon (Optional)

1/2 cup

Raisins,Nuts,Coconut,Chocolate Chips (Optional)
Procedure:
Preheat oven to 350F for 15 minutes. Grease the baking sheet or line it with parchment paper.
In a big bowl combine together the flours, bran, flax seed, baking powder, baking soda and raisins (if using) and set aside.
In a medium bowl, blend together butter and sugars until creamy.
Add applesauce and vanilla and mix until well blended. If you use an electric beater to mix the applesauce it may look curdled, but don't worry.
To the wet ingredients add the dry ingredients and mix well.
Drop the dough by tablespoon on prepared baking sheets. Lightly spray the tablespoon with non stick spray, so that the dough will drop easily. Use a butter knife to scoop out the dough from the tablespoon.
The baking time mentioned in the recipe is 8-10 minutes. The cookies look very even after 9 minutes but I removed them out anyway. After it cooled we tasted it and felt that it required further baking. So baked again for another 3 minutes. This time it had a nice golden brown color. Leave it in the baking sheet itself for a minute and then transfer it to a wire rack to cool completely.
Taste:
The earthy smell of white whole wheat flour was predominant when the cookies were consumed fresh (on the day of baking). But they tasted very good the second day. The smell was very mild. My son is enjoying the cookies very much, so I guess he doesn't even smell anything different.
My Notes:
I reduced the quantity of both the sugars considerably and even then felt it was quite sweet. So check the original recipe if you like your cookies very sweet. I also used 3/4th cup of raisins, which was optional in the original recipe.
I'm not a cinnamon fan, so I used very little of it. I think the earthy smell of the whole wheat flour can be overcome by using considerable amount of cinnamon (about 1 teaspoon).
If oat bran is not available, you could also use coarsely powdered quick cooking oats.
Using non hydrogenated margarine or any vegan butter will make these cookies even more healthy by cutting back on saturated fat and cholesterol.
Usually I bake the entire batch on the same day and the cookies vanish in no time. So this time I decided to freeze the dough. I baked only 20 cookies. Line a baking sheet with parchment paper and drop tablespoonful of the remaining dough onto the sheet. Cover it loosely with another parchment/wax paper and freeze it for an hour or until it is firm enough. Then transfer the frozen cookie dough to a Ziploc bag and write down the name of the cookie and date when it was prepared and put it back in the freezer. I read that the dough keeps good anywhere between 1 month to 3 months. Thawing of the dough is not necessary while baking it. Just bake for additional 2-3 minutes. In this recipe it would be around 13-15 minutes.
Update: I baked the frozen cookie dough and it was even better than the fresh ones. I baked it for 16 minutes at 350F, switched off the oven but kept the baking sheet in the oven itself for another 10 minutes. The cookies had a very nice golden brown color. They were crisp on the outside and soft in the middle.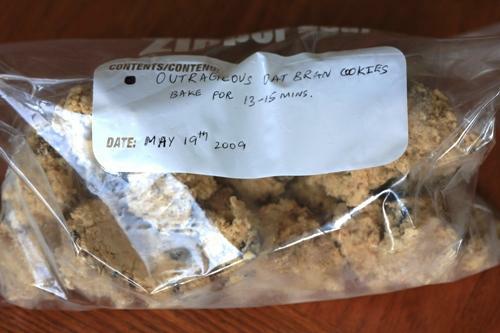 Nutrition Facts (w/o the nuts/dried fruits)
Servings: 44
Per Serving
% Daily Value*
Calories

82

Total Fat

4.6g

7%
Saturated Fat

2.7g

14%
Trans Fat

0g

Cholesterol

11mg

4%
Sodium

24mg

1%
Potassium 40mg
1%
Total Carb

10g

3%
Dietary Fiber

0.9g

4%
Sugars

4.4g

Protein

1.2g

Vitamin A 3% – Vitamin C 0%
Calcium 1% – Iron 3%

Try this recipe, click a pic and hashtag it #egglesscooking - Proudly showcase your creations on Instagram, Facebook & Twitter!