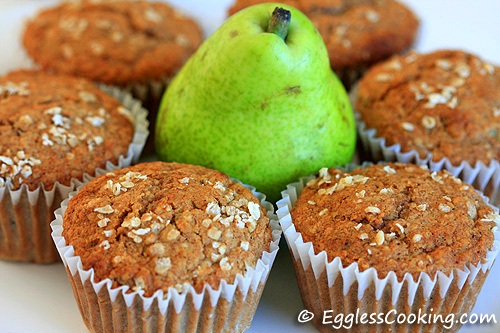 Recently I borrowed "The 250 Best Muffin Recipes" by Esther Brod from the local library. I don't know if they are the best muffin recipes unless I try each recipe but the variety is really very good though. Actually, it has the bonus of 250 recipes, so totally 500 muffin recipes in one book, with a lot of healthy recipes too.
I was amazed by the collection of recipes using oatmeal, oat bran, wheat bran, whole wheat flour, and wheat germ. It should easily reach at least 100-150 recipes. Especially there are a lot of oatmeal and oat bran muffins recipes.
Since this month's Whole Grain Baking theme is Oats, I decided to proceed with the Apple Walnut Oat Bran Muffins. (Please note that Oat bran alone is not whole grain, but for this event, I'm accepting recipes with oat bran also).
I had some bland pears in the fridge and nobody was willing to eat them so decided to use them instead of apple (more about this in the Taste and My Notes section). I have also used apple cider vinegar instead of the egg whites mentioned in the original recipe.

| | | |
| --- | --- | --- |
| Pear Oat Bran Muffins Recipe | | |
| Prep Time | Cook Time | Makes |
| --- | --- | --- |
| 15 Mins | 20 Mins | 12 Muffins |
| Author | Category | Method |
| Madhuram | Muffins | Baking |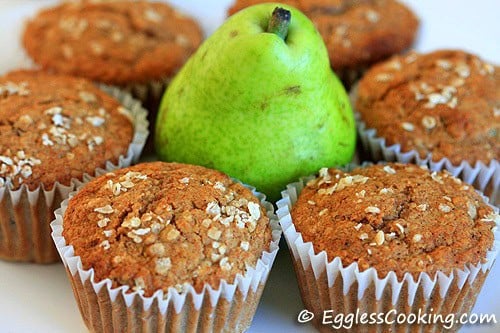 A simple, healthy and wholesome eggless muffin recipe using pear, walnuts, whole wheat pastry flour and oat bran.

Ingredients:
2 cups

Whole Wheat Pastry Flour

1 cup

Oat Bran

1 tablespoon

Baking Powder

1 and 1/2 teaspoon

Baking Soda

1/8 teaspoon

Cinnamon

1 cup

Chopped Walnuts

1 cup

Unpeeled, Grated Pear or Apple

1/2 cup

Brown Sugar, packed (I used light brown)

1 and 1/2 cups

Buttermilk

1/4 cup

Water

1 tablespoon

Apple Cider Vinegar

1 teaspoon

Vanilla Extract

5 tablespoons

Vegetable Oil

Little To Top

Quick cooking Oats
Procedure:
Preheat oven to 400F/200C for 15 minutes. Grease a muffin tin or use paper liners.
In a large bowl combine together all the dry ingredients (from whole wheat flour to grated pear).
In a measuring mug, measure the buttermilk. Add 1/4 cup water, vinegar, vanilla extract and oil. Whisk together. Dissolve the brown sugar in this liquid mixture and blend it well with a fork.
Add the wet ingredients to the dry ingredients, stirring just until moistened. Do not over mix.
Fill the batter in each muffin cup to the top. Sprinkle a teaspoon of oatmeal on each cup.
Bake for 20 minutes or until a toothpick inserted in the middle of the muffin comes out clean. Mine was done in 16 minutes.
Leave it in the pan for 10-15 minutes. Then transfer it to a cooling rack.
Taste:
I couldn't wait for more than an hour to taste the muffins. I was expecting some sort of raw taste/smell from the whole wheat pastry flour and the oat bran. Surprise! it didn't taste weird at all. In fact, the muffins had a very good texture. The only thing missing was sweetness. It was very mild. I used a pear which was not sweet by itself, maybe that was the reason. But we liked it because we generally don't eat very sweet stuff and my husband told me that these were the best muffins I have ever baked. My son who has a sweet tooth enjoyed these oat bran muffins very much.
These muffins were very filling too. Unlike the empty calories-sugary muffins, I did not feel like reaching for another one. So these muffins don't disappear fast and I stored them in the fridge. It becomes a little hard if stored in the fridge. So heat it in the microwave oven for 30-35 seconds before eating it and it's moist again like freshly baked.
My Notes:
Taste the fruit you are going to use, whether it is apple or pear. The pear I used was very bland, that's why I wanted to use it up because no one wanted to eat it. I should have anticipated that the muffins will also not be sweet enough. So add another 1/4 cup of sugar if the fruit you are using is not sweet.
The original recipe used 1 cup of all-purpose flour and 1 cup of whole wheat flour. So if you don't have whole wheat pastry flour go with this blend.
If you are a cinnamon fan use 1 teaspoon of ground cinnamon and omit the vanilla extract (as per the original recipe).
The recipe clearly asked to fill the batter to the top of the cup. I was not sure about this because usually muffin recipes mention 2/3rds full. I thought that it would overflow while baking and the muffins will get stuck to each other. Except for 4 muffins, I did not fill it to the top. So I got 12 regular-size muffins and had some batter left which was enough for 6 mini muffins. The 4 muffins which I had filled to the top rose beautifully and they did not stick to the other muffins. So if you fill the entire cup there should not be any batter left and the given measurement should yield exactly 12 regular size muffins.
If baking as mini muffins 8-10 minutes should be enough. I baked mine for 10 minutes and it was already very dark in the bottom.
Nutrition Facts
Pear Oat Bran Muffins
Amount Per Serving
% Daily Value*
Potassium 301mg6%
Total Carbohydrates
31.5g
11%
* Percent Daily Values are based on a 2000 calorie diet.

Try this recipe, click a pic and hashtag it #egglesscooking - Proudly showcase your creations on Instagram, Facebook & Twitter!