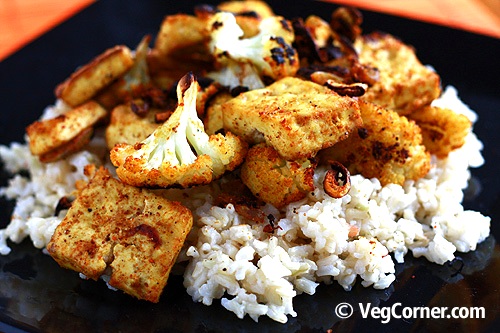 When I saw this recipe for roasted cauliflower and tofu curry in WeightWatchers.com I immediately knew that everybody in my house would love it because I roast cauliflower and tofu separately quite often. I wonder why haven't I tried preparing such a combo before seeing that recipe.
Before proceeding to the recipe few words about the recipes available for free in WeightWatchers.com. I'm not an affiliate trying to promote their site but just an overexcited foodie.
You would be excited too if you check the database of recipes in there. I have bookmarked so many healthy vegetarian recipes from that site and I'm trying it one by one. You can register for free to create an account and add recipes to your recipe box.
The only drawback is, I think there is a limit on the number of recipes you can add to your favorites, so I end up bookmarking a lot of them which becomes a bit difficult to manage.
Roasting cauliflower in the oven brings out the flavor very well. You can cook it just tender or make it as crisp as you want. Broiling it for additional 3-5 minutes gives a nice charred and crispy texture.
I usually prepare a South Indian version of roasted cauliflower using spices like Sambar powder and turmeric.
Also check my recipe for baked tofu Indian style. Unlike many 4 years old my son loves broccoli, cauliflower, tofu, and soy nuggets. (Touch wood!) So he loved this combo of roasted cauliflower and tofu very much. I just had to reduce the quantity of spice and it was good to go.

| | | |
| --- | --- | --- |
| Roasted Cauliflower/Tofu Curry Recipe | | |
| Prep Time | Cook Time | Makes |
| --- | --- | --- |
| 25 Mins | 20 Mins | 3-4 Servings |
| Author | Category | Method |
| Madhuram | Snacks/Appetizers | Baking |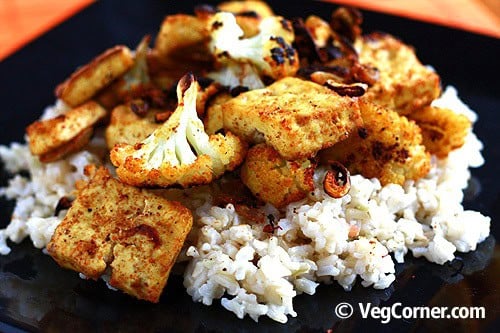 Two of the "not much liked food" comes together in this curry, but you can be assured that this will become your next favorite side dish. Cauliflower and tofu is roasted in the oven with mild seasoning of Indian spices transforming a simple curry into an exotic dish.

Ingredients:
Extra Firm Tofu (I Used Low Fat), Cut Into Big Cubes

350 Gm Pack

Medium Size Cauliflower Cut Into 1 1/2 Inch Pieces

Olive Oil

2 Teaspoons

Curry Powder

2 Tablespoons Or As Per Taste

Ground Cumin

1 Teaspoon

Salt

1 Teaspoon Or As Per Taste

Thinly Sliced Lengthwise Large Size Onion

1

Non Stick Cooking Spray

As Needed
Procedure:
Preheat oven to 450F for 15 minutes.
While the oven is preheating:
prep the tofu. Cut the block of tube into half horizontally. Wrap each piece of tofu with several paper towels and place some weight on it (canned chickpeas etc) to remove the excess water. Leave it wrapped for at least 10 minutes. Then cut the tofu into big cubes and
prep the cauliflower. Wash it and cut it into 1 1/2 inch pieces.
On medium-high heat warm a nonstick skillet. Add the 2 teaspoons of olive oil, spices and salt; swirl skillet to combine. Add onions and cooking, stirring often, until onions are wilted and browned, about 8 to 9 minutes.
Spray a big baking sheet with nonstick cooking spray. To that add the cleaned cauliflower, pressed tofu and the spiced onion mixture. Mix it with a wooden spoon to coat thoroughly. Spread mixture on the sheet in an even layer.
Roast it about 25-35 minutes, stirring 3 times, until cauliflower and tofu are golden brown. If you like it lightly charred, set the oven at broil and leave it for extra 3-5 minutes.
Serve over cooked brown rice or with rotis, naans (Indian flat breads). Or fill it in a pita bread.
My Notes:
We had this curry over brown rice just like it was mentioned in the original recipe. I made a small variation while serving it for my son. I cooked whole wheat penne pasta according to the directions in the package. Drain the cooked pasta reserving some of the pasta cooked water and set aside. In a serving bowl toss together the pasta, the roasted cauliflower tofu curry and some of the reserved water so that the pasta is coated with the spice from the curry. Let the pasta soak in the curry for at least an hour or two before serving. My son loved his special lunch very much.

Try this recipe, click a pic and hashtag it #egglesscooking - Proudly showcase your creations on Instagram, Facebook & Twitter!