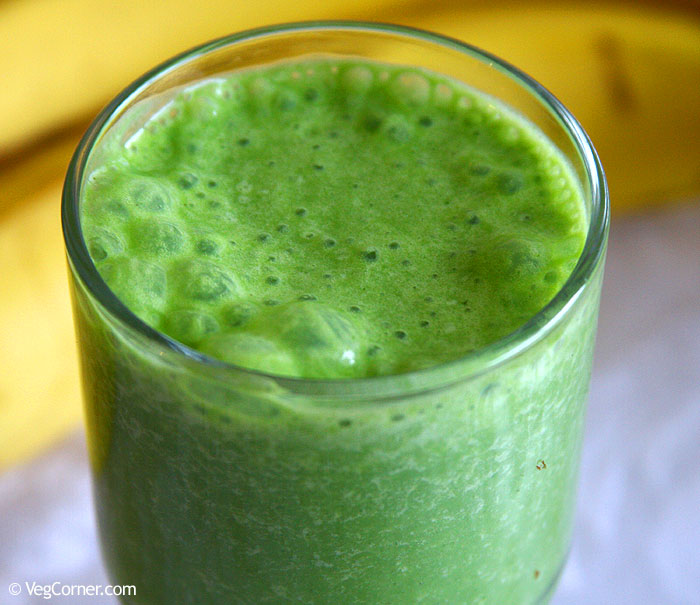 How many of you feel that you don't have enough time to prepare a healthy breakfast? Are you bored of having the same old cereal, bread toast and orange juice in the morning? Wish you could makeover your breakfast routine?
Then the answer is green smoothies! I know what you are thinking. "Oh! green smoothies, that's not my kind of thing. It's not for normal people. I'm not such a raw food junkie". I too was very hesitant at first but after trying a few recipes, I have really started liking the concept.
Suggested Reading: For more green smoothies you can check
here
.
To me the key is "taste". As odd as it may sound to blend a few greens and fruits together to make a supposedly healthy concoction, once you like the taste, it doesn't feel weird anymore. You will start wondering how come you missed such an amazing, interesting, tasty and easy way to consume greens all these days. Not only that you will start trying recipe after recipe and each time you will be surprised how good it is.
But for all this to happen, you have to try it once. For someone like me who doesn't jump to explore new tastes and ingredients pretty quickly, it took about a week or so to try this basic banana spinach smoothie recipe after I heard it from my Chiropractor. He is a fabulous guy, who goes over and beyond his professional role to educate his patients about nutrition and fitness.
His green smoothie recipe was a blend of banana, romaine lettuce, rice milk, flaxseed oil, and a liquid multi-vitamin. I had all the ingredients in the refrigerator on the very same day but I was very hesitant to give it a shot. The idea of blending lettuce with banana sounded crazy to me. Finally, I decided to give it a try one fine Sunday morning. I made it with half a banana, 2 leaves of romaine lettuce, flaxseed oil and little almond milk.
Used the regular Indian mixer to blend it. The smoothie was in a light green color. I mustered some courage and took a small sip but trying to swallow it pretty quickly without tasting it, but wait, what is it? It didn't taste bad at all. Then I slowly took another sip and this time I actually let the smoothie coat my taste buds and really liked it and was literally jumping in joy. I immediately made another batch and gave it to my husband and son.
At first I said that it was avocado milkshake (the recipe to follow soon) to my son because I make it regularly and that too has a light green color and he loves it. Since I said that it was avocado milkshake he did not hesitate to drink it and was enjoying it as usual. I then asked him if he liked it and if he found it any different, for which he replied he loved it. So that's when I told him it was lettuce milkshake and not avocado and he was as surprised as I was before.
From then this smoothie has become a regular in our house. Later I tried it with baby spinach which too was liked by all three of us. So nowadays my son and I have the lettuce or spinach smoothie at least twice a week.
The breakfast routine for my son is avocado milkshake and spinach/lettuce smoothie twice a week each, so four weekdays are covered. The other day is apple milkshake (with dates instead of sugar) or a vegetable medley (with mushrooms, paneer, and vegetables) and a glass of milk, or a bowl of fruit salad.
On weekends he can eat whatever he wants including bread, cereal, pancakes, etc. I also don't get any fancy cereal for him and worry about the fiber content because he gets enough of those from his vegetables and fruits. So it's the basic Cheerios and Rice Chex which has the least amount of sugar but tastes good too.
When you get a chance, do borrow the book Green Smoothie Revolution by Victoria Boutenko from your local library. She shares a wealth of information about eating raw greens and more than 100 green smoothie recipes. The one important thing to note is you will have to rotate the greens you are consuming.
Don't use the same greens every day because many plants have ingredients including alkaloids in them that could become slightly toxic if eaten in large quantities. Nature has done this in order to encourage animals to vary their diet so that the plant would not be eaten to extinction. I did try a few recipes from the book and liked it all. So I'm actually thinking of buying this book and my dream blender sometime soon.

| Prep Time | Cook Time | Makes |
| --- | --- | --- |
| 05 Mins | 05 Mins | 2 Cups |
| Author | Category | Method |
| Madhuram | Smoothies | Blending |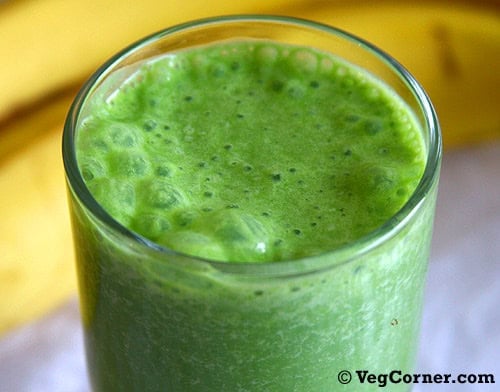 Five minutes is all you need to start your day with this healthy spinach smoothie.

Ingredients:
1

Banana, medium size, sliced

2 cups

Baby Spinach or chopped Romaine Lettuce

1 cup

Milk (dairy or non-dairy)
Optional:
10

Almonds, soaked overnight

1 tablespoon

Flax seed oil

1 cup

Any other fresh or frozen fruit like berries, mangoes, peaches etc

Crushed Ice

As needed
Procedure:
Blend together the sliced bananas, spinach and about 1/2 cup of milk to make it a smooth puree. There should not be any lumps. Now add the remaining milk and blend it once again. You can adjust the quantity of milk to get the desired consistency. Serve it immediately.
Taste:
I was as skeptical as you are now while reading this, or even more because when it comes to food I do not take any risks. I'm the kind of person who cannot eat or drink something just because it is healthy. It has to taste good. I might even compromise on the looks (for a little bit maybe) but definitely not the taste. So I prepared it in a very small quantity and gave it one big gulp as if trying to swallow some bitter medicine. I shouldn't have worried that much after all because it was YUM! I was even more surprised that my son loved it too. I'm not kidding guys! My then 5-year-old son loved this green smoothie the very first time I made it and still loves it even after a year, which is so unusual of him because his favorites keep changing.
I shared this recipe with my mother and she too tried it in India using the big palak (Spinach) leaves they get there and she too loved it and she passed on the recipe to her friends and they were super excited too after trying it. You have my word on this. So do try it as soon as possible and I assure you that you will not be disappointed at all and will be doing the happy dance!
My Notes:
I first tried this recipe with lettuce and then with spinach. Both taste quite the same and the difference is only in the color. If you want a bright green smoothie use spinach otherwise use lettuce. I always use organic baby spinach from Costco. Organic produce is comparatively cheap to buy in Costco. I have even tried this green smoothie with the organic spring mix which is used for salads and baby romaine lettuce. Since I'm able to get fresh organic baby spinach regularly, I haven't tried this recipe with the big mature leaves.
I have also used quite a variety of milk in this smoothie recipe. I have used rice milk, almond milk, and dairy milk. Sometimes I just soak about 10-15 almonds overnight. The following morning, before preparing the smoothie, I remove the skin and blend it together with the banana, spinach and plain water. This variation tastes good too but not as sweet as the one with the milk. Actually, I prefer this milk-less version.
I have also tried this recipe adding mangoes and peaches. Depending upon the fruits' taste you may get a slightly sour smoothie.
Nutritional Information for Smoothie
Calories:

149


Total Fat:

3.1g


Saturated fat:

0.2g


Unsaturated fat:

2.9g


Cholesterol:

0mg


Total Carbohydrate:

30.1g

Sugars:

14.7g


Dietary Fiber:

5.4g


Protein:

4g


Sodium:

199mg


Potassium:

917mg

Try this recipe, click a pic and hashtag it #egglesscooking - Proudly showcase your creations on Instagram, Facebook & Twitter!