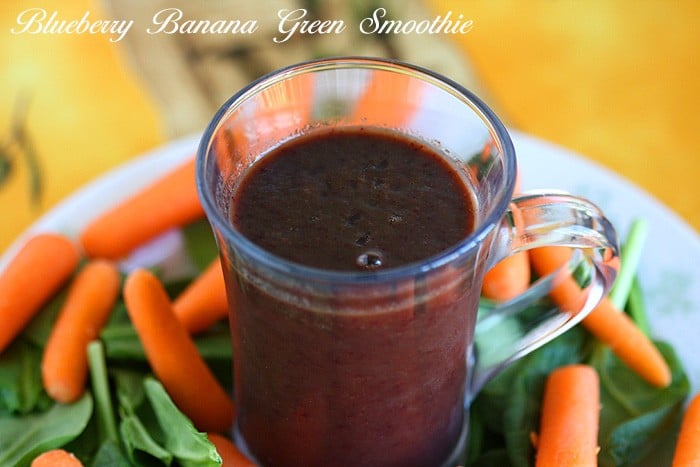 Blueberry Banana Green Smoothie: Earlier I had mentioned in the spinach smoothie post about how I got started with green smoothies. This summer I made a variety of green smoothies from Green Revolution and Incredible Smoothies.
The only difference is these 2 authors do not recommend using any milk to make these smoothies. Just add plain water instead of the non-dairy milk. I was not sure about this at first but I didn't have any doubts about the taste after tasting the first recipe I tried which is this banana blueberry green smoothie.
Since then I have been making my own combinations with whatever is available in the fridge and I have to say that the smoothies turned out great most of the time.
I'm writing "most of the time" because there are few combinations which do not work or it did not taste good for me. This is true if you are using cranberries especially. The tartness of this fruit has to be balanced with some natural fruit juice or more bananas than usual.
Cantaloupes have been giving me a hard time as well. For some reason, the smoothie turns out very bitter when I use cantaloupes. I tried it thrice and had the same experience. Other than these minor mishaps, I had a fun time preparing these green smoothies. The bonus is my sons started liking it too and they too had a fair share of the smoothies. It's been a couple of weeks since I made it though. I have to get back to that routine.

| | | |
| --- | --- | --- |
| Blueberry Banana Green Smoothie Recipe | | |
| Prep Time | Cook Time | Makes |
| --- | --- | --- |
| 10 Mins | 02 Mins | 2 Servings |
| Author | Category | Method |
| Madhuram | Smoothies | Blending |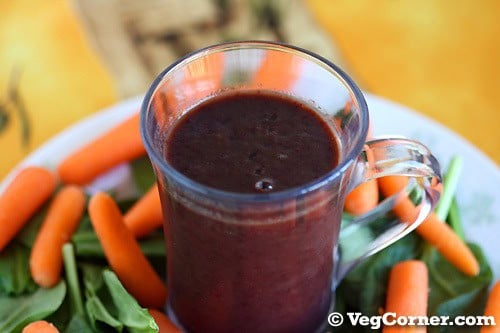 Anti-oxidants rich blueberries enrich this already super healthy green smoothie loaded with fresh baby spinach.

Ingredients:
1/2-1 cup

water

1

banana

1 cup

blueberries, fresh or frozen

1

carrot

1

ginger, small piece (optional)

2 cups

baby spinach (or any greens of your choice)
Procedure:
Blend everything together and that's it!
My Notes:
I have a Vitamix now, so I don't have to worry about the blender clogging or not being able to get a smooth texture. But if you are using any other ordinary blender you will have to chop the carrots into small pieces. Blend the ingredients by adding water little by little to make it into a smooth paste and then add some more water to get the desired consistency. I guess using a regular blender to make smoothies like this requires a lot of patience, experience and a little compromise on the texture.

Try this recipe, click a pic and hashtag it #egglesscooking - Proudly showcase your creations on Instagram, Facebook & Twitter!