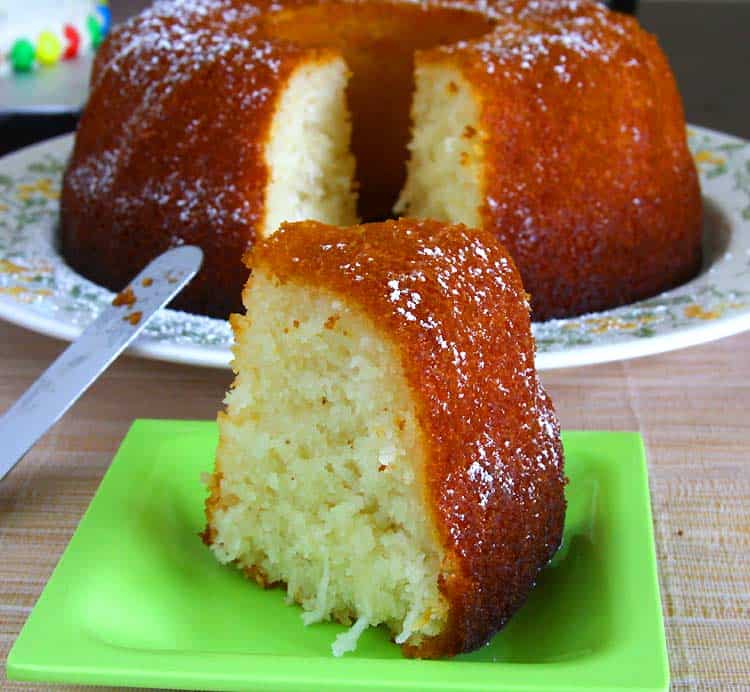 This eggless semolina coconut cake was a stand-by cake if I mess up the eggless pinata cake which I had narrowed down for my eldest son's birthday. Hope you all checked out the recipe and the beautiful pictures.
Fortunately, the pinata cake was a super hit and so was this coconut cake too. It is a plain cake without any frosting so some of the adults who were watching what they were eating preferred this to the "truckload of M&Ms filled" pinata cake.
I got this semolina coconut cake recipe from my friend. The recipe is eggless, to begin with, so I didn't make any changes other than substituting 1/2 a cup of oil with 1/2 cup of unsweetened applesauce because I felt that 1 cup of oil was too much.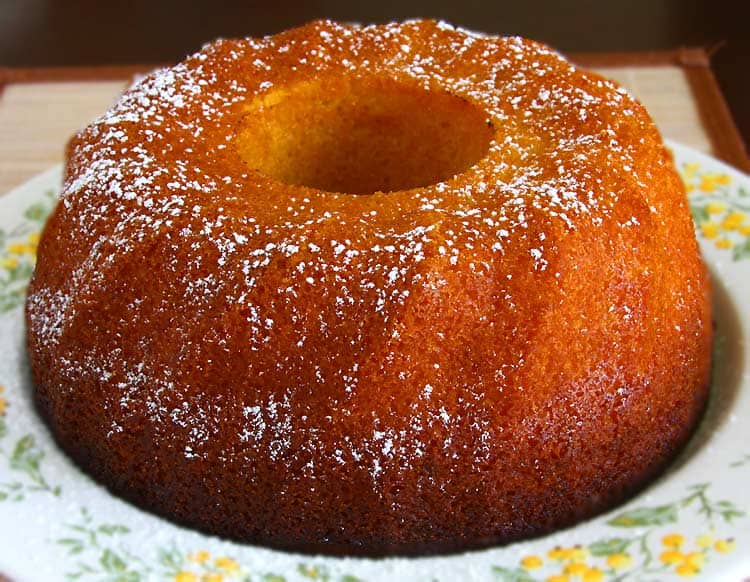 She also had mentioned that the cake is very mild in sweetness, so I increased the quantity of sugar by 1/4 of a cup.

| | | |
| --- | --- | --- |
| Eggless Semolina Coconut Cake Recipe | | |
| Prep Time | Cook Time | Makes |
| --- | --- | --- |
| 15 Mins | 38 Mins | 12 Servings |
| Author | Category | Method |
| Madhuram | Cakes | Baking |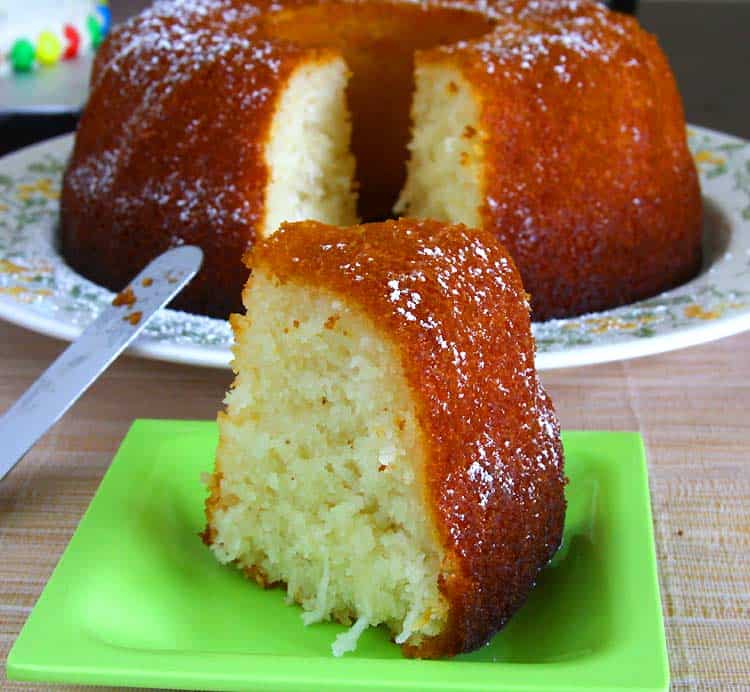 Looking for a simple yet elegant cake recipe to bake quickly? Try this semolina coconut cake and top it up with your choice of frosting or glaze to suit the occasion and make it as fancy as possible.

Ingredients:
1 cup

semolina/suji/rava (not flour see My Notes)

1 cup

all-purpose flour

1 cup

desiccated coconut, unsweetened

1 and 1/4 cups

white sugar

1 cup

yogurt

1 cup

milk

1/2 cup

sunflower oil

1/2 cup

unsweetened applesauce

1 tablespoon

baking powder
Procedure:
Preheat oven to 400F/190C. Grease the bundt pan with non-stick cooking spray and sprinkle some flour lightly.
Mix the dry ingredients in a large bowl.
Add the wet ingredients one by one and mix gently with a wooden spoon or spatula till blended.
Add the baking powder and mix into the batter.
Pour the batter into a prepared cake pan and bake for 35-40 minutes or until a toothpick inserted in the center comes out clean.
Taste:
Even with the increased quantity of sugar, this semolina coconut cake had a mild sweetness. If you are the kind of person who likes very sweet cakes, then you will have to increase the quantity of sugar by another 1/4 cup or frost it.
I loved the beautiful texture of this cake. The semolina gave it a grainy texture. You could see the cooked crumbs clearly.
My Notes:
The semolina I have used in this recipe is the Indian semolina aka suji/rava, which looks like cornmeal but has a cream color and not yellow. It's readily available in Indian grocery stores. Both roasted and raw are available. For this recipe, raw semolina is used. I see that some American recipes use a finer semolina flour. I'm not sure how this cake will turn out with semolina flour.
The next time around, I'm going to try using 1/2 cup of melted butter or organic coconut oil to give the cake a better flavor. Somehow I didn't like the flavor of sunflower oil in this cake. At least coconut extract or vanilla extract should have been added.
Nutrition Facts
Eggless Semolina Coconut Cake
Amount Per Serving
% Daily Value*
Potassium 276mg6%
Total Carbohydrates
44.8g
16%
* Percent Daily Values are based on a 2000 calorie diet.


Try this recipe, click a pic and hashtag it #egglesscooking - Proudly showcase your creations on Instagram, Facebook & Twitter!