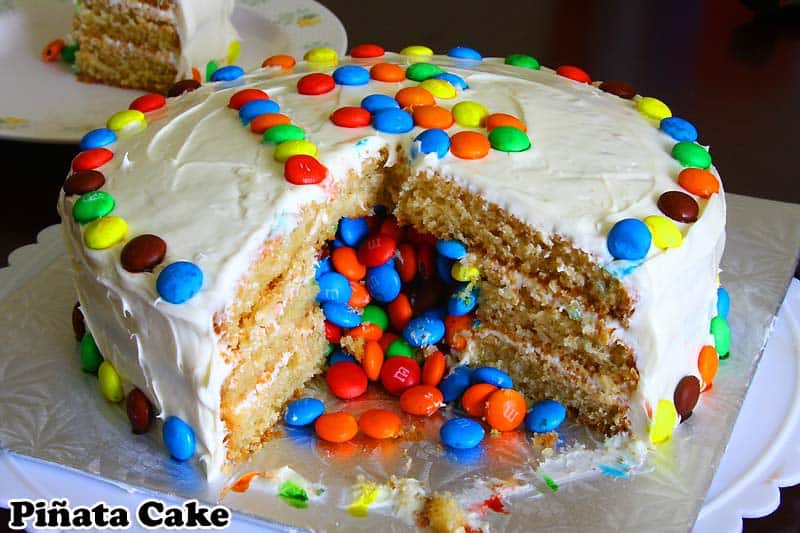 Eggless Pinata Cake: Last week it was my eldest son's 13th birthday. Yes, I'm a mom of a teen now! Mixed feelings! Surprisingly he wasn't as excited as I was for his birthday. Boys, right! All he wanted was a couple of Lego sets, and he was fine.
He didn't even show the least bit of interest when I asked him about having a birthday party. It felt like I was planning the party for my sake. Thankfully he at least had some thoughts about the cake. He preferred it to be a white cake and that I should bake it rather than buying it.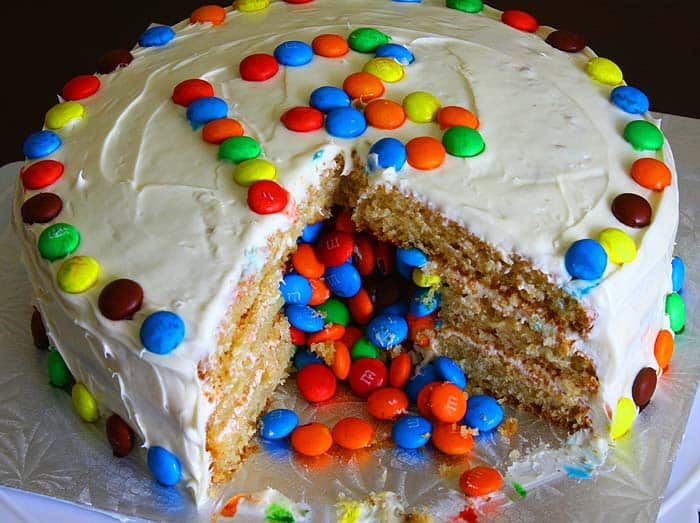 He still remembers the white Texas sheet cake that I baked for his birthday a couple of years back and said that it was the best cake that I have ever baked even though I think that I have baked many good ones after that too.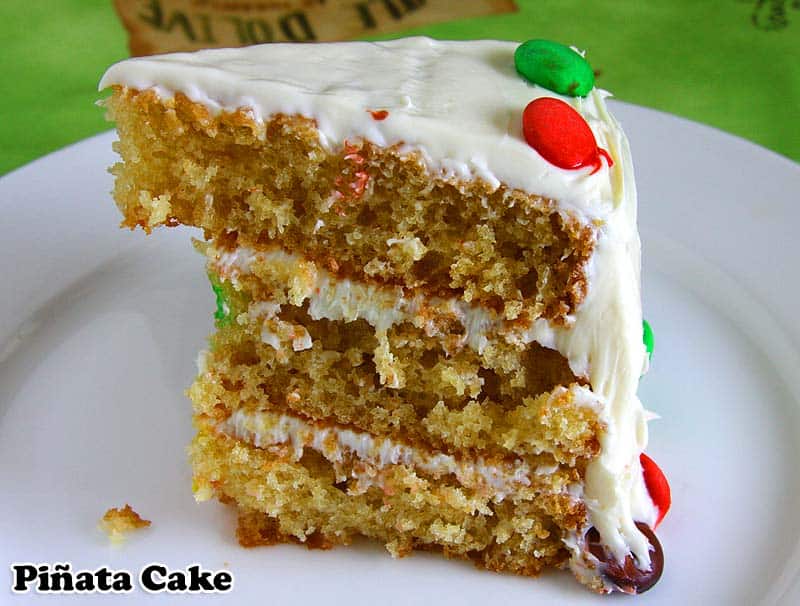 Ever since that white cake recipe and the best eggless yellow cake recipe he has sort of lost interest in chocolate cakes.
I have baked a couple of white cakes like this eggless strawberry cream cake and eggless pineapple pastry cake and now was wondering what else can be done.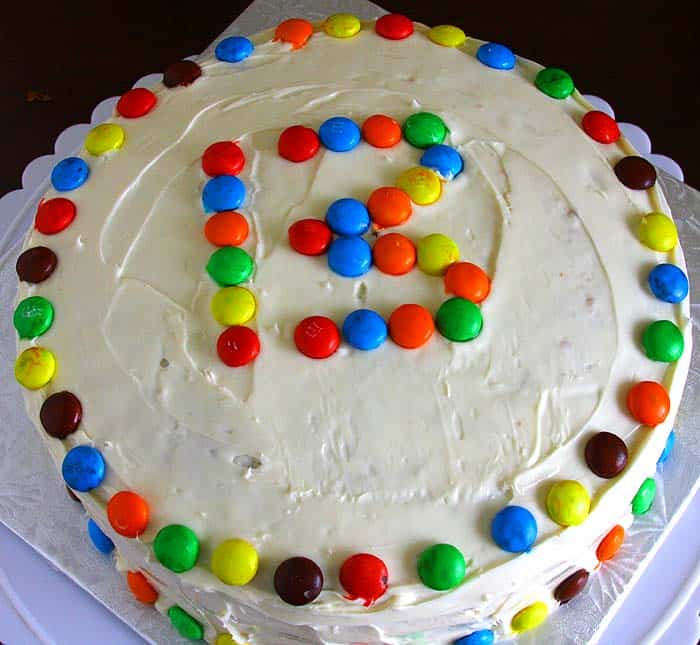 That's when I remembered seeing gravity-defying cakes and pinata cakes in Pinterest. With the time constraint I had, I felt that I should take up an easy pinata cake recipe and found that this recipe will fit the bill.
Before deciding on the above recipe, I thought to make it easier I should bake the cake using a store-bought cake mix and follow the instructions to convert it into a pinata birthday cake.
Only after looking at this recipe I was excited to know that it was "one bowl, pour and mix, don't bother creaming/beating sugars/eggs" kind of an easy white cake recipe and now how can I resist not trying it!
Of course, I did use store-bought frosting to quicken the process given the time crunch that I was in, which he didn't have to know. Sshh…Let's keep it a secret.
How To Make Pinata Cake?
The instructions to make it a pinata cake was also pretty easy to follow. The only thing that I might change when I bake it the next time is to bake it in 8-inch pans instead of 9-inch pans to give the cake a proper height.
I might also use melted butter instead of oil to make it creamy and flavorful. All these are just minor variations, but I can't insist more that nevertheless, you should try this recipe as it is too because it's definitely a winner!

| | | |
| --- | --- | --- |
| Eggless Piñata Cake Recipe | | |
| Prep Time | Cook Time | Makes |
| --- | --- | --- |
| 20 Mins | 20 Mins + 45 Mins (Assembling) | 12 Servings |
| Author | Category | Method |
| Madhuram | Cakes | Baking |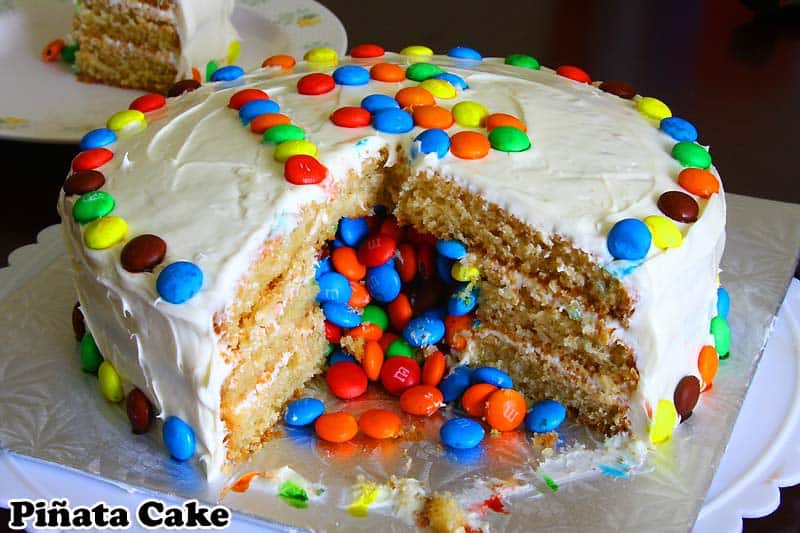 Putting together a special cake like this pinata cake for a special someone can't be any easier with these easy to follow instructions. Fill the cake with any and as many treats as you wish and surprise your loved one.

Ingredients For Cake
2 cups

all-purpose flour

1 and 1/2 teaspoons

baking powder

1 teaspoon

baking soda

1 and 1/4 cups

white sugar

1/2 cup

milk (I used 2%)

1 cup

plain yogurt (I used 2%)

1/2 cup

sunflower oil
Ingredients For Decorating:
2 cans

store-bought frosting (I used Betty Crocker's French Vanilla frosting)

1 – 1 and 1/2 cups

M&Ms/Smarties
Procedure:
Heat the oven to 350F. Grease and line three 9 inch round baking pans with parchment paper. Set aside.
In a large bowl add all the ingredients for the cake. Beat on low speed until all the ingredients are combined.
Divide the cake batter between the three prepared pans. I measured a cup of batter into three portions, to begin with, and then distributed the remaining which was about 1/2 cup each. So totally 1 and cups of batter for each portion. I didn't have 3 pans, so saved the 1 and 1/2 cups of batter in a smaller bowl and baked it separately once the 2 cakes were baked and ready to take out of the pan.
Bake in preheated oven for 18-20 minutes or until the cakes are golden brown and a toothpick inserted in the center comes out clean. Bake the third cake likewise.
Remove the cakes from the oven and let cool for 15 minutes in the pan before inverting and cooling them completely on wire racks.
Assembling Cake:
Using a cookie cutter cut a hole in two of the cake rounds.
Using a thin cardboard make a cylinder that would fit inside the hole you have made. Use sellotape to stick the cardboard cylinder.
Place one of the cake layers with the hole on a serving platter. Position the cardboard cylinder in the center and spread frosting around it.
Fill the cylinder with about 1/2 cup of M&Ms.
Carefully, place the 2nd cake layer with the hole over the frosting making sure the cutout hole lines up with the cardboard cylinder.
Spread frosting over the second layer.
Add another 1/2 cup of M&Ms.
With your fingers, gently wiggle the cardboard cylinder out making sure the M&M's stay inside the cake.
Place the 3rd cake layer (without the hole) over the frosting and, with an offset spatula spread the remaining frosting on top and on the sides of the cake.
Decorate the top of the cake with more M&Ms.
Refrigerate for at least 2 hours before serving.
My Notes:
As mentioned above, I'm going to try using an 8-inch pan instead of the 9-inch pan to make the cakes a bit taller. The other choice would be to make a thick layer of frosting as seen in the original pinata cake recipe.
I bought 2 cans of frosting and used about 1.5 cans.
If you prefer making the frosting from scratch please follow the recipe given from the link above or any other frosting recipe of your choice.
I have used M&Ms because my son loves it and also it looks colorful, but you can use any other candies/treats to fill inside. Have fun.

Nutrition Facts
Servings: 12
Per Serving
% Daily Value*
Calories

510

Total Fat

23.4g

30%
Saturated Fat

4.1g

20%
Trans Fat

0%

Cholesterol

3mg

1%
Sodium

179mg

8%
Potassium 160mg
3%
Total Carb

71.9g

26%
Dietary Fiber

0.7g

3%
Sugars

53.3g

Protein

3.9

Vitamin A – Vitamin C 0mcg – 0%
Calcium 85mg – 7% – Iron 1mg – 6%

Try this recipe, click a pic and hashtag it #egglesscooking - Proudly showcase your creations on Instagram, Facebook & Twitter!