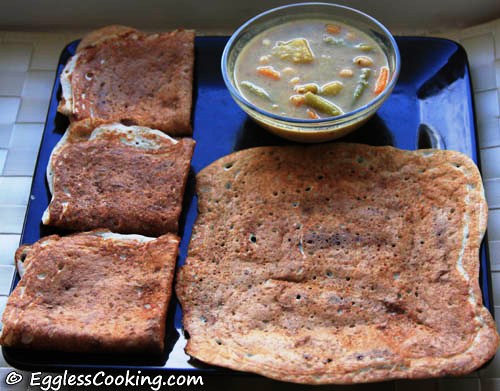 I use soy milk and tofu quite regularly, but soy beans not so much. I have tried using it but was put off by the smell. The only dish we liked was the roasted soy beans until we ate these dosas. I have wanted to incorporate it while grinding for dosa but was not sure of the measurement. Luckily I saw this recipe for soy beans dosa in Red Chillies' blog. I soaked the rice, beans and urad daal immediately and couldn't wait to taste them the next day.
I was in a huge surprise because the dosa was unbelievably soft and tasted great. I also prepared the potato side dish for the dosa which was delicious too. I was able to taste the soy beans very very lightly, but when you have it with a spicy side dish you can't notice anything. This dosa batter is so versatile. I made idlis too and it was very soft and spongy. I also tried appams with the batter. These soy beans appams had a crispy exterior and soft interior.
Also you can spread the batter so thin, it's like a tissue paper. You would have heard of Rumali (handkerchief) roti but this one is rumali dosa. So instead of preparing round dosas, I made it square to make it more appealing for my son. He loved it very much. Because each dosa uses very less batter you can really make a LOT of dosas. Also this can be a very good recipe to start dosas for small children because it's that soft.
Thank you very much for this awesome recipe RC.