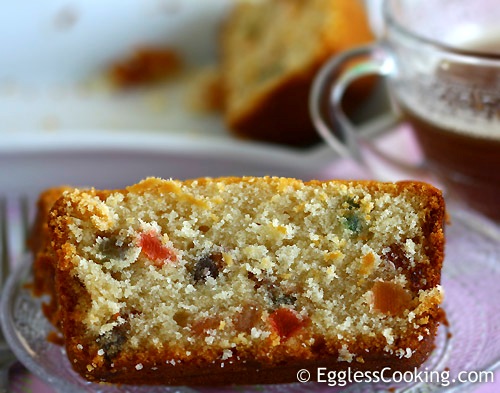 If you are of Indian origin, I think you will feel the same way I feel about tutti frutti (it's candied peel for Americans). To me it brings back a lot of wonderful (sweet) memories of enjoying the summer vacation and special occasions with tutti frutti cake and ice cream.
One of my most favorite childhood eats was the milk cakes studded with these itsy bity pieces of tutti frutti. Long train journeys and short road trips where never complete without these cakes in our family. It was a tradition to buy a packet or two of these cakes while packing for the trip.
These cakes came in a lot of flavors, were soft, buttery and had a melt-in-your mouth texture. It tastes and feels more or less like a pound cake. Never did I think that I would be baking one of these tutti frutti cake myself.
I have been looking for these cakes in the Indian stores here for sometime now but couldn't find it. So I thought why not give it a try and bake an eggless tutti frutti cake at home. I searched for tutti frutti cake recipes in Google and it showed a lot of recipes from my fellow Indian bloggers.
After looking at a couple of recipes I decided to use this recipe as a base and mix in the tutti frutti and the result was stunning.
I already have an eggless pound cake recipe here, in which I have used silken tofu to replace the eggs and felt that the cake was quite dense.
I would have tried using part silken tofu and part yogurt like in this strawberry cream cake recipe which turned out perfect, but I didn't have silken tofu at home.
So I decided to use a combination of yogurt and homemade applesauce recipe. The tutti frutti cake did turn out well but I'm thinking that the silken tofu and yogurt combination will be more perfect. Can't wait to try that tutti frutti cake recipe one of these days.

| Prep Time | Cook Time | Makes |
| --- | --- | --- |
| 25 Mins | 58 Mins + Cooling 15 Mins | 12 servings |
| Author | Category | Method |
| Madhuram | Cakes | Baking |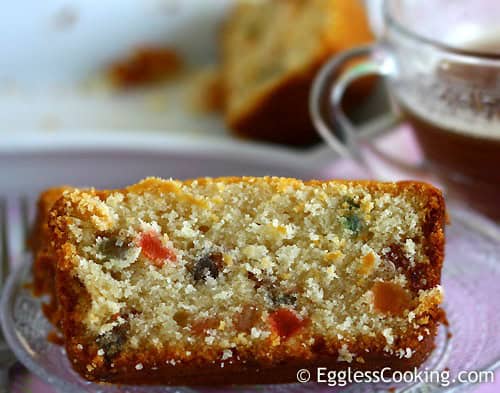 A rich, buttery eggless tutti frutti cake which will definitely become one of your favorites. Have this recipe as a base to create a lot of variations by using different extracts, food colors and fruits.

Ingredients:
1 And 1/2 Cups

Cake Flour

1 And 1/4 Teaspoon

Baking Powder

1/2 Teaspoon

Baking Soda

1/4 Teaspoon

Salt

3/4 Cup

Sugar

13 Tablespoons

Butter, Softened (See Note 1)

1/4 Cup

Unsweetened Applesauce

1/2 Cup

Plain Yogurt

3 Tablespoons

Milk

1 And 1/2 Teaspoons

Vanilla Extract

1/2 Cup

Tutti Frutti (Candied Peel)
Procedure:
Preheat the oven to 350F/180C for 15 minutes. Lightly butter a loaf pan (see My Note 2) and line it with parchment paper.
Place the tutti frutti in a small bowl and mix in a tablespoon of flour (from the flour measured for the cake), separating the pieces sticking together. This prevents the fruit from sinking to the bottom of the cake.
In a large bowl, sift together the flour, baking powder, soda and salt. Whisk in the sugar.
To this flour mixture add the butter and all the wet ingredients.
Start blending the ingredients with an electric mixer at low speed and gradually increase the speed. Scrape down the sides of the bowl and continue beating the mixture for about 5-6 minutes. Now you can see that the mixture would have doubled because of the creaming of butter and sugar. Now mix in the tutti frutti pieces and combine it until its evenly distributed in the batter.
Transfer the tutti fruiti cake batter to the prepared pan and smooth the batter out. Bake for about 55-65 minutes or until a toothpick inserted in the middle of the cake comes out clean. Mine was done in about 58 minutes. The cake also started browning on the sides after about 30 minutes. So I covered the pan with an aluminum foil around the 33rd minute and completed the baking.
Remove the pan from the oven and place it on a wire rack. Cool it for about 15 minutes and remove the cake from the pan and place it on the rack to cool completely. Leave it overnight before you can slice it. The more time you give it the easier it is to slice. I got very neat slices the following afternoon.
Taste:
I knew that this tutti frutti cake was a winner as soon as it came out of the oven. It had the perfect color, looked absolutely perfect, fantastic aroma and had a crumb-y outer layer. I coudln't wait to slice it and taste the cake. So I was hasty as always and started slicing the cake within an hour or so and what do you think would have happened? Of course I did not get neat slices, it was all crumbly. But guess what, the taste was lip-smacking delicious. It was totally worth slicing the cake. I couldn't resist and cut a few more slices for all of us to taste and it got thumbs-up from everybody. My mother-in-law felt that maybe I could have reduced the sugar a little bit. I also thought the same but after tasting it once again the next day, I concluded that it was just fine. If you are going to serve it with ice-cream or thinking of using it as a base for some other dessert then you should be cutting back on the sugar. Otherwise it should be fine as such.
I saved the remaining half of the cake for taking pictures. So when I cut the cake the following day evening, I got perfect slices. It was so easy to cut. So bake the cake and forget it until the next day. This cake looked and tasted as good as the milk cakes I have tasted in India.
My Notes:
The original recipe mentioned 1/2 cup plus 1/3 cup of butter which is 13 tablespoons. The butter I get here does not have the tablespoon marking. So I used little more than 3/4th cup (12 tablespoons) of butter.
A 9×5 inch was used for this measurement in the original recipe and I felt that an 8×4 inch should be fine. So I used it and I didn't get the shape I expected. I was expecting a square cake slice but what I got was a perfect rectangle.
I have replaced 3 eggs in the original recipe with 1/4 cup of applesauce and 1/2 cup yogurt.

Try this recipe, click a pic and hashtag it #egglesscooking - Proudly showcase your creations on Instagram, Facebook & Twitter!