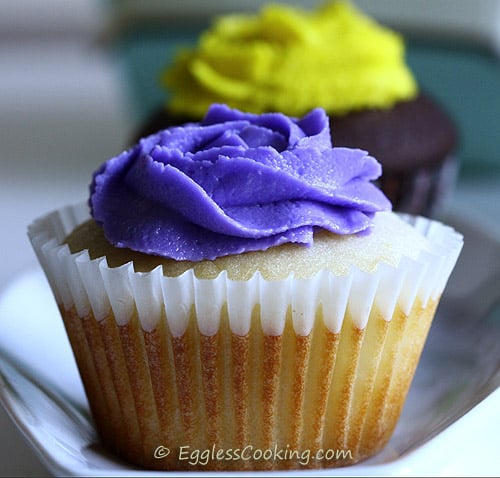 Eggless Vanilla Cupcakes: Eureka! Eureka! I'm very happy to let you all know that I have found something that I have been looking for the past 3 years. I really cannot contain my excitement!
I guess you all are wondering what I'm talking about. If you were like me you too will join me to celebrate the discovery of an amazing recipe for eggless vanilla cupcakes.
You guys cannot believe how many recipes I have tried so far to find the perfect eggless white/vanilla cake. Now I can confidently tell you that my search has ended. This is it!
Many many thanks to Colleen Patrick - Goudreau for creating this awesome vanilla cupcake recipe. I found this in her Joy of Vegan Baking cookbook.
I had bookmarked this nearly 2 years back but got a chance to try it only this week.
I wish I had tried it earlier which would have saved me a lot of time and ingredients. I'm glad that I baked it at least now.
As the original recipe is vegan, I substituted dairy butter for the vegan butter and 2% milk for the non-dairy milk. Other than that I followed the original recipe. I cannot wait to try the vegan version too.
The version I tried with butter gave the cupcakes a very good buttery flavor. Other than the few minor changes I have suggested in the My Notes section, I wouldn't change anything else about the recipe. This is a keeper.
Do try it and I'm sure you are going to get a ton of compliments. For the frosting I followed the vegan buttercream icing recipe but used all butter instead of shortening.

| Prep Time | Cook Time | Makes |
| --- | --- | --- |
| 25 Mins | 23 Mins + 10 Mins Cooling | 15 Cupcakes |
| Author | Category | Method |
| Madhuram | Cupcakes | Baking |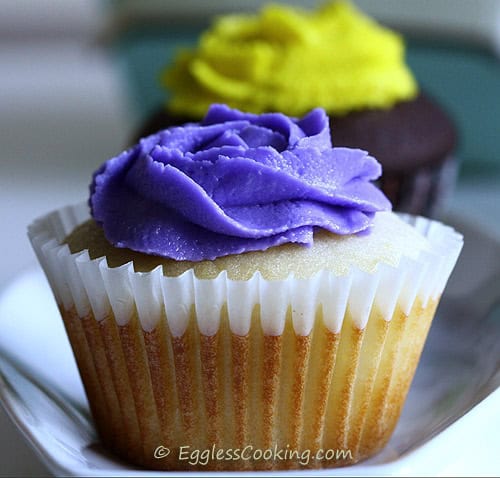 My search for the perfect eggless vanilla cupcakes has ended with this awesome recipe.

Ingredients:
2 teaspoons

Ener-G egg replacer powder

3 tablespoons

lukewarm water

1 and 3/4 cups

Milk (I used 2%)

1/2 cup

Water, divided

1/2 cup

Butter, melted

1 and 1/4 cups

Sugar (See Notes)

1 and 1/2 teaspoons

Vanilla Extract (See My Notes)

2 and 1/2 cups

All Purpose Flour

2 and 1/2 teaspoons

Baking Powder

1/2 teaspoon

Salt
Procedure:
Preheat the oven at 375F/190C for 15 minutes. Grease the muffin tins lightly or line it with paper liners. I brushed the inside of the liners with melted butter which gave a nice color on the sides of the cupcakes
Whip the egg replacer powder and 3 tablespoons of water, preferably in a blender for better results. Or just do it hand. The mixture should be frothy.
Add the milk and 1/4 cup of water to the egg replacer mixture and stir it well.

In a large bowl, stir together the flour, baking powder, and salt. Set it aside.

In another bowl, cream the butter and sugar until light and fluffy. This may take upto 2-3 minutes.

Add the vanilla extract and remaining 1/4 cup of water, and beat well.

Add the flour mixture and the egg replacer/milk mixture in parts alternating. (See My Notes)
Beat until combined.
Fill in the muffin cups 3/4th full and bake for about 20-30 minutes or until a toothpick inserted into the center of a cupcake comes out clean. Mine was done around 24 minutes (See My Notes).

Remove from the oven and place on a wire rack to cool.
Taste & Texture:
Hands down this is the best eggless vanilla cupcake/cake I have ever baked. These vanilla cupcakes have a very soft, light and fluffy texture. Once you remove the paper liner you can clearly see the sponge like airy texture on the side of the cupcakes, just like you can find it on the usual cupcakes made with eggs. It tastes great too. This is a hit in our house. The only change I recommend is decreasing the quantity of sugar a wee bit especially if you want to frost it.
My Notes:
The original recipe called for 1 and 1/2 cups of sugar and that's what I used too and we felt that the cupcakes were very sweet. So I would definitely recommend to scale it down to 1 and 1/4 cups, especially if you are going to frost it.
I would increase the quantity of vanilla extract to 2 teaspoons.
The original recipe mentioned to "just" mix together the flour and the egg replacer mixture with the creamed butter and sugar. I did the same (even though I was thinking at the back of my mind that I should not) and the batter had a lot of small lumps. Had I done that in parts alternating between the flour and milk mixture I could have avoided the lumps and would have got a smooth batter. I was hesitant to beat the mixture further to dissolve the lumps fearing it would toughen the cupcake. I expected the lumps to dissolve while baking but it did show up in the cupcakes but fortunately, it did not mess up with the taste or texture.
The toothpick came out clean at the 24th minute but I left the cupcakes in the oven for another minute or so, which I think slightly hardened the tops. But it softened after a couple of hours. Anyhow the next time I try these I will check for doneness around the 22nd minute itself.
I'm also thinking of using cake flour instead of all-purpose flour when I try it the next time. I think it will give even softer cupcakes.
The serving size mentioned in the original recipe was 10-12 cupcakes but I got about 15.

Nutrition Facts
Servings: 15
Per Serving
% Daily Value*
Calories

210

Total Fat

6.9g

11%
Saturated Fat

4.3g

21%
Trans Fat

0g

Cholesterol

19mg

6%
Sodium

137mg

6%
Potassium 125mg
4%
Total Carb

34.4g

11%
Dietary Fiber

0.6g

2%
Sugars

18g

Protein

3.1g

Vitamin A 4% - Vitamin C 0%
Calcium 8% - Iron 6%

Try this recipe, click a pic and hashtag it #egglesscooking - Proudly showcase your creations on Instagram, Facebook & Twitter!