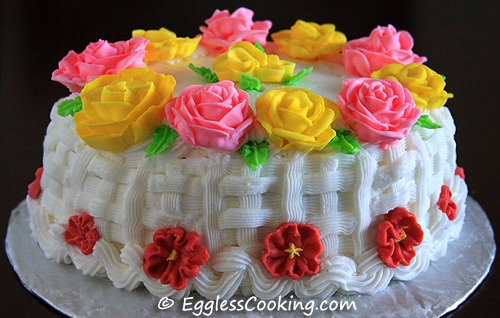 Happy Thanksgiving to all of you! Course 2 of Wilton's Cake Decorating series concentrates more on flowers and especially flowers made with royal icing. What is different about royal icing? Royal icing does not use any fat (butter/shortening). It's just a combination of confectioner's sugar, meringue powder and water. Unlike buttercream icing, royal icing creates hard-drying and long lasting decorations. This means you can make these decorations ahead of time (even months ahead) and simply place them on your cake. Another interesting feature of royal icing decorations is that it will not soften or crumble when stored properly. It should not be kept in bright light, as colors can fade. Just like buttercream icing, consistency of royal icing is very important. Another item used in royal icing decorations is the Color Flow mix. This again has egg whites posing a problem to vegetarians and vegans.
I was searching the net for egg-free royal icing recipes and spotted few but was not sure how it would work. One of my classmates mentioned that her vegetarian friend used cream of tartar to replace the meringue powder. I couldn't decide which one to choose. Luckily I found a vegan royal icing mix in the store (Bulk Barn) I take the course. It's just icing sugar and soy protein and I had to simply add a 1/4 cup of water and beat it well. It's from a company called Liberty Sugar Decorations Inc. You can find such mixes online too. I have not tried this brand. The brand of royal icing mix I bought worked very well. The roses I made were as good as the ones made by others. I also omitted the Color Flow mix while filling a few decorations and that turned out good too.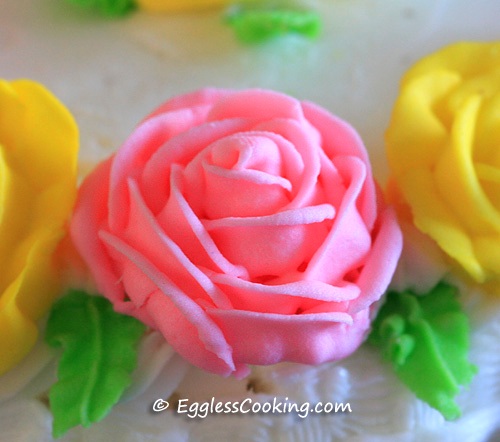 Is royal icing better or buttercream icing? Since royal icing hardens it cannot be used to frost on cakes, even though it is edible. It is used as a glue while making gingerbread houses, decorated on cookies and for other long lasting decorations. Taste-wise buttercream icing gets my vote, but if you want to have a spectacular visual presentation royal icing is good. I didn't like the taste of the flowers I made, it is just hardened sugar. Of course, children can't get enough of this. Another important thing to note is royal icing is high maintenance. The tips, decorating bags, the bowl in which you prepare the icing, the mixers and anything that comes in contact with royal icing has to be very clean and grease free. There is no excuse for this at all because even the slightest amount of grease will affect the texture of the royal icing and you won't be successful. So it is advised to have a separate set of tips, containers etc for preparing royal icing. If you use the same stuff you use for buttercream icing and don't clean it well the fat from this icing will affect the royal icing. So use a dishwasher and my instructor also suggested cleaning the tips, etc with vinegar before using it with royal icing.
We learned a lot of cool floral decorations in Course 2 but I did not get everything right. It requires a lot of practice. The following is the list of things we covered:
Using Buttercream:
Using Royal Icing: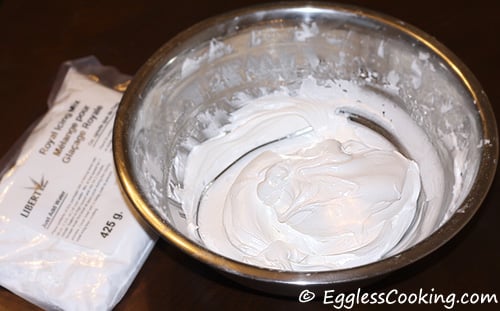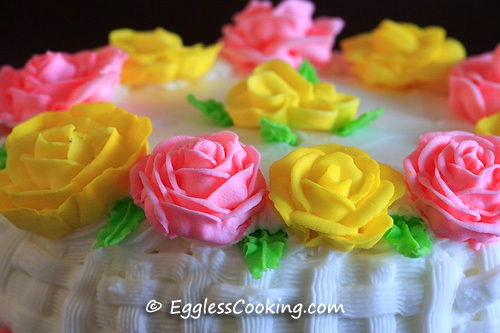 | | | |
| --- | --- | --- |
| Vegan Barley Flour Chocolate Cake Recipe | | |
| Prep Time | Cook Time | Makes |
| --- | --- | --- |
| 15 Mins | 30 Mins | One 8 inch cake |
| Author | Category | Method |
| Madhuram | Cakes | Baking |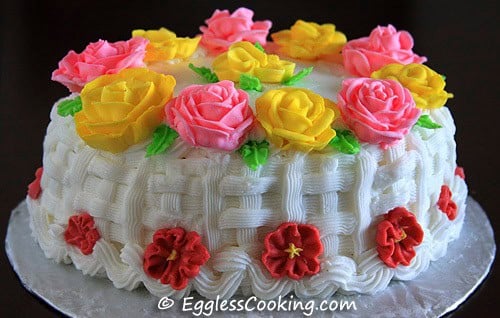 You would be surprised to know that this chocolate cake is vegan and made with barley flour.

Ingredients:
1 and 1/2 cups

Whole Barley flour

3/4 cup

Sugar

1/2 teaspoon

Salt

1 teaspoon

Baking Soda

1/4 cup

Unsweetened Cocoa Powder

1 and 1/2 teaspoons

Vanilla Extract

1/3 cup

Canola Oil

1 tablespoon

Apple Cider Vinegar

1 cup

Cold Water
Procedure:
Preheat the oven at 350F/180C for 15 minutes. Grease the pan lightly with non-stick cooking spray and line the bottom and sides of the pan with parchment paper.
Sift the barley flour and stir together rest of the dry ingredients (sugar to cocoa powder) and create a well in the center.
To the well add all the wet ingredients one by one. Mix until just combined. Don't over mix. It's OK to have some lumps.
Pour the batter in the prepared pan and bake for 25-30 minutes or until a toothpick inserted into center comes out clean. Mine was done by 27 minutes. If baking cupcakes, check around 13-15th minute.
Transfer the pan to a wire rack and let it cool for 15 minutes. Remove the parchment paper on the sides of the pan and slowly invert the pan on a plate and the cake comes out perfect without sticking to the pan.
Cool completely before frosting.
Taste:
I was crossing my fingers while the cake was baking. Though I did see a couple of recipes for chocolate cake using barley flour, I was not sure how this one will bake because I was not using eggs, unlike the other recipes. I have read that barley flour is not as glutenous as all-purpose flour or whole wheat flour. So I was absolutely surprised to see the cake because it had risen perfectly.
I couldn't wait to taste the cake. Once I tasted the cake I was literally jumping in joy because it was very good. It didn't smell raw or it did not taste bitter or it did not have the grittiness of whole wheat flour. Of course, it did not replicate the taste of all-purpose flour but it was definitely good and way better than using whole wheat flour. So I think those who don't like the taste of whole wheat flour in baked goods can start experimenting with whole barley flour instead. I felt the cake was not sweet enough when I tasted it a couple of hours after baking but from the next day onwards I did not feel that. The sweetness was just right.
My Notes:
I had to bake 2 layers of cake for my class. Since I was not sure if the cake would come out well using barley flour, I tried just one layer first. I simply stirred together the dry ingredients and proceeded as mentioned in the recipe. The cake rose beautifully just like the one I baked with all-purpose flour. I was able to see some unprocessed husks of the barley. So while baking the next layer I sifted the barley flour. I don't think we will be losing nutrition because of this since the residue on the sieve was very less.

Try this recipe, click a pic and hashtag it #egglesscooking - Proudly showcase your creations on Instagram, Facebook & Twitter!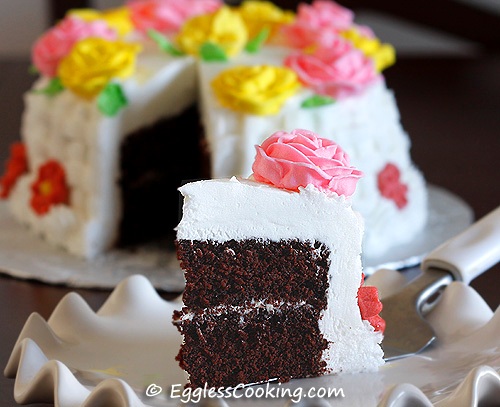 Check out these delicious cake recipes as well: